How to create a customer in inFlow Cloud
In inFlow, not only can you manage your sales, but you can also keep a full list of customers too!
Web
Creating new customers
From the Homepage, click on New customer.
Fill out the Customer Name, then click Create.
When the newly made customer record opens, add any information that you have for this customer.
Click Save when done.
Interested in importing your customers in bulk? Check out our guide on importing data here!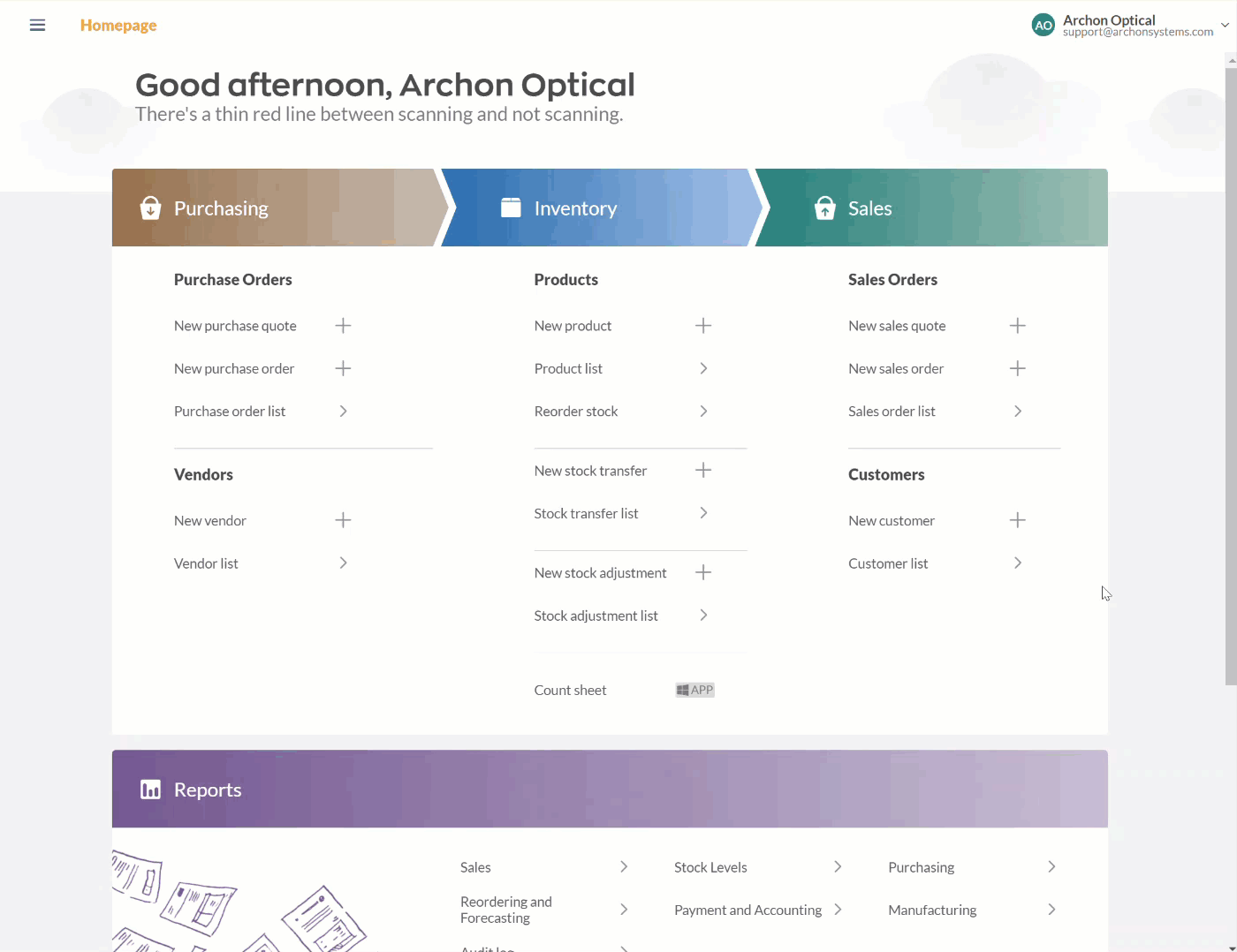 Error when creating new customers
If you see the error "This customer name is already in use", it's likely this customer already exists.
inFlow doesn't allow you to have more than one customer with the same name. To fix this, you can reactivate the customer record.
Overview tab
On this tab, you can add more settings for the customer. See below for a breakdown of the Overview fields.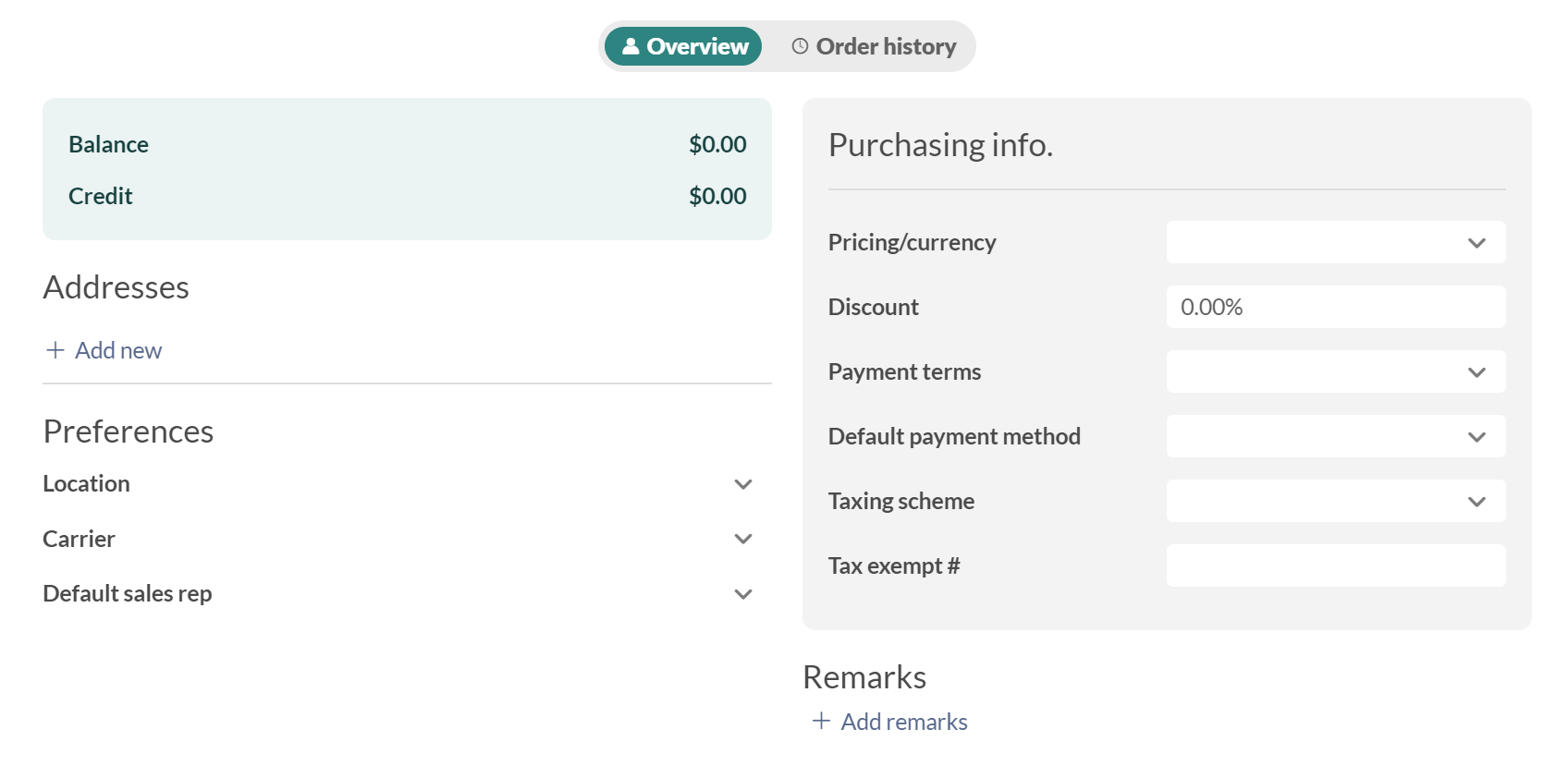 Balance and Credit
Balance and Credit can't be adjusted. The figures are the result of calculations from the order history and any credits you've issued.
Balance: This is the total balance that this customer owes you.
Credit: this is the total credit you've issued to this customer.
Address
You can add customer addresses in this section. To add new addresses, click Add new. You can set the address type and also set an address as the default billing or shipping address.
Purchasing Info
This is where you can enter the customer's financial-related information. This includes:
Pricing/currency
Discount
Payment terms
Default payment method
Taxing scheme
Tax-exempt #
Preferences
This section is for setting general preferences for your customer. This includes:
Location
Carrier
Default sales rep
Remarks
This field is where you can leave internal notes about the customer. All team members with access to customer records will be able to view the remarks field.
Order History tab
On this tab, you can see the list of the last 100 orders that this customer has made. Orders are listed from newest to oldest.
If you'd like a full list, take a look at the Customer order history report.

Note: Team members with restricted location access can only see orders that are in the location(s) they have access.

Customer list view
If you'd like to see a full list of your customers:
Click on the Customer list from the inFlow Homepage to view all the customers in inFlow. (Or you can click on Main Menu>Customer list when navigating from other inFlow screens.)
To narrow down the customer list, select All filters and add a checkmark next to a filter you want to search by.
The chosen filter will be added to the customer list menu, where you can enter what you'd like to search for.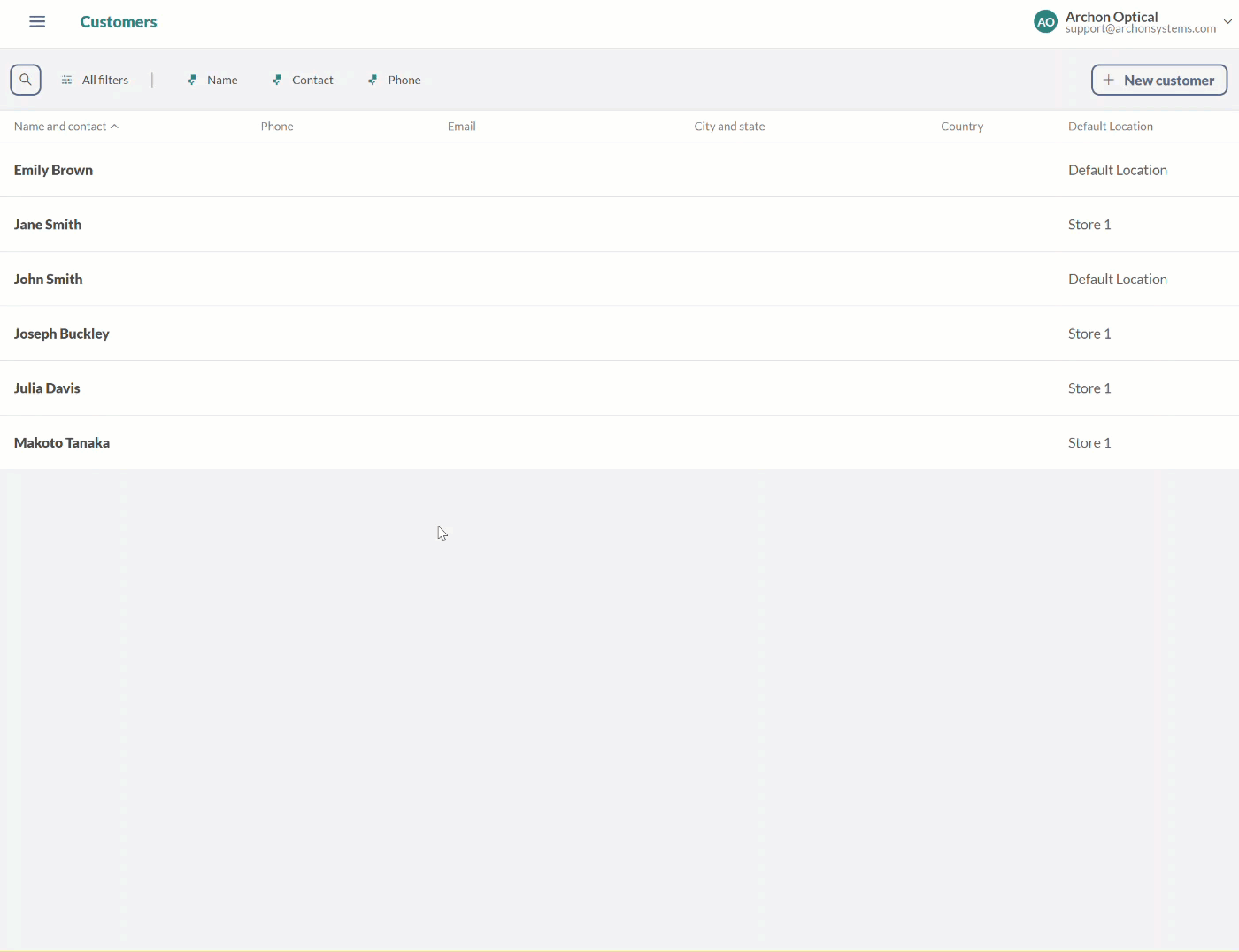 Windows
Creating new customers
To start with, head over to Main Menu > Sales > New Customer to input your customer details.
Name and contact
The only required field to create a customer record is the Name field under the Basic section. The data in this field must be unique.
If you're trying to create a new customer and get the error "This customer name is already in use", then you have likely deactivated this customer record. inFlow doesn't allow you to have two customers with the same name. To fix this, you can find and reactivate that customer record, as shown here.
Generally, you'll want to put the company name in the Basic name field and a contact person in the Contact name field, as seen in the screenshot below.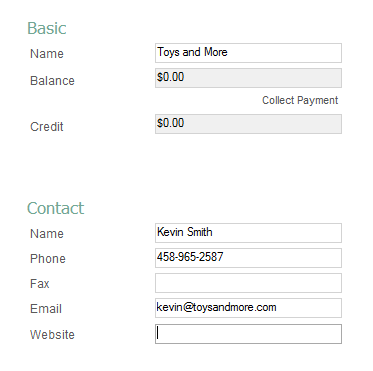 If you need to bill multiple different departments of the same company (or multiple locations) to track separate account balances, it's best to add an abbreviation of the department or location to the company name (e.g. "Wall-Mart – 123 Street", "Wall-Mart – Main Street").
The remaining fields, Balance and Credit, cannot be adjusted and are a result of calculations of the company's order history and any issued credits.
Address
You can enter a business address, billing, and shipping address here or extra/alternate addresses. First, click the dropdown to select the type of address you want to fill in (billing/shipping, for example), and then click the bigger box below it. Fill in the information and then save.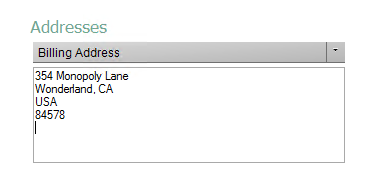 Purchasing Info
This section covers any default settings you want to automatically use in a sales order for a specific customer. This is useful so you don't have to manually change pricing / taxing info per customer, especially if they always use a specific one.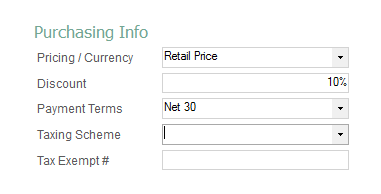 In the example above, this wholesale customer uses a wholesale price, so by setting it here, we don't accidentally charge our normal retail prices. They also always get a 15% discount on each item on their order (in addition to the wholesale price!), and the net 60 payment terms mean their payment is due within 60 days of being invoiced.
You can also choose to specify taxing schemes (if they're in a different state using different tax rates, for example) so you don't accidentally charge the wrong tax.
Mobile
Creating new customers
When you open the inFlow mobile app, you will see a list of your products on the screen. To go to the customer section to manage and create new customers, see the steps below.
Tap on the Main Menu button (The 3 horizontal lines) at the top left-hand corner of the screen.
Next, tap on Customers.
Once on the customer screen, tap the "+" symbol at the top right of the screen.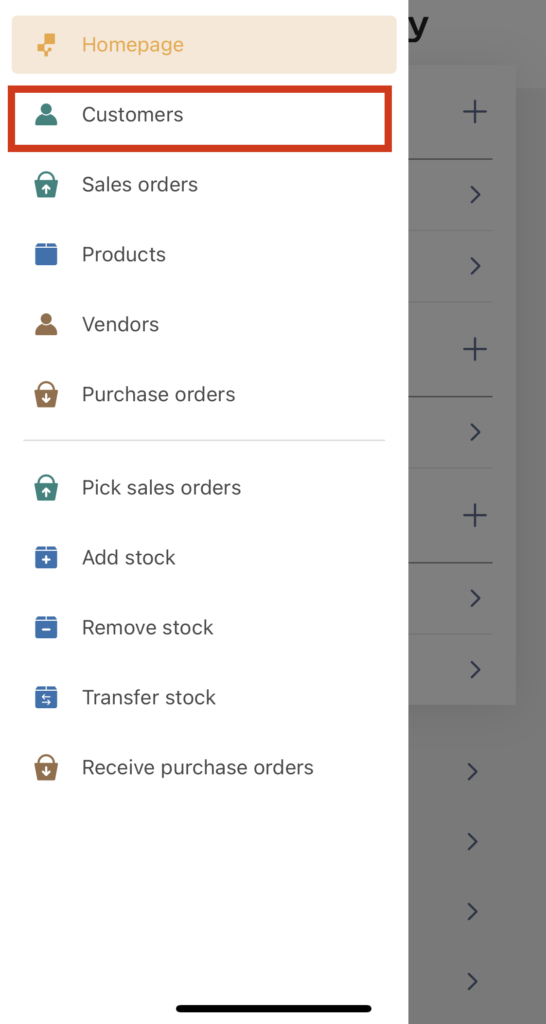 From here, the only field that is required for you to fill out to save a customer is the customer name field that you need to fill out is the Customer name. For the remaining fields, feel free to fill them out as you need to.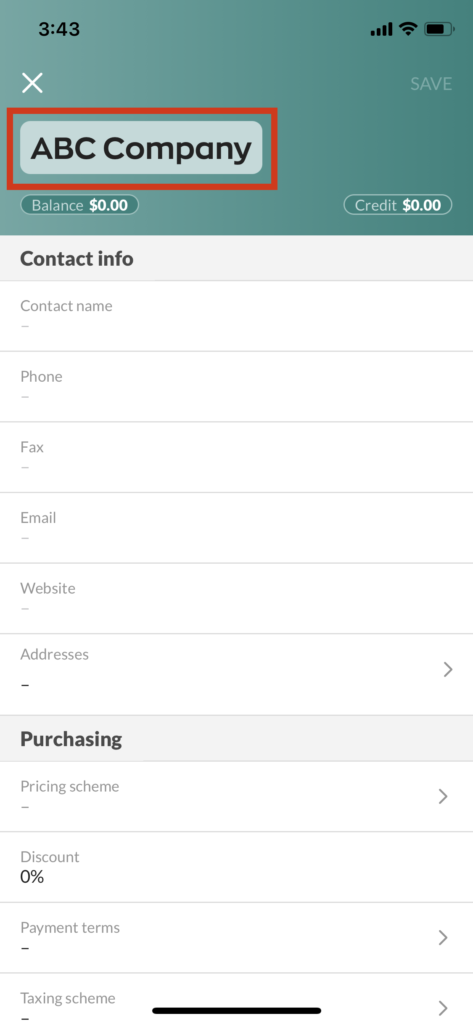 And that's it! Now you have a new customer saved to inFlow Cloud.