Please note this feature is only available on

select plans or add-ons

.
Windows
inFlow Cloud for Windows
Transferring stock from one location to another is easy in inFlow Cloud! You can also cancel the transfer later on if you make a mistake.
To transfer stock:
Go to Main Menu > Inventory > Transfer Stock.
Choose the From Location and the To Location for the item you are transferring.
Select the items you'd like to transfer or click Add by Location to add all the items at the chosen From Location.
Add any remarks you have to the bottom and when you're ready, click Send Transfer.
When the physical transfer is finished, click Receive Transfer.
NOTE: If you need to transfer items from different locations you'll have to create separate transfer sheets for each location.
To cancel a transfer:
Go to Main Menu > Inventory > Transfer Stock.
Click the Cancel button at the top of the screen.
This will revert the inventory movement (both receiving and sending) and disable further editing.
Mobile
inFlow Cloud for Mobile
If you need to transfer stock from one location to another on the go, or move your products around if you're reorganizing your warehouse, this feature is now available on inFlow Cloud for Mobile!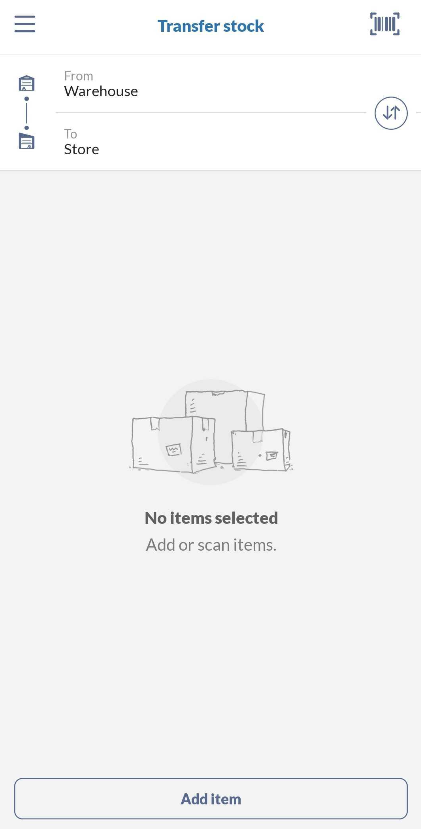 To transfer stock from one location to another:
Go to Main Menu > Transfer Stock.
Select the location you're transferring stock to.
inFlow will assume the user's default location as the location the stock is leaving from. If you'd like to take stock from another location, tap From and choose the correct one (if you're only transferring products between sublocations, then set it to be the same location as the From location).
Once you've done that, you can start adding items by tapping the Add Item button, or scan them by tapping the barcode icon at the top right (pictured above).
A list of your items and quantities should appear. Note that the quantity displayed is only for the From Location, not the total quantity across all locations.
When you're done selecting your items, tap Transfer Stock.
Confirm by tapping Transfer Now.
That's it! You should see a confirmation screen with a stock transfer number which you can reference back on the inFlow Cloud for Windows app. You can also start a new transfer from here if you wish.
What do I do if I've got sublocations?
If you have sublocations enabled in your database, then when you select an item to be transferred, you can also set the sublocation you want it to be taken out of or transferred to.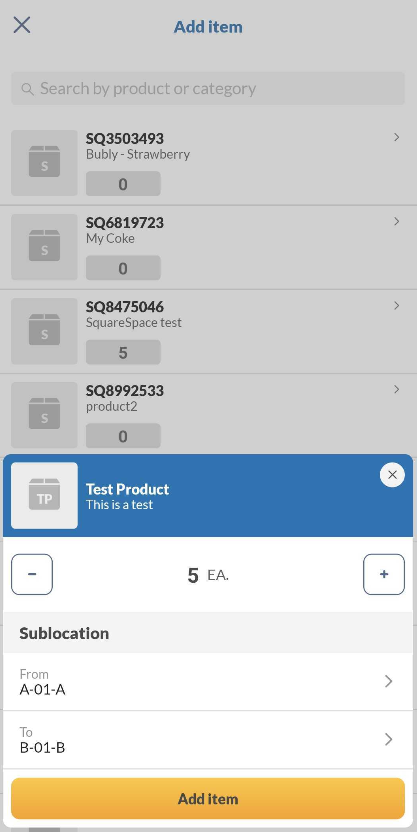 inFlow will autofill from the sublocation that contains the most quantity to the default sublocation for that product (if there is one set). If there's no default sublocation for that product, then the To sublocation will be set to the empty/no sublocation.
In all cases, you can change the sublocations simply by tapping on the From or To fields.
How do I save a stock transfer before completing it?
You might have noticed that there isn't a Save button while you're doing a stock transfer. Not to worry though, if you navigate away from this screen and come back to Transfer Stock later on, you'll have the option to Restart transfer or Continue transfer (pictured below).
Note that this is not an autosave feature; a stock transfer number is only assigned upon completion of a transfer, so you won't be able to start a transfer from the mobile app and finish it via the Windows app.
If you'd like to know more about the inFlow Cloud Companion App, check the full guide here!