Products in inFlow Cloud are the different types of things you may buy, sell and track in your inventory.
Windows
inFlow Cloud for Windows
To create a new product record from the Windows app, go to the Main Menu > Inventory > New Product, or just click on New Product on the Homepage.
First give your item a name, or code. You can use your product's actual name but it must be unique so you can also use a short code like "090822A" instead.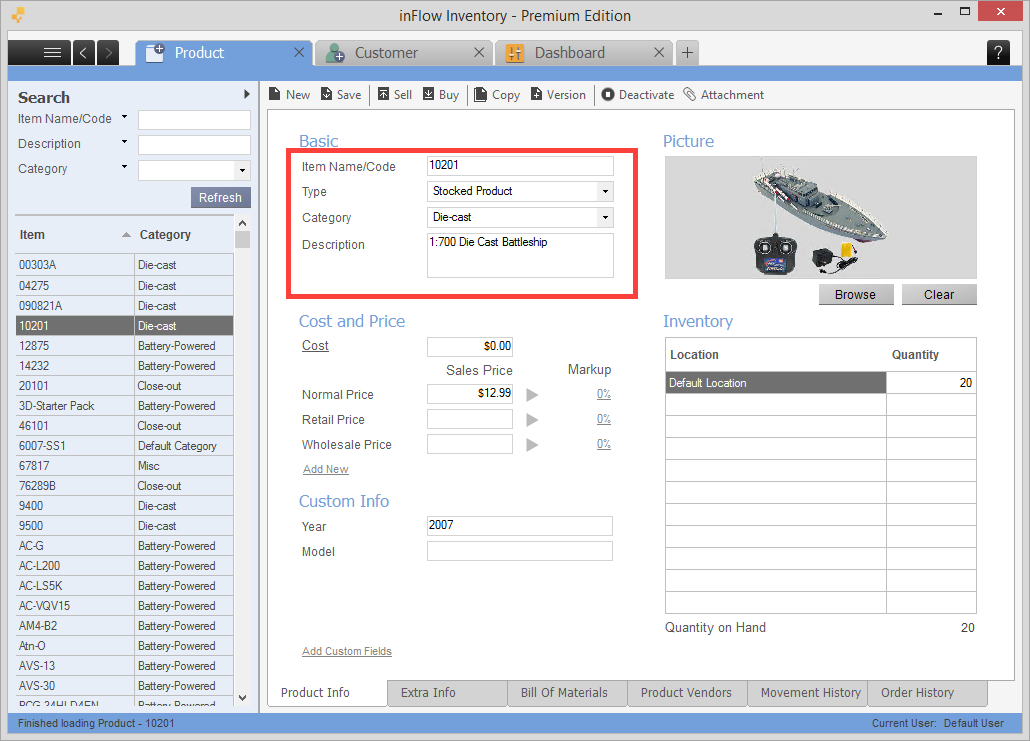 To enter the item's name or code:
Click into the Item Name/Code field at the top of the record.
Enter your product name or code.
*Select your item's product type (stockable, non-stockable, serialized, or service)
Click Save in the top toolbar.
Now you have a new product.
*NOTE: Product Type selection is mandatory and cannot be changed once saved, so it's not possible to save a serialized item and change it to non-stocked/service/serialized after. Please see here for more info on product types.
What else can I do in the product screen?
The product info screen has only two mandatory fields that we described above, but you can also input additional information if you like. You can:
Video tutorial
inFlow Tutorial 3: Products 101 | inFlow Cloud
Web
inFlow Cloud for Web
inFlow Cloud for web allows you to create and edit your products from most Windows based browsers, giving you the freedom to create new products on the go!

For full steps on how to create a product, please see below:
Creating new products
Log in to https://app.inflowinventory.com with your inFlow email address and password.
If your database doesn't have any products yet, click on the new product link. Otherwise, click on the New button on any existing product record.
Fill out the Item Name/Code, and the Item type fields. If you're unsure of what to pick, please take a look at our item type article.
Once you've added that information, the Save button will be available at the top-right hand corner of the screen. Click Save to add that item to your inventory. If you click on another item/tab before clicking the Save button, inFlow will ask you if you'd like to save your changes.

Fields with exclamation marks mean they are required and must be filled out before you can save the item.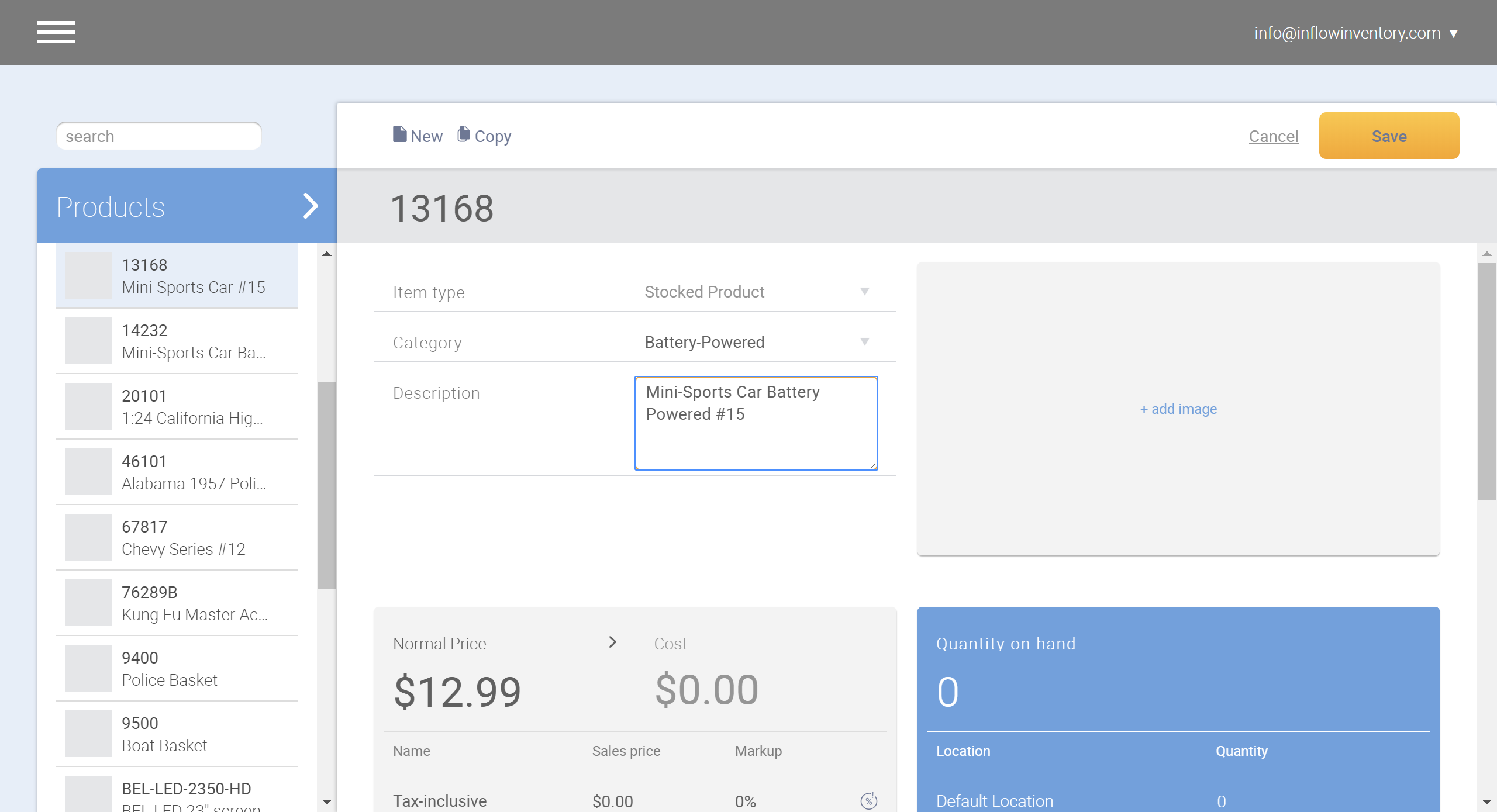 Once saved, you can view your new product on the desktop and the inFlow Cloud mobile app.
What else can I fill out on this page?
If you're familiar with the product record from the Windows app, then you might've noticed that there aren't any tabs to switch between on the web app. To make things easier, the layout of the web app is similar to the layout of the product record from the desktop app, but listed all on one screen for easy access. See below for details.
Basic info
The item name/code, item type, category, description (if the description setting is turned on for the desktop app) and image are at the top of the product screen.
Item Type
Once an item type is saved, it can't be changed on the web app. If the item type needs to be changed, please open inFlow Cloud for Windows to modify it there.
Categories
The category drop-down field will load with all the categories that your inFlow desktop has.To add more categories, open the inFlow desktop app and go to Main Menu > Inventory > Product Categories. Refresh inFlow Cloud for web once new categories have been added. For more information on categories take a look at our article.
Description
The description box is available when this setting is turned on in the inFlow settings. To turn it on, open inFlow Cloud for Windows and go to Main Menu > Options > Settings. Under the Describe products by section, click the item name/code and description option. Click Save & Close when done.
Product Image
Click on the +add image link to add a picture to your product from your PC. Multiple images can be added to any product, just hover your cursor on the image and click +add image again. You can toggle between the photos by clicking on the orange arrow at the side of the image.
The first image added is made into the default image. To change that, click the arrow until you find the image that you want to be the default. Click on image and click make default.
If there are any images you want to remove from a product click on the centre of that image and click the remove image button.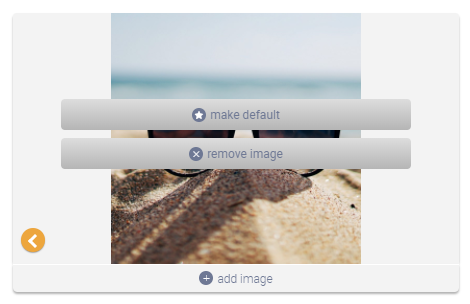 Mobile
inFlow Cloud for Mobile
inFlow Cloud for Mobile is a quick way to add your products into your database. Using the mobile app lets you also add a image and scan the barcode without any special equipment.
Open the inFlow Cloud app on your mobile phone and tap on the + symbol at the bottom right of the screen.
Tap on Add Product.
Enter a Product Name, type, and category. You can also scan a barcode or take a photo for this product at this time too.
When done, click Save.