Web
inFlow Cloud for Web
Do you have an online store with Shopify? If so, inFlow Cloud has made it easier to sync your orders and inventory levels. This means your online store's stock levels will be up-to-date, and this keeps you from having to enter your sales from your online store into inFlow. Let's get started.

To jump to a specific section of this article check out the links below:
Getting Started
inFlow Cloud for Windows App
Go to Main Menu > Options > Integrations.
The inFlow integration page will open on your computer's default browser.
Click on the Shopify logo.


inFlow Cloud for Web
Click on the Shopify logo.
Setting up
After you click on the Shopify logo, an overview window will open. Type the name of your Shopify store in the available field.
Click the Connect button.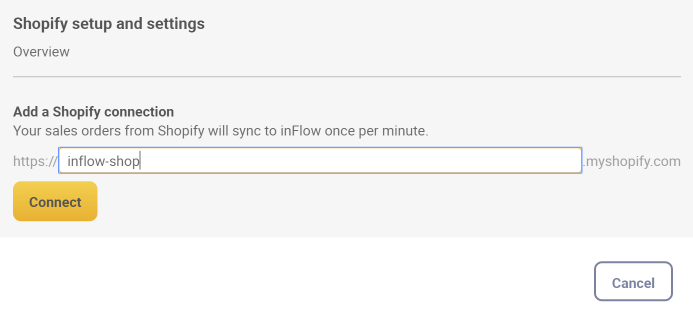 If you're not already logged into your Shopify account, you'll be redirected to log in to your Shopify account. Enter your shop account email address and password. (If you're already logged into your Shopify store, you can continue to the next step).


Once you've linked your Shopify account, you'll be redirected back to the inFlow Shopify setup wizard. Here is where you can set a variety of settings.
Product Settings
This section is where you select how you'd like to sync the product names with inFlow and Shopify.
This is an important setting as the names of products in inFlow and Shopify need to match exactly in order for the sync to work. Select the option that you'd prefer from Shopify.

If you're adding products to inFlow for the first time from Shopify, then you can ensure your product names will match by exporting a CSV file of your products from Shopify to inFlow. For instructions on how to do this, please click the following Shopify Help Center article link.
When you have your product list from Shopify you can copy the information to our easy product details import template, that you can download from here.
Now to import to inFlow. Go to:
Main Menu>Import.
Select Product details from the Data type drop-down menu.
Click Select file to locate the csv from your computer.
Click Next. Your import will now start and when it's done you'll be notified by email.
For more information you can take a look at our product details importing article.
Push inventory levels to Shopify
What do we mean push inventory to Shopify? To "push" data means inFlow will send data out of inFlow to another source (in this case, Shopify).

So if you'd like your Shopify store to sync inventory levels to your default Shopify location, then you can leave this setting activated.

In this section you can also tell inFlow what to do in case inFlow pushes a product to Shopify that isn't already in your Shopify product list.Choose the option you prefer.

If product isn't found in Shopify
We've added these options depending on the needs of your inventory. See below for some examples.

A.) If you have items in inFlow that you don't sell on your Shopify store, then the Don't let me know option will ignore product differences instead of sending you errors for products that you've purposely kept from Shopify.

B.) The Let me know option is good if inFlow and Shopify are set up to have all the same products. This setting will then show you an error when there's a difference between Shopify or inFlow.
Error when pushing inventory to Shopify
If you see the error that reads: you'll need to reauthorize your Shopify account before we can start pushing stock levels from inFlow, you can correct this by disconnecting your Shopify integration, and re-connecting it with the steps below.

Click the Dismiss button to the right of the screen.
Below, click Edit in the Shopify integrations section.
In the Connected shops drop-down menu select your Shopify store, then click Remove.
On the next screen click the Confirm button, then click Done.
Now that Shopify has been disconnected, reconnect your store again by again by clicking the Edit button in the Shopify integration area.
Follow the steps in Wizard as you did from the above Setting up section of this article.
Pull orders from Shopify
Now what we've covered pushing data, the opposite applies for the term "pull". This means inFlow will sync data from another source like Shopify to bring into inFlow. inFlow pulls your sales information from Shopify to create sales orders for you, so you don't have to do any double entry.

Select your preferred settings in this section to match your company's preferences.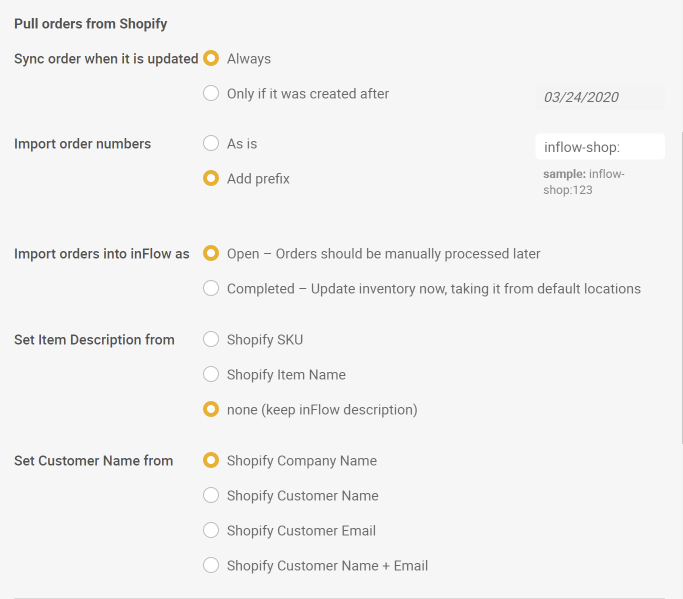 Customize how Shopify conflicts are resolved
From time to time, the information in inFlow and Shopify may not match. For any time that may happen we've added some settings for you to control what the outcome will be to make any changes or corrections to sync Shopify with inFlow.

Go through each setting and select your preference. And when you're done, click Next at the bottom of the screen.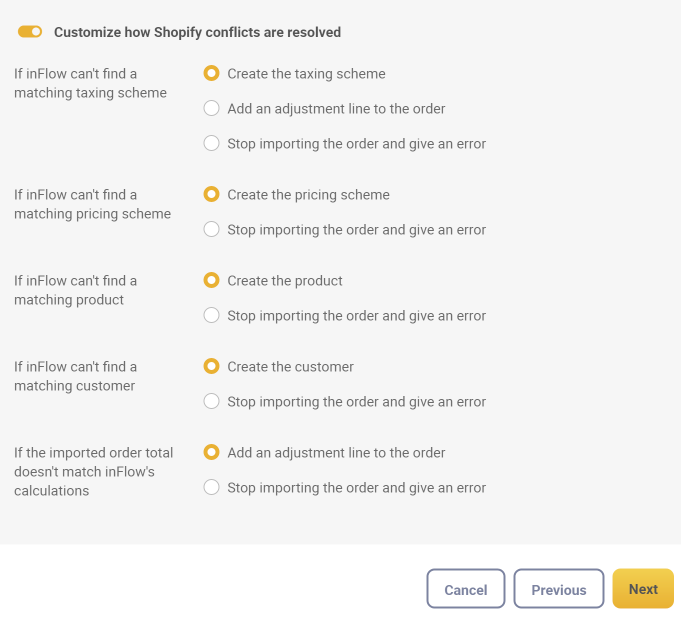 And now your setup is complete! You can click the Done button for inFlow and Shopify to start syncing together.

What data will inFlow Push to Shopify?
inFlow will sync quantity available based on purchase orders, sales orders, and stock adjustments made in inFlow. This only applies for products that exist in both inFlow and Shopify.

What data does inFlow pull from Shopify?
Shopify orders that have been marked as paid or pending will be synced to inFlow Cloud. See below for a list of fields from your Shopify orders that sync to inFlow.
Customer Name
Item Name & Description
Pricing Scheme
Taxing Scheme
Contact Name
Customer Billing and Shipping Address
Item Price (does not override product default)
Any applied discounts
Order Remarks (called Notes in Shopify)
Payment Method
Can Shopify orders update after they first sync to inFlow?
After your orders have synced the first time, there are some fields that can update in inFlow as you update in Shopify. See below for a complete list of fields that will update in inFlow.
Notes (shows up as Remarks in inFlow)
Shipping address
Refunds
Payment (if the order wasn't paid, paying it in Shopify will update the inFlow order)