Finished your trial and looking to completely start over? Uploaded the wrong database and want a re-do? Switched from On-Premise to Cloud and want to keep your database? No problem! You can do that through inFlow Cloud's web app as long as you are an administrator for your company's inFlow account. Click on the shortcuts below if you know exactly which option you need.
To start, head on over to https://app.inflowinventory.com/login and then click the Main Menu button (the three horizontal bars at the top left of the screen). From there, scroll down and click on Options > Company settings. Scroll down to near the bottom of the screen where it says Manage my Data (shown below). From here you can transfer or reset your data. If you don't see this option, that means you're not logged in as an administrator and you do not have access to perform this action.
Note: During data transfer or reset, you and your team members will not have access to your inFlow account. You may need to restart inFlow when your new data is ready. Before you begin this process, please make sure everyone is logged out and not using inFlow.
Transfer data
Use this option if you want to replace your existing data with a different inFlow On-Premise backup file. PLEASE NOTE: the data being replaced cannot be retrieved after; it's not possible to switch back and forth as inFlow Cloud does not create downloadable backup files.
After clicking the Transfer data button, follow the instructions on the screen below to upload the inFlow On-Premise backup file that you want to use.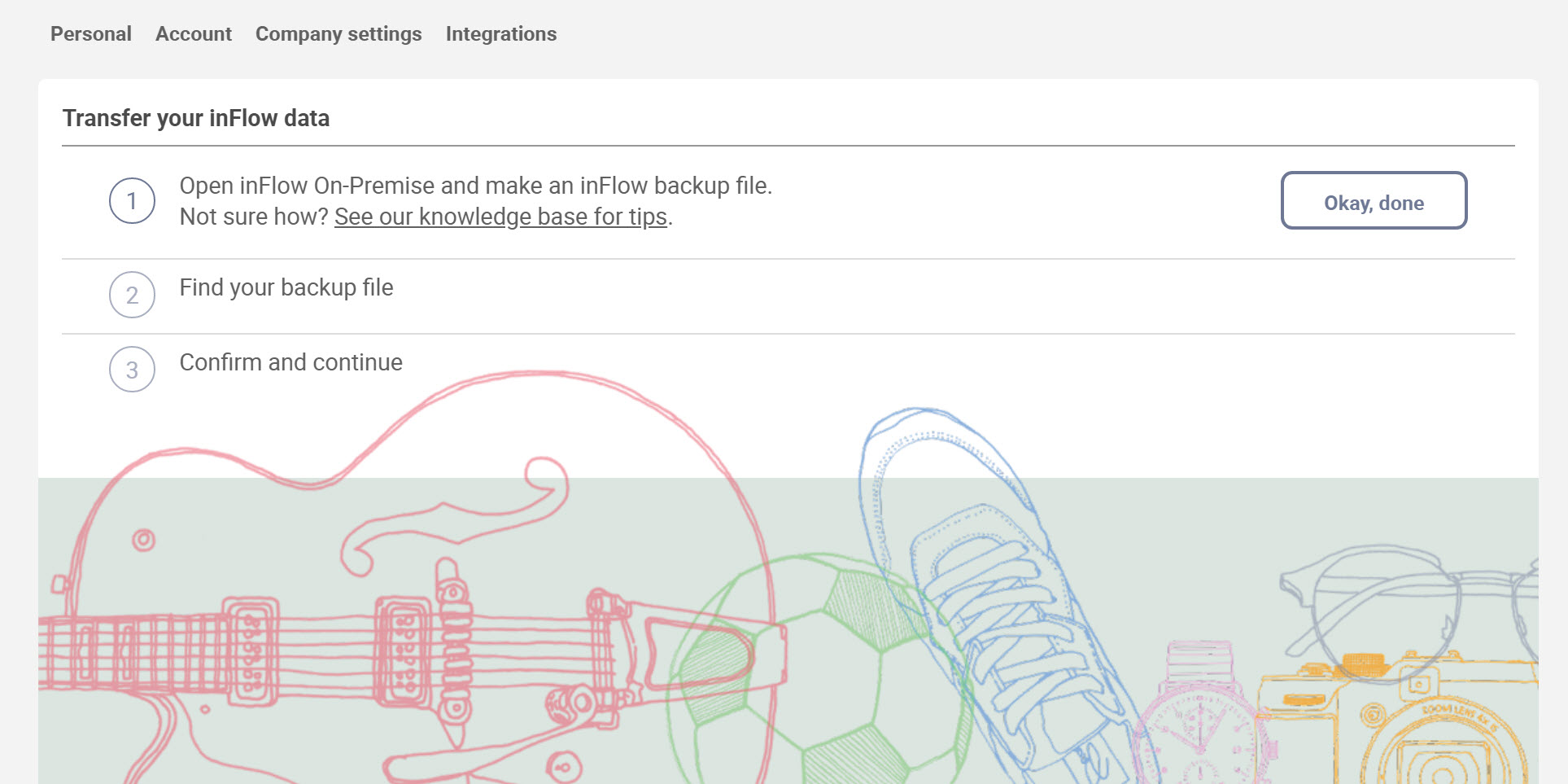 Reset data
Use this option only if you want to start over with a clean, blank slate. If you're looking to reset because you want to upload a new inFlow On-Premise backup file, please use the Transfer data option instead.
After clicking on Reset data button, please read the warning and follow the instructions to reset your database. You may need to wait for a bit before it's ready, but you'll also be notified by email if you need to step away from the computer.