Can inFlow notify me when I'm low on stock?
Yes, inFlow can notify you when you're low on stock! Low stock is determined by your reorder point versus your current anticipated quantity which is quantity on hand + quantity on order – quantity reserved. 
Current anticipated quantity = quantity on hand + quantity on order – quantity reserved
As long as you have access to reorder stock in inFlow, you can customize email notifications for any day you want. You can find this setting in inFlow Cloud for Web.
Log in to the inFlow web app at https://app.inflowinventory.com/login.
Click on the main menu button (three horizontal bars at the top left of the screen), scroll down and choose Options
You will land on the Personal page. Scroll down to Notification settings and click the Edit notification settings button
From here you can choose when you would like to receive your low stock emails. This email will be sent to you on that specific day and time notifying you of any inventory that has reached its low stock quantity. You can set multiple days, but the time will always be the same for all days. Press Save when you are done.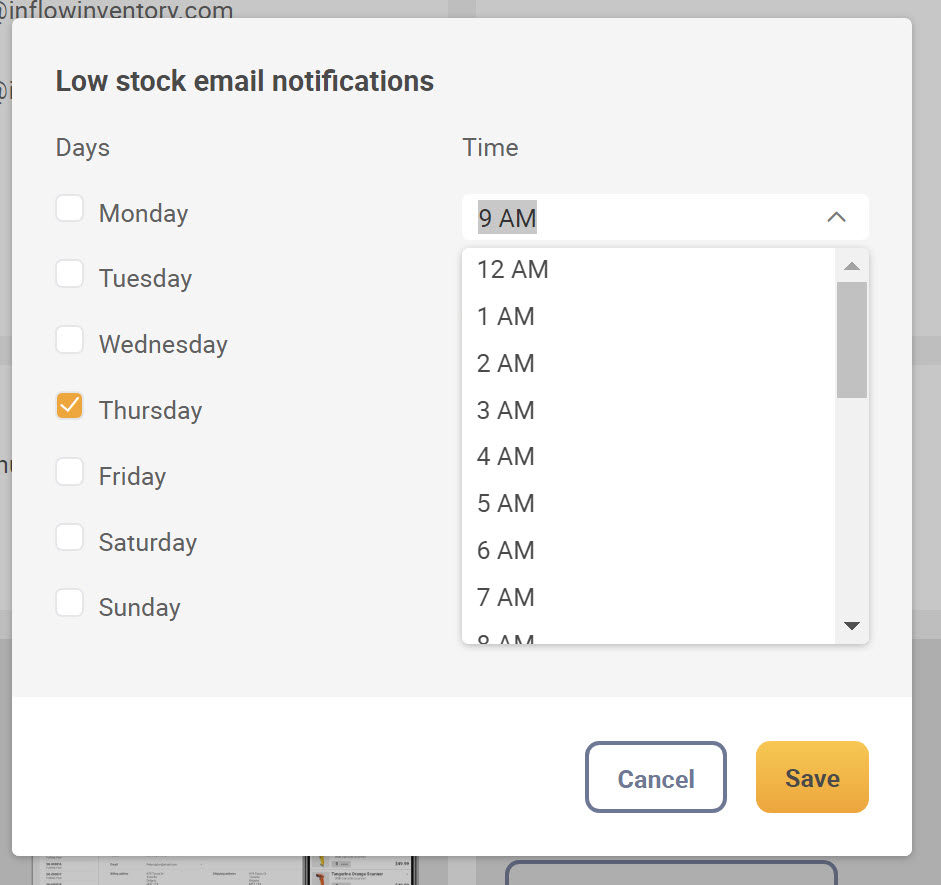 Note: If you travel, you'll notice the setting will have changed to reflect the time in your original location.

For example, if your original setting was 9am EST and you travel west to PST, your email will still arrive at 9am EST (6am PST).
If you don't want to receive these emails, simply uncheck the boxes so that none of the days are selected.
What's in the email?
To keep things simple and easy to read, the email will contain a list of the first 25 products in your personal default location that are low on stock (including descriptions if you have that setting enabled).
If you have more than 25 products that need to be reordered, that information will be included in the email as well as a prompt to see the full list in the inFlow Cloud app.
Note: The products listed in the email are below their reorder point at the time that inFlow sends you this email.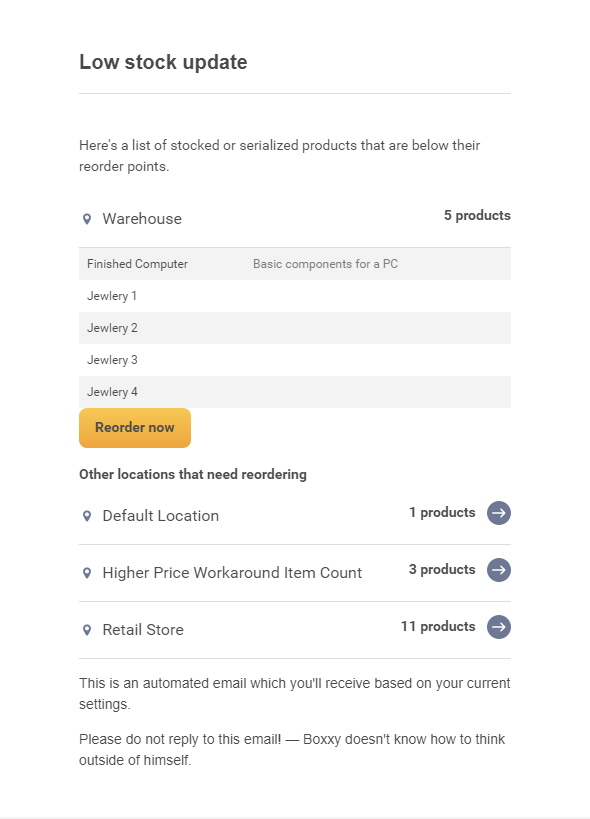 You can click the Reorder now button to login and reorder from the inFlow Cloud web app.