How do I use wireless scanners with inFlow Cloud?
Wired barcode scanners are reliable and very simple to set up, but they keep you tethered to a desk. Fortunately, inFlow Cloud for Windows can also work with a variety of 2.4 GHz and Bluetooth scanners.
How do I pair my wireless scanner with my PC?
When you buy a wireless scanner, it will likely be one of two types: a 2.4 GHz scanner with a USB adapter, or a Bluetooth scanner (which doesn't require an adapter).
2.4 GHz: If you've got a 2.4 GHz scanner, all you need to do is plug the adapter into your PC, make sure the scanner is charged, and then start scanning.
Bluetooth: If you're using a Bluetooth scanner, the pairing process is a little more involved. Your PC will need to have Bluetooth built in, and this Microsoft thread can help you check on whether your computer has Bluetooth available. Before your scanner can be used with your PC, you'll need to pair it with Windows. The most common pairing methods are holding down a pairing or power button or scanning a special "pairing" barcode, but you can refer to your Bluetooth barcode scanner's manual for complete pairing instructions.
Once the scanner is in pairing mode, you'll need to prompt Windows to connect with the scanner by following the instructions below based on your operating system:
WINDOWS 7 – Click Start (or hit your Windows key on your keyboard), type in 'Devices and Printers', then select 'Add a Device' and follow the on-screen instructions.
WINDOWS 8 / 10 – Click Start (or hit your Windows key on your keyboard), type in 'Bluetooth', then select 'Bluetooth settings'. Make sure Bluetooth is turned on, select the Barcode scanner, and then 'Pair'.
Testing your wireless barcode scanner
Once Windows is paired with the wireless scanner, you can test it by loading a program like Notepad. If you scan a barcode, the text should appear on-screen.
What happens when I'm out of range?
Most wireless scanners can communicate up to 30 feet away from the PC, which is good for scanning within a large room. If your teams need to scan items that are further than 30 feet away, the wireless scanners will temporarily lose connection with the PC. In cases like this, many (but not all) wireless scanners feature a memory module to remember what was scanned. You should still hear a beep for every item you scan while out of range, but that beep may sound a little different than normal.
When your scanner resumes its connection with the PC (as you walk back into the 30-foot range), you will likely hear a lot of beeping sounds coming from the scanner. It will beep once for every instance you triggered the scanner, and inFlow should respond by increasing the count of products on-screen. The important thing to remember is that you have to leave the Purchase/Sales Order/Count Sheet/Adjust Stock Screen open, otherwise inFlow will not properly receive the scanned items.
Do you have any suggested wireless scanners?
There are a lot of options for wireless scanners on the market, but our teams have tested a few options that are easily attainable online. Here is what the scanners look like, with a few notes on each ones below: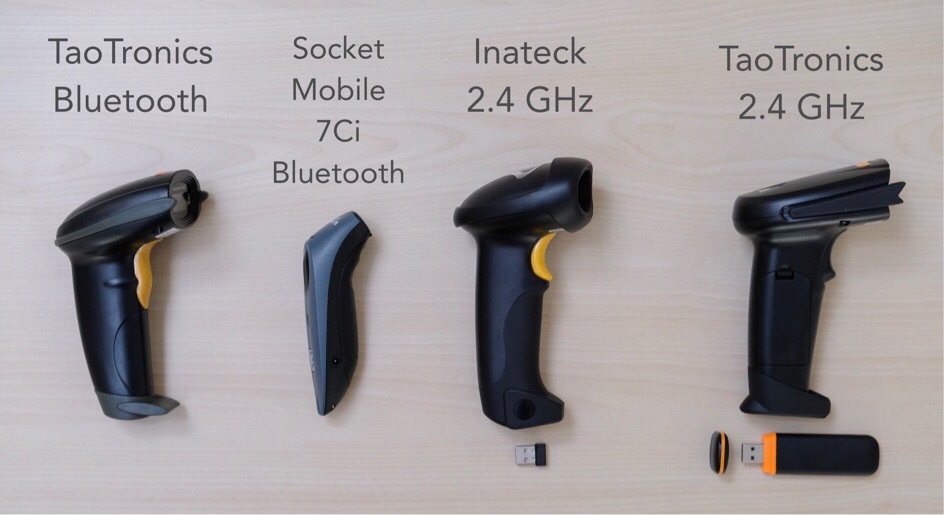 TaoTronics Bluetooth Scanner (~$66 USD)
Slightly smaller footprint
Remembers barcodes while away from PC
TaoTronics 2.4 GHz Scanner (~$50 USD)
Large USB adapter takes up space
User-replaceable battery
Remembers barcodes while away from PC
Inateck BCST-20 2.4 GHz Scanner (~$50 USD)
Small, unobtrusive USB adapter
Remembers barcodes while away from PC
Socket Mobile 7Ci CX2870-1409 (~$200 USD)
Wearable with a lanyard
Very tiny, pocketable
User-replaceable battery
No memory, cannot scan when out of range
Once you've got your wireless scanner set up properly and paired with your PC, you can follow these instructions to pair barcodes with your products in inFlow.