inFlow Cloud provides secure access to your inventory from anywhere, meaning you can access your data from multiple devices and locations. This opens up the possibility for different branches of your company to work together across cities, or even across countries.
But this also means that it's harder to oversee all of your data, or prevent changes to historical records. To help with this, inFlow Cloud has a great new feature for protecting the integrity of your data. It's simply called Close Old Orders, and here's how it works.
If you'd like to ensure that completed orders cannot be tampered with or changed, inFlow Cloud offers a few options for administrators: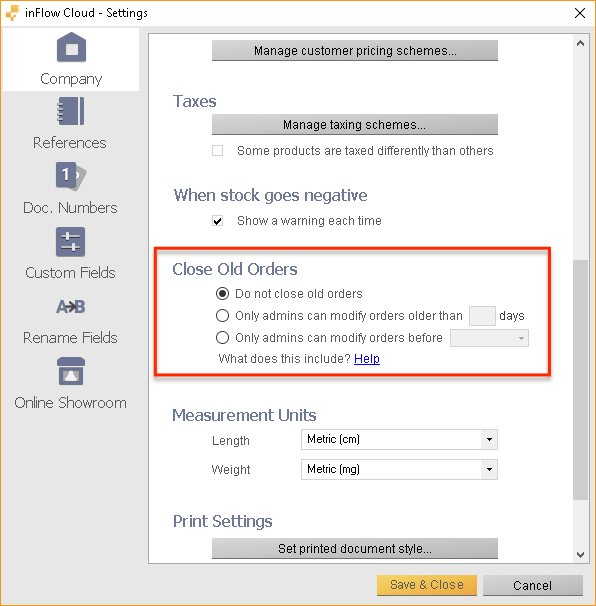 Do not close old orders
By default, inFlow Cloud will not close any old orders. This means that if you have SO-2501 from June 2016, any team member who can edit sales orders will be able to change that sales order at any time. This is the way inFlow has always worked before the Close Old Orders feature was launched.
Close orders that are older than X days old
The second option, only admins can modify orders older than X days, is a good way to automatically close orders on a consistent basis.
For example, if you set it to something like three days, then your team members will still have time to make corrections to an order after creating it. But after those three days have passed, only an inFlow administrator can help to re-open and edit a closed order.
Closing all orders before a specific date in time
The third option for closing orders is to close all orders before a given date. This is useful if you have finished a fiscal year and want to make sure that all orders from that fiscal year (and earlier) cannot be changed.
When does an order become closed?
You can easily tell if an order is closed because it will have a giant CLOSED stamp over it. Closing orders is as simple as fulfilling all of the items on that order, and this support article shows the types of orders that can be marked as closed.
---
If you'd like to keep up to date on all of the latest improvements to inFlow Cloud, you can bookmark our Cloud Updates page.
If you're not using inFlow Cloud yet, you can try it for free today!