— 2 minutes reading
This is one of those updates where it's more fun to show, rather than just tell.
inFlow customers manage lists of orders and products, so we've focused on making this process even faster.
Customize your columns
inFlow already provides inventory access to anyone at your company. But salespeople need different details from those in fulfillment, and it's hard to create one view that suits everyone's needs.
That's why you can now choose which columns—including custom fields—are displayed in any list. You can select which columns to add and remove, and you can even reorder them to suit your preferences. If you end up creating a view you don't really like, just scroll to the bottom of the column list to reset everything to default.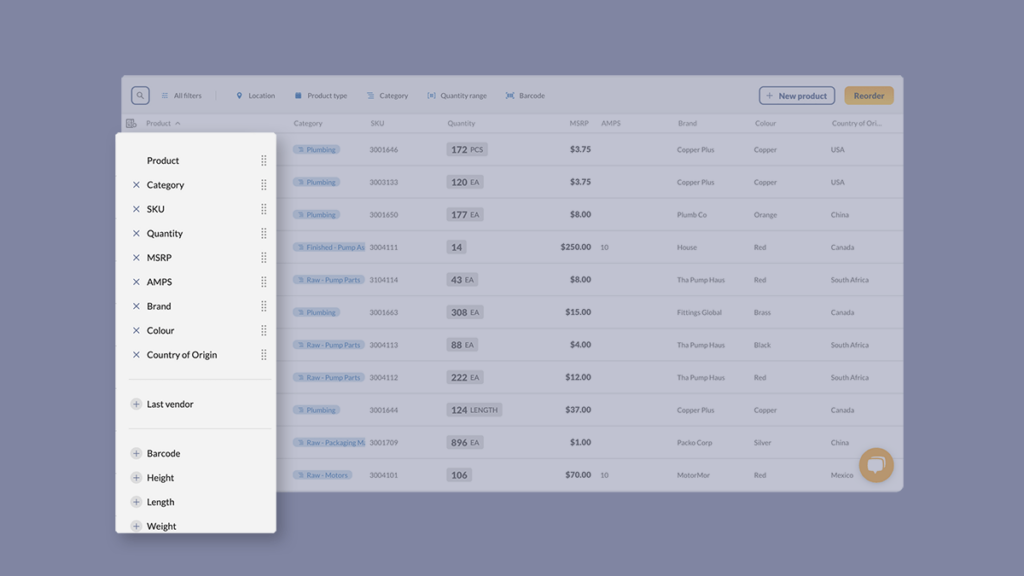 Best of all, these settings are saved per team member and per tab. So you can have a layout that suits your work, while your team members can choose something to suit theirs.
Act on multiple records at once
There are some tasks, like assigning orders or updating categories, that are easier done in bulk. We've added checkboxes along the left side of each record in a list. You can use these checkboxes to select up to 20 records at a time and choose the action you'd like along the top of the screen.
If the action you chose can't be applied to all of your selected records, inFlow will let you know which ones are excluded.
These bulk actions are available for product, sales, and purchase order lists for now, but we plan to expand them to other lists soon!
---
That concludes the major changes to our lists in inFlow. We hope they can help you dial inFlow in to better fit your work.
And if you're not using inFlow to quickly manage your orders and inventory, you can start a free trial below.