Updates to inFlow Cloud
We're constantly improving the inFlow Cloud experience and we generally update the system on Tuesday evenings (EST). If we expect any downtime, we'll update our status page to let you know.
The good news is your subscription includes all of the updates and fixes we release. Here's how to make sure you're in the latest and greatest version of inFlow Cloud:
October 16, 2019
Sort and filter on the go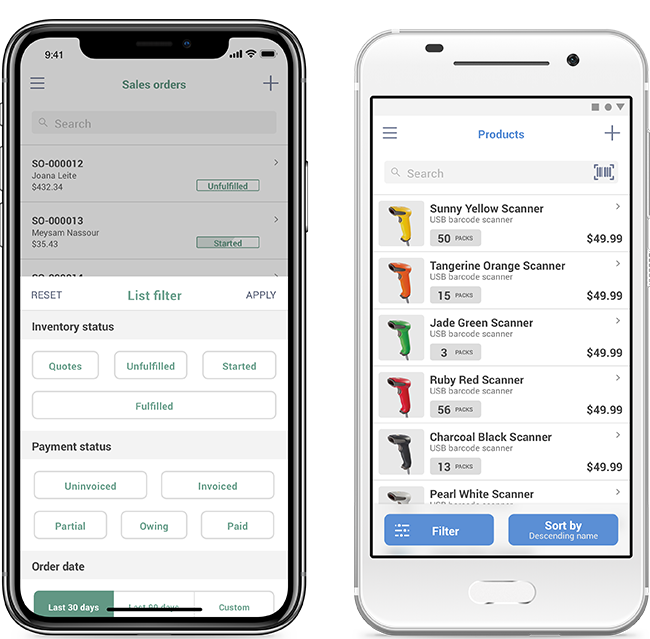 We've got two related features to announce.
First up: you can now filter products, orders, and customers right inside of inFlow Cloud for Mobile. This is really useful for quickly finding customers from a specific area or filtering to just the unfulfilled or started orders.
Secondly: we've also brought sorting options to the Products and Customers screens as well, so you can quickly see the information that fits the task at hand.
October 1, 2019
Guided picking
We're excited to launch guided picking for iPhone and Android devices. This brand-new interface aims to help you speed up your picking process with large product photos and a step-by-step workflow.
We're hoping this improvement to the mobile experience will help your business leave more of your paper workflow behind. But if you're the kind of picker who prefers to see a whole list of products to take from the shelf, don't worry. You'll still be able to view an entire pick list from our mobile apps as well.
Web Showroom setup
We've noticed a lot of you are using and enjoying Showroom, so we've made it even easier to manage them by moving Showroom settings to our web app. You can change your general Showroom settings, as well as Special Showrooms you may have set up for your own customers.
You'll find the new Showroom settings in the Options area of https://app.inflowinventory.com.
Stuff we've fixed:
 

We've fixed an issue where barcodes weren't generated properly for large databases with thousands of products.

 

The Current Stock screen will now show 0 instead of a blank for locations with zero stock.

 

We've fixed an issue that caused the Inventory Details Report to run slowly for some customers.
September 10, 2019
General improvements:
We've changed our onboarding experience in the web app to provide more guidance when you start using inFlow.
September 3, 2019
General improvements:
We've moved the switch for activating or deactivating shipping on orders, and we've also turned it into an on/off toggle to make it clear what its current state is.

 

You can now cancel sales orders from the web app from the More menu.

 

Our app is now simply called inFlow on your home screen or app launcher (it rolls off the tongue better than inFlowCloudCo…).

 

 
Stuff we've fixed:
Our DYMO integration setup is working properly again.

 

Reverting to a previous version of an order will no longer remove the payment information from the order.

 

The inventory details screen shows multiple locations once more.

 

 

You can now search for sales orders by customer (thanks to all of your input)!

 

 
August 27, 2019
General improvements:
We've added controls to the Shopify and Amazon integrations to exclude orders from a certain date range. This is useful for making sure that older orders aren't synced to inFlow, even if they're updated on Shopify or Amazon.

 
Stuff we've fixed:
Splitting work orders will no longer reset the pick dates to 1/1/0001.

 

QuickBooks Online tax mappings are now assigned properly during setup.

 
August 21, 2019
More Options and Homepage come to the web app
 

:
We've been working hard on a lot of little tweaks and improvements to inFlow Cloud's web app over the past few months. The most noticeable and shiny new things are the Homepage, which acts as a visual hub for when you visit https://app.inflowinventory.com, and a reorganized and expanded Options page, which makes it easy to tweak personal and account-wide settings.
Stuff we've improved:
We've added filters for order and product lists so you can get them to display only the information that's relevant to you right now. 

 

You can now sort by columns in order and product lists (just select the top of a column to start sorting, and select it again to reverse the sorting order).

 
Stuff we've fixed:
Quote numbers now display properly when you print or email a quote.

 

Stock adjustments now respect the user access rights set by your inFlow administrator(s). 

 

On-Premise databases with periods in their name now migrate properly to inFlow Cloud.

 

We fixed an issue where items scanned onto a sales order were missing their descriptions. 

 

Tapping Ship Order when the order was partially shipped will now open the Shipments screen (instead of the Shipment details). 

 

 
July 30, 2019
 

 

Mobile sales orders are live!
If you handle sales or any of the fulfillment process at your business, we've designed this update to save you time and paper.
Here's what you can do with mobile sales orders:
• Create and view sales orders (complete with product images)
• Add items to orders by Item Name or by scanning a barcode
• Skip the printer and turn your phone into your mobile pick list
• Mark orders as paid or invoiced
We're very excited to get these new features into your hands.
 

 

Sync your Squarespace orders to inFlow
We're excited to announce that our new Squarespace integration is live. That means you can now bring orders from your Squarespace store into inFlow, automagically!
July 16, 2019
General improvements:
You can now change the names of products during a Product Details import from the web app.

 

For those in requisitions — our web app can now import purchase orders!

 

You can also print and email POs through the web

 

app.
Stuff we've fixed:
We've tweaked how we approach single character searches to prevent situations where certain types of product names (e.g., inFlowPhone X) could be excluded from search.

 

The email field now shows up properly on web purchase orders.

 

Saving an invoice date will now mark a sales order as Invoiced.

 

You can now remove the Unit of Measure from a product, even after it has been set.

 

All the text from the Remarks field now shows up on web sales orders.

 
June 27, 2019
Reports come to the web app
Usually when we launch a feature we try to go small so that we can get feedback from customers. But this time our developers were absolutely on fire and they've brought not one, not two, but all 38 reports from inFlow Cloud for Windows to the web app.
Just like in the Windows app, we've broken them down into four major categories for inventory, sales, purchasing, and admin. You can also add filters and tweak the number of columns so that you can laser focus the reports to show just what you need.
Purchase orders come to the web app
Oh, but we're not done yet! We've also brought purchase orders to the web app, complete with the Purchase, Receive, Return, and Unstock tabs.
This means that your purchasing team can submit POs from any Mac, Windows (or Linux?) computers they'd like, and your warehouse team can do the same to mark products as received.
We're really excited to get these new features out to all of you, so please give them a try in the web app and let us know what you think!
Stuff we've fixed:
Unit prices will now change based on the UoM in web sales orders.

 
June 11, 2019
Stuff we've fixed:
We've fixed an issue that kept you from removing a team member's email address from your inFlow Cloud account if you were already at the minimum number of users.

 

The Clear all button wasn't showing up properly in certain windows in the Web app, but it's all clear now.