— 2 minutes reading
This is a blog post about our older, locally-installed product, inFlow On-Premise.

It does not impact inFlow Cloud's availability.
We're announcing our plans to sunset inFlow On-Premise on July 31, 2024.
That's two years from now.
After July 31, 2024 we'll stop selling or activating new licenses for inFlow On-Premise and stop providing support (including online KB articles).
In some circumstances, you may be able to continue using inFlow On-Premise on computers that already have it installed. This KB article explains how you could continue using On-Premise after sunset.
Our reasons for sunsetting
This was a tough decision to make and we wanted to let you in on the thinking behind it.
We're a small business ourselves—about 50 people strong. Since 2007 our mission has always been to help small businesses grow by overcoming inventory problems.
Those problems have changed over the past 15 years. Most businesses now sell across multiple physical and digital channels, and we're putting a lot more smartphones to work in lieu of paper.
Those changes led us to launch inFlow Cloud in 2017, which offered apps on Android, iOS, and web, and a new technological foundation to help you move faster.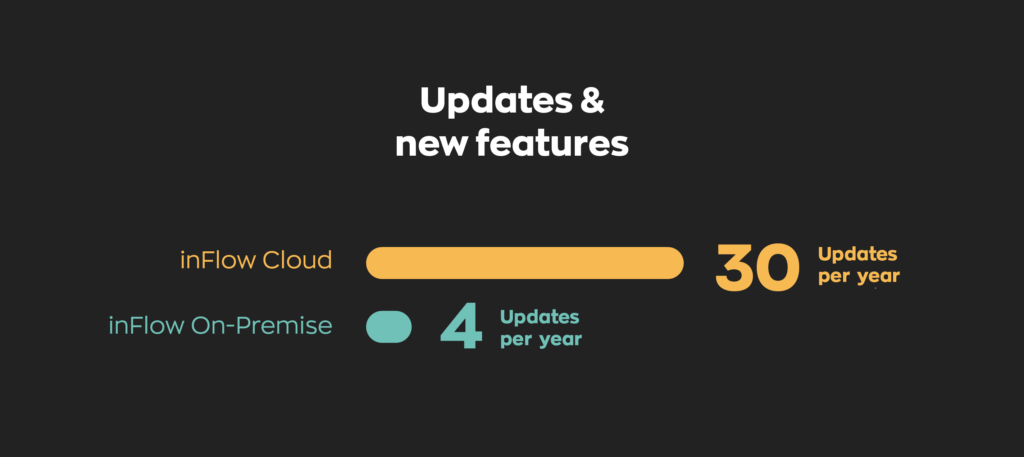 Looking back, we've delivered new updates seven times faster than before. We've accomplished things that weren't possible within the limits of our On-Premise technology—like a built-in B2B Portal and over 90 integrations.
So we've decided to shift all of our focus to inFlow Cloud, and we'll do that on July 31, 2024.
How can you plan ahead?
We hope you'll continue on with us, but if inFlow Cloud isn't the right fit for you, we want you to keep as much of your data as possible. We have guides on how to export your data from inFlow On-Premise in case you need to migrate to a different (non-inFlow) system.
But if you've found inFlow On-Premise useful, we believe inFlow Cloud can help you even more. We've made it really easy to transfer your On-Premise database to inFlow Cloud. And our team is ready to help with any questions you might have about features, mobile apps, or pricing.
Thank you for supporting inFlow On-Premise over the years, and we hope to continue working with you in inFlow Cloud!