My name is Larry Bennett, Jr. and I am the owner and operator of B&B Lawncare. I have 6 full-time employees. It all started when I was about 7 years old, living in the country where I helped my dad mow the lawn. As I grew up, I also helped my grandmother and other family members with their lawn care to the point where people knew me as the "mowing kid."

It ended up becoming something I enjoyed since I liked having the time to myself. I also liked seeing people smile when they got home from work, knowing that they didn't have to go mow.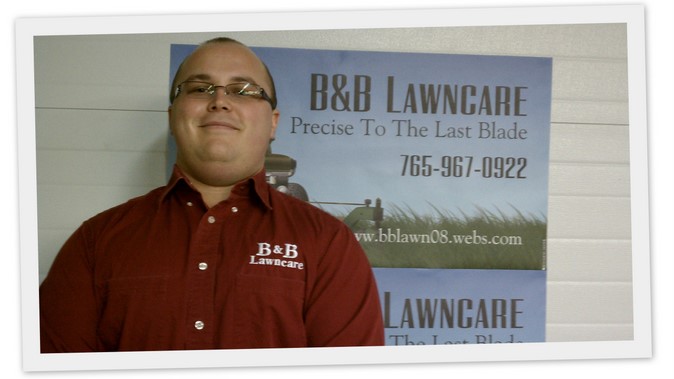 In 2008 I started up my own business with some small customers around the neighborhood. Within the next two years, through word of mouth, my small business grew to about 80 clients.
It's all family operated. It's me, my mother, my two brothers, and my nephew. We do projects around houses, take care of lawns and do total landscaping. All of our customers are glad that they went with a local business instead of somebody from out of town or a franchise.
What does your business offer?
We offer everything from just regular mowing to doing full backyard projects. This might include a big landscaped patio, backyard, or even a fireplace built into the back yard. We also started doing commercial projects last year.
What makes you unique?
I think we stand out because I try to build personal relationships with my customers instead of just being some high profile million dollar company who doesn't care if they lose a customer or not.I probably talk to my customers on a weekly basis, regardless of whether or not they need lawn care. We've had a few older folks who call just to say how glad they are to have us working for them. They have never seen another business that spends so much time just to check in with their customers to make sure they are doing alright.I don't see many companies out there that take time to build relationships and that's what makes us unique.

What are some of the day to day challenges you face?
Two years ago, when the gas prices rose to the $4 range, we were challenged to with making profits. In fact, sometimes we ended up dipping into our own pockets since I did not want to charge the customers more. I know a few businesses around here will change their prices even with the slightest increase in gas prices, but I didn't want to do that.I believe that customers would start thinking twice about your company and maybe even loose trust if you start playing with prices that much.

On a daily basis, the biggest challenge is getting everything done by the end of the week. Since the weather doesn't always cooperate, sometimes we have to work long hours. When we get tired I have to remind people that it's not just about doing a job, it's about doing it right and making people happy in the end.
What is your advice for small businesses?
Our primary marketing is through word of mouth but there are other opportunities worth looking into. For example, we went to a local radio station and found out that they were willing to give us 50% off the recording because we were a new business just starting up. Don't be afraid to ask for a discount.
We also make sure we purchase everything locally. Everything from the vinyl lettering on our vehicles to our lawn equipment, we try to keep everything within the community.
We probably can find better prices out of town, but "buy local, shop local" is a motto that would help everyone in this economy. There are probably parts in your town that you drive by and don't even notice all the small business opportunities around you.
To see more examples of our work, please visit the B&B Lawncare website or give us a call at 765-967-0922.