— 5 minutes reading
Good people, good chocolate, and a better world.
This is the mantra that Sjaak's Organic Chocolates lives and breathes. As a small business based out of California, Sjaak's Organic Chocolates aims to change people's minds about vegan chocolate.
They want to prove that going vegan doesn't mean giving up what you love, like really delicious chocolate.
How did Sjaak's Organic Chocolates get its start?
Sjaak's Organic Chocolates is a family-owned and operated business with a rich history. Founder Jacques Holten, born in 1943 in the Netherlands, had already begun to hone his craft by making pastries and fine chocolates at the age of 13. Before long, Jacques became a master of old-world recipes, and the demand for his expertise grew. He spent several years collaborating with aspiring chocolate makers across Europe, including Spain–where he met a lovely American girl who was studying abroad. 
inFlow Customer Spotlight: Sjaak's Organic Chocolates
In the late 1960s Jacques was given an exciting opportunity to relocate to Aruba to launch a restaurant and bakery. Before heading to the Caribbean Jacques decided to make a stop over to visit the American foreign exchange student he had met in Spain. Once he was in California, he fell in love and never left, settling down in the quaint town of Blue Lake with his new wife.
In 1988, in old town Eureka, Jacques opened his first chocolate store, Sjaak's Fine Chocolates. It wasn't until 2004 that Jacques went into business with his daughter Jessica. Together they opened Sjaak's Organic Chocolates, a new endeavor committed to crafting organic, vegan treats using timeless recipes. Over time Sjaak's business grew and developed into a family of dedicated workers who love what they do.
Where is Sjaak's today?
When Jacques turned 77, he decided it was time to retire. This was when Nicha Leaser and her family happened upon the business. They saw it as a great opportunity to tell Jacques' story and continue to provide the community with high-quality vegan chocolate. Today, Sjaak's Organic Chocolates is a minority women-owned and family-operated company that believes in balancing between purpose and profits.
The products they create are meant as a reminder to be better to yourself and the world around you. For them, this means carefully considering every decision, whether it's related to their team, partners, customers, community, or the environment. A healthier planet and a better world start with mindful decisions. This means keeping their food clean, conducting fair business practices, and protecting the planet.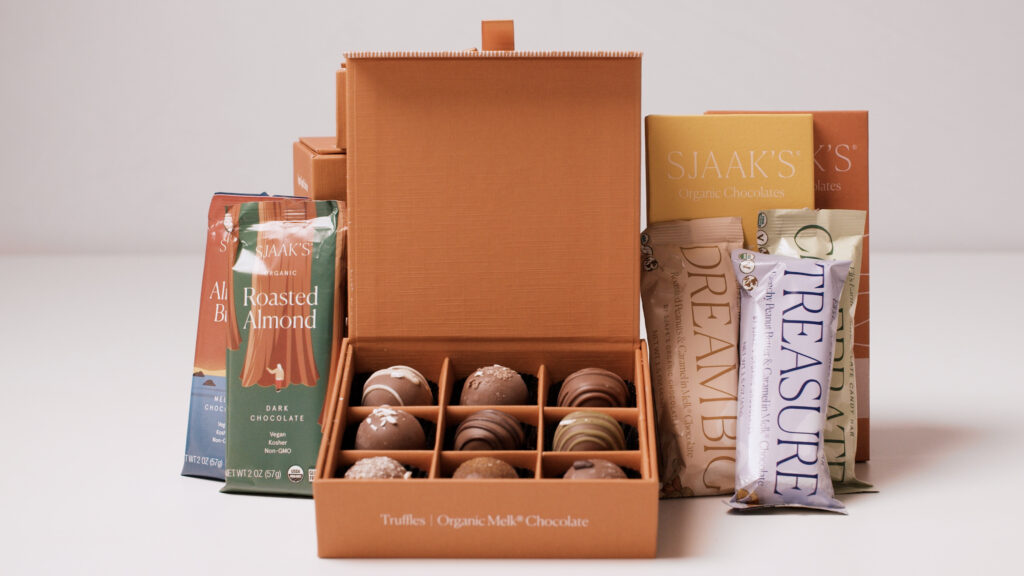 All the ingredients sourced by Sjaak's are certified organic and non-GMO, which means they have not been genetically modified. Additionally, their products are certified by EarthKosher, a majority of them are gluten-free, and their cocoa comes from Rainforest Alliance-certified farms. These farms work to achieve better livelihoods for farmers and workers alike. They create safe places to live and work where human rights are paramount.
The team at Sjaak's believes that happy people make great chocolate. This is why they provide above-market wages and cultivate a work environment that encourages education and development. The goal is to make each and every employee feel heard and valued.
A vow to be climate positive
Keeping their recipes free of animal products means that Sjaak's can avoid the negative impact animal agriculture has on the environment. Even the sugar they use is bone char-free. It's their way of showing respect to the planet and the animals that live on it.
They have vowed to go beyond carbon neutrality, aiming to double the offset of their carbon footprint. One of the ways they do this is by continuously optimizing their packaging to follow a strategic sustainability cycle. The packaging on their 2oz Humboldt bars, for example, is completely biodegradable. Additionally, 5% of the profits that come from the sale of the Humboldt bars go to environmental non-profits.
Sjaak's doesn't just want to protect the planet, they want to inspire others to do the same. The design of their Humboldt wrappers was created to celebrate the natural beauty of Humboldt County by showcasing iconic locations in the area. The idea is to inspire people to get outside and experience the world around them, giving them a better appreciation for the environment.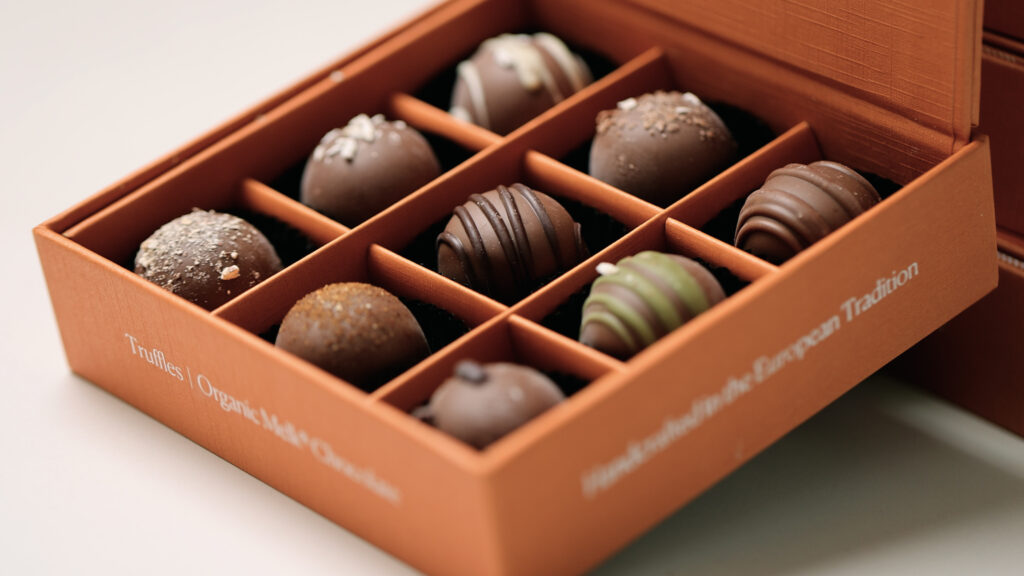 The software that helps them reach their goals
Achieving such lofty goals is all about efficiency, visibility, and automation. With this in mind, Nicha and her family decided inFlow would be a great option for their inventory management. Before inFlow Sjaak's had no inventory system to speak of. They relied on a chaotic system of eyeballing and ordering items only once they'd been depleted. Using inFlow helps them with reordering, sales and invoicing, and calculating their cost of goods sold.
Inventory software gives Sjaak's visibility into their available stock across multiple locations, which is something they desperately need since their operation is split between a factory in Blue Lake and a fulfillment warehouse in Petaluma. With inFlow their production team can purchase ingredients and create work orders to craft products like Earth bars and truffle boxes. Their sales and fulfillment team can enter and pick sales orders. Management can regularly run reports to look at what's being sold, what's forecasted, what sales are coming in, and more.

Above all, inFlow's ability to calculate the cost of goods sold (COGS) is what Nicha and her team simply couldn't live without. Because Sjaak's uses pallets of ingredients to make massive batches of chocolate, sometimes 800 lbs. at a time, having a system that could automatically calculate the cost of each individual box of chocolates was a game changer. With all of the functionality inFlow offers, it's something Sjaak uses from the very beginning of their process all the way until the product leaves their warehouse.