If you're a QuickBooks Online user, you've probably found its inventory management features lacking. That's okay because QuickBooks Online is an accounting app first and foremost, and inventory tracking is really one of its sub-features in the higher-end Plus plan.
The Quickbooks Plus plan can help you with simple product-tracking setups, like buying goods and services on purchase orders and then selling them on sales orders. It will also show you low stock items so you can reorder them, and track your costs with the FIFO costing method.
But if you've already tried managing products with QuickBooks, you've noticed that it's missing a lot of little features to make inventory management easier. For example, QuickBooks isn't designed to scan barcodes, track picking and shipping, or handle serial numbers. The good news is that inFlow Cloud is designed to do all of those things, and inFlow can push sales and purchases to QuickBooks Online.
After you've set up our QuickBooks integration, you'll use inFlow Cloud to manage your inventory and orders, and any invoices or purchase orders you create will automatically push to QuickBooks Online.
For example, if you record a sales payment in inFlow Cloud, this will be reflected in QuickBooks as well. This means that QuickBooks users still have a definitive financial record at the end of the month.
New Feature: Push to QuickBooks Online
How can inFlow Cloud help me track my QuickBooks inventory?
inFlow Cloud was built for tracking inventory, so it handles the basics like buying products and adjusting stock levels, just like QuickBooks can. But inFlow Cloud also takes things further.
One example is how orders are handled: QuickBooks can add products to a sales order, which immediately takes them out of stock. But this doesn't help you when orders are back-ordered or shipped out in batches. 
inFlow Cloud tracks all of the inventory moving in and out of your business, so you can see which products have been reserved on a sales order, and how many you're expecting on an incoming purchase order. It also tracks stock across multiple locations, so inFlow can tell you exactly where a product was shipped from, and how many of them are left in stock at any given warehouse.
These extra details also help you to work faster by filtering your order list. You can see, at a glance, which orders are unfulfilled, or which ones have been started and require additional work. You can also assign team members to specific orders to delegate work efficiently.
If your business is slowing down just trying to manage incoming orders, you'll quickly see why this kind of order management is essential for your QuickBooks inventory.
QuickBooks Online doesn't handle serial numbers
You'll also want to use inFlow Cloud if you handle products with serial numbers, which is a feature that isn't supported in QuickBooks Online. inFlow's Standard and Plus plans help you track the complete movement history of each serial and also generate unique serial numbers on an ongoing basis.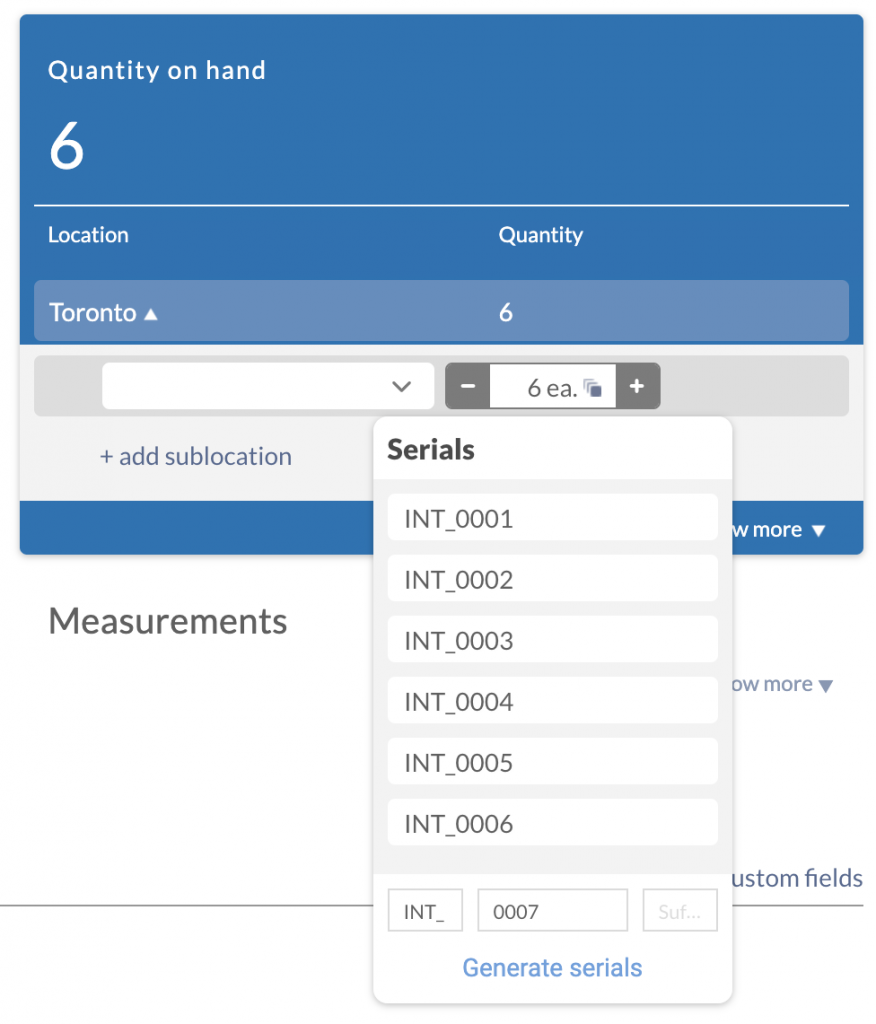 This is super handy if you have any warranty claims or are trying to find out where a broken part was purchased from.
QuickBooks Online can't assemble products or bill of materials
Then there's manufacturing and bundling. QuickBooks Online can group items to be sold as a bundle, but if your business creates new products from components, then you'll want to use  inFlow's work orders.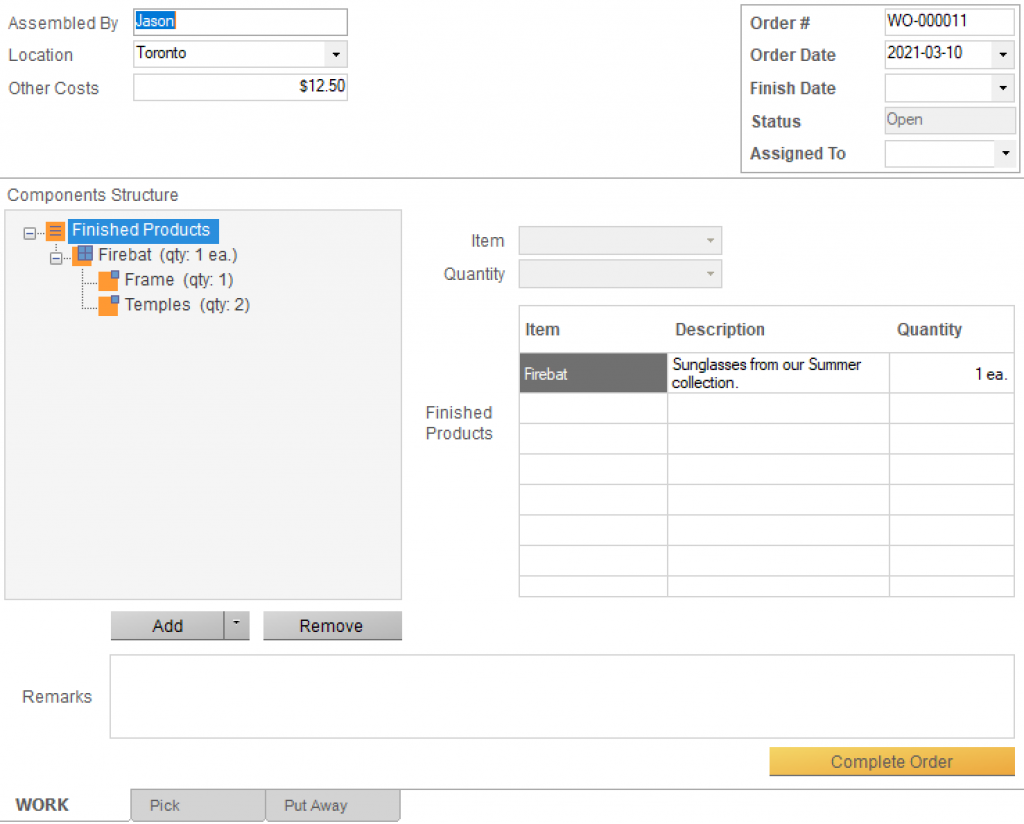 Work orders take a bill of materials (a recipe for creating something), deduct the components from inventory, and build their cost into the final products you create. 
Work orders can also handle sub-assemblies, which means that you can assemble the components from multiple bill of materials on a single work order. This is a great way to keep accurate count of your components, while still ensuring accurate valuation of your finished goods.
Why QuickBooks Online works well with inFlow Cloud
inFlow Cloud has things covered from the inventory management side, and you can receive payments online through inFlow Pay (in US & Canada), but inFlow isn't a full replacement for accounting apps.
QuickBooks Online offers features like profit and loss statements (a.k.a., P&L), which shows you how much money your business gained and lost over a period of time. 
You'll also want QuickBooks to track things like payroll and lease payments, which are subtracted from the money your business earns each month. When you review your P&L you'll have a complete picture of the money going in and out of your business, and which areas of your business you can target for improvement.
Your best bet is to use the right tool for the right job. Use inFlow for your inventory and order management and push all of the financial data to QuickBooks Online. Your inventory will stay under control, and your accountants will have a full picture of your business' financials. 
Ready to get your QuickBooks inventory under control?