How to Make Your Own Barcodes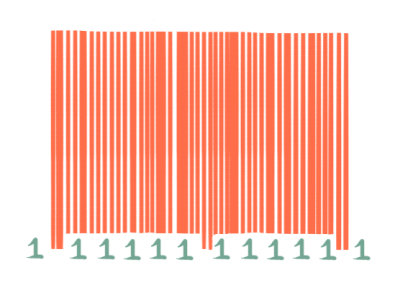 [Note: We've written a newer, more detailed post on How to Create Barcodes.]
Using barcodes to enter products can be quicker and more accurate than manually typing in item codes. If your products already have barcodes on them, then all you really need is a barcode scanner and some software. If not, you can first make your own barcodes.

If your products are going to be sold in other retail stores, you'll need to use standardized formats and pay to make sure your barcodes are unique. We won't cover that in this article, but you can find more information in our free PDF book entitled Barcode Your Small Business.
Otherwise, if the barcodes are just for your business' own use, it's pretty easy to print them yourself. Barcodes are just a special way of writing letters and numbers so that a scanner can read them. You can make up your own letter/number codes (e.g. ABC1234) for each of your products. Then use some software like IDAutomation's free version of their barcode label printing software to print them as barcodes onto some sticky address labels, like those Avery sells in office supply stores. You can then peel them off and stick them onto your products, and you're all set.
If you want to print barcodes directly onto your packaging or other materials, you can instead get a barcode font and use that to type them into your designs in Microsoft Word, Publisher, Adobe PageMaker, etc.
There are different types of barcode fonts and symbols -- Code 39 is the simplest type, but perfect for your company's own use. In fact, we offer our own free code 39 font! Other common types you might come across are UPC-A in North America and EAN-13 in Europe.
Don't let all the barcoding jargon scare you away -- it's quite easy to get started and you can really speed things up for your business.
If you're looking for the full picture on how to use barcodes for your business, you can download "Barcode Your Small Business" for free. It's a quick and informative read that will show you everything you need to know get a complete barcode system up and going for your business.
Need barcode maker software that also reads barcodes?
inFlow Cloud offers powerful inventory management, and it was designed with barcodes in mind. Our Windows app can scan your products right onto sales orders or stock adjustments, so you can get your day-to-day work done faster.
Want to see how easy it is to make barcodes and barcode labels with inFlow? Check out this three-minute video we filmed at our office!
How to generate barcodes for your inventory | inFlow Cloud