— 5 minutes reading
This is one of the biggest updates to inFlow we've released in a while.
It's now much easier to trace where your products have come from, and where they've been going.
We've also added a brand new inFlow Label Designer to create your own labels (price labels, barcode stickers—you name it).
And, last but not least, we've expanded our printer support: you can now print from virtually any printers (not just DYMO), and you can share those printers with any computer connected to your inFlow Cloud account.
In this blog post we'll dig into more of what makes these features so great.
inFlow Label Designer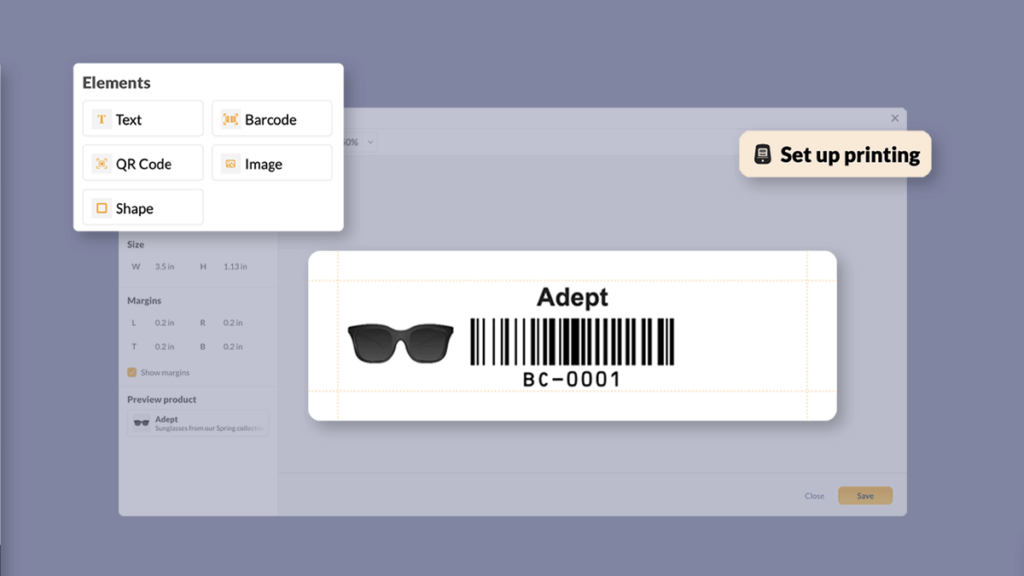 Previously you had to use DYMO's software and hardware to print labels. This worked well, but it required you to use a separate app from DYMO to design the labels and then import those layouts for use in inFlow.
With the brand-new Label Designer, you can now create and modify your own label designs at any time.
Design new label templates right from inFlow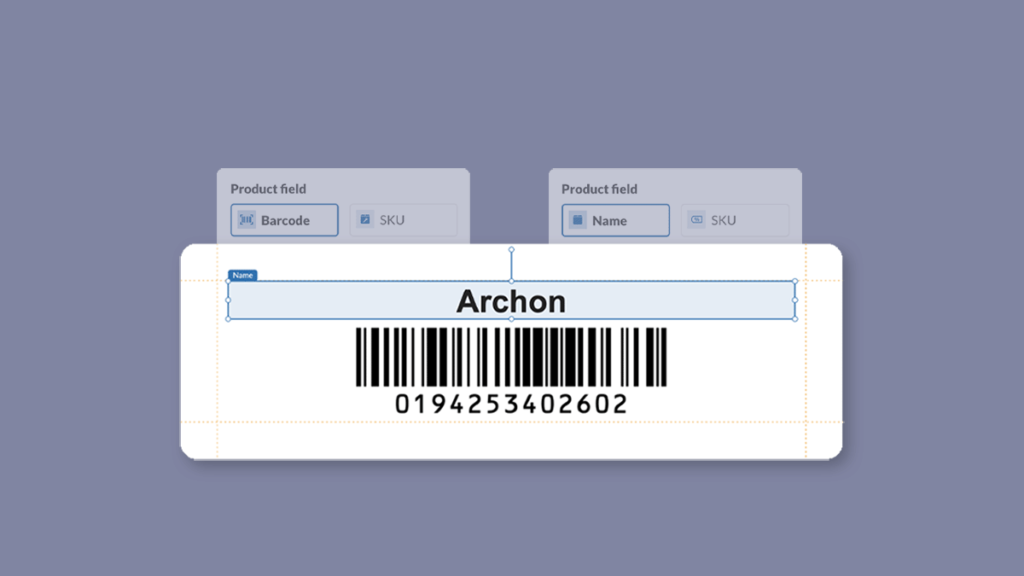 You can modify a pre-made template or start out with a blank canvas and then customize:
Paper size and margins
Text data from your product records
Barcode / QR Codes
Images
Shapes
Free-form text
The Label Designer is built right into inFlow, so you can preview your design using your own product records in real-time. This lets you know right away if your design will fit all of the information you need.
You can save multiple designs to accommodate any label size or type that you need at your business.
If you're already subscribed to inFlow, just visit the Inventory section in Options, and then select Create.
What about your existing DYMO templates?
The Label Designer will be the standard method for label printing for 2023 and beyond, but if you were using DYMO labels in inFlow already, you can continue to do so for a while.
However, we do recommend switching over to using the Label Designer, and our KB article shows you exactly how to design new labels in just a few minutes.
Expanded printer support
In tandem with the Label Designer release, inFlow now supports virtually any thermal printer (not just DYMO).
This is made possible by a utility we call the inFlow Print Helper, which communicates with your printers and makes them accessible from any computer logged into your inFlow Cloud account. We recommend installing the Print Helper on any Mac or PC that's connected to a label printer.
We can't test every brand, but we've already printed labels with printers from DYMO, Zebra, Brother, and Datamax. And we encourage you to try the inFlow Print Helper with your own printer!
Improving traceability on the product page
inFlow is first and foremost an inventory management system to help you track your products. This isn't just how much you have at each location, but how much each unit cost, how much is on order, how much is reserved on open invoices.
Quantity breakdown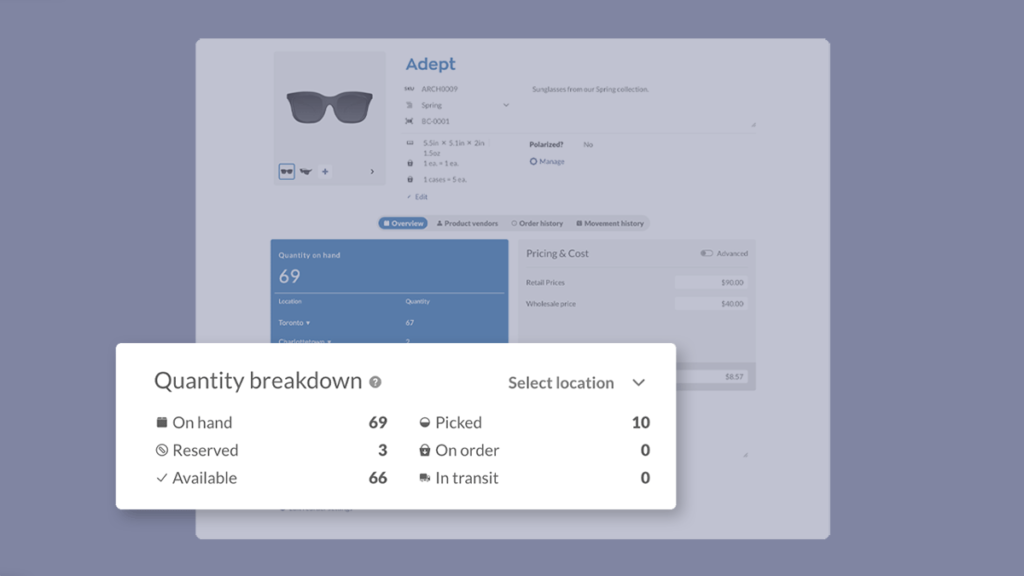 That's why the updated product record screen has a new Quantity Breakdown section, which you can filter by location. So if you want to know how much of that product is on order in Charlottetown, you can find out in real-time, and without having to run a report.
Order history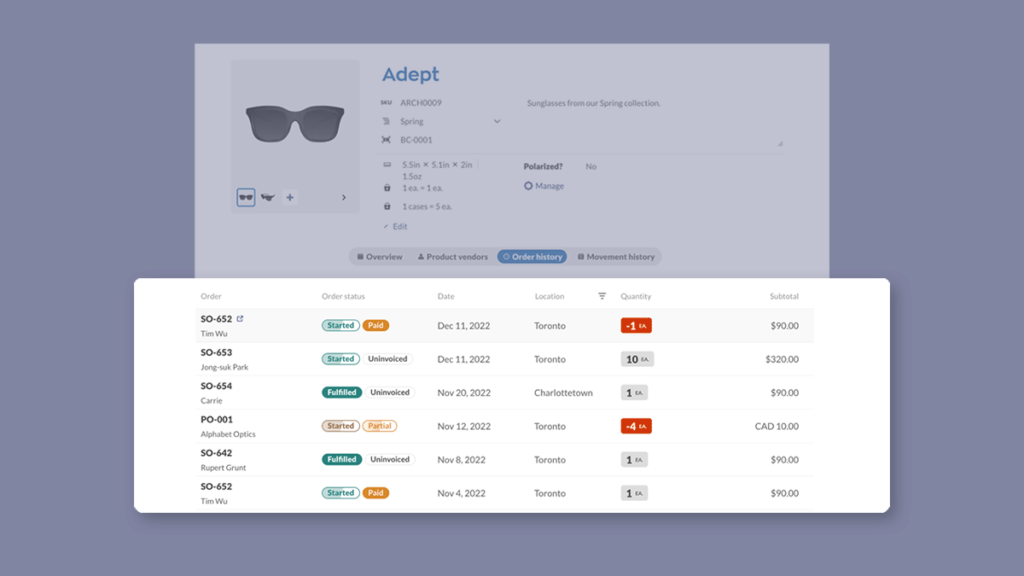 You can use the order history tab to find out the most recent purchase, sales, and work orders that involved the current product. It's sorted by date (newest orders first) and you can filter it by location.
As a bonus tip: if you want to look at an order, just select its order number to load it up in a new tab.
Movement history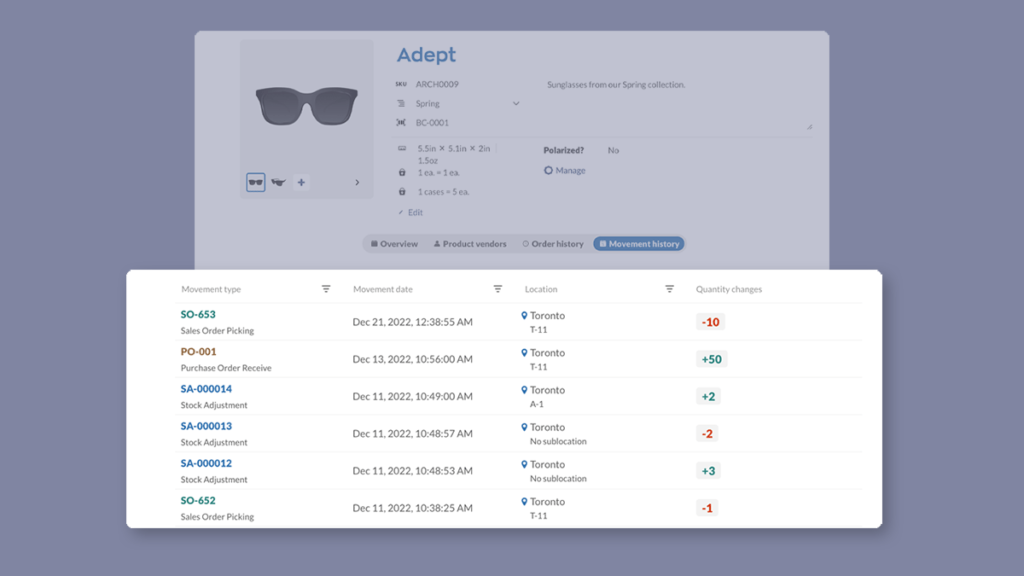 If you want the most detail about what has caused your stock levels to go up or down, have a look at a product's movement history. This tab is also sorted by date, but you can filter it by movement type, movement date, and even location.
This is helpful for quickly auditing stock levels, since you can pinpoint questions like how many times was this product's stock adjusted in the past month in Toronto?
The movement history may not show you every single transaction for that product, but you should see enough to get answers quickly.
If you're already subscribed to inFlow, just head to the Product List and select a product to see these new tracking features for yourself.
---
So that's what our first update of 2023 offers: a great new label designer, easier and more flexible printing, and easier ways to audit your stock levels in real time.
If you're not using inFlow yet and you're itching to print labels and improve your inventory tracking in 2023, you can start your free trial below.