— 8 minutes reading
A free code 39 font without restrictions can be hard to come by. Which is why we decided we would make one ourselves! This font is completely free to download and use forever. No strings attached. We've also included a Code 39 font without the text in case you need something that is machine-readable only.
You can download both code 39 fonts here:
If you're interested in an in-depth look at how to start barcoding your small business, check out our Ultimate Barcoding Guide. It covers barcode fonts and everything else barcode related.
Read on if you'd like to know how a free barcode font can help your business!
What is a Code 39 (also known as Code 3 of 9) barcode font?
A barcode is just a visual representation of data that a computer can read quickly. Think of it like a nickname that a scanner reads and translates into text on the screen.
A Code 39 barcode is a standard symbology (format) that most barcode scanners can easily read. It was named Code 3 of 9 since, initially, you could only use 39 characters (the 26 letters in the English alphabet, numbers 0-9, and some special characters such as "-" and ".").
Why should you set up a barcode system?
Code 39 barcodes are the simplest and easiest to use when creating an internal barcoding system at your small business.
Barcodes also scale well as your business grows. In fact, Code 3 of 9 barcodes are heavily used in the automotive industry, as well as the U.S. Department of Defense. If you'd like an idea of how to get started with barcoding, we've made a quick video on how to set up a barcode system.
Why is a Code 39 barcode font useful?
There are many ways to make barcodes; however, using a free barcode font is probably one of the easiest ways to start. All you really need to create a barcode using a barcode font is a Windows or Mac program that supports True Type fonts. Some examples include Microsoft Word, Microsoft Access, Microsoft Excel, and QuickBooks. With just a few clicks, you can install the font, and you'll be ready to go!
And, of course, once you can easily create barcodes, you're on your way to creating an efficient system for tracking and managing your inventory.
You should keep in mind that the Code 39 font is best used for internal use. If you plan on selling your products on Amazon or any big retailer, you must get UPCs. You can now buy UPCs directly from our officially licensed GTIN Barcode Shop for $30 with no renewal fee. You can learn more here if you're curious why GS1 barcodes are so important.
More benefits of using a free Code 39 barcode font
Still not convinced? Here are some reasons why a free Code 39 barcode font would be helpful:
Cost-effective: A barcode font is a cost-effective solution to creating barcodes; the one provided in this post is entirely free to download and use. You can't get much more cost-effective than that!
Customizability: When creating barcodes with a Code 39 font, you can craft your barcode however you want. Say, for example, you wanted to build a product hierarchy into the human-readable element of the barcode; you can do that with ease.
Scalability: One of the best parts about using a Code 39 barcode font is that it allows you to scale easily. If you start carrying a new product, you can quickly create a new barcode and set it up in your barcoding system.
Offline Usage: A barcode generator is another tool many small businesses use instead of a barcode font. You can find a number of these online to use free of charge. However, you'll require access to the internet to utilize these tools. With a barcode font, you can create all the barcodes you need without an internet connection.
How do I install the Code 39 barcode font?
It's really straightforward to install a font in Windows. Simply double-click the font file after downloading it and click "Install" on the next window. You can also try right-clicking the "inFlow Code 39 Barcode.ttf" or "Code 39 – Machine Readable.ttf" font files and selecting the install option from that menu.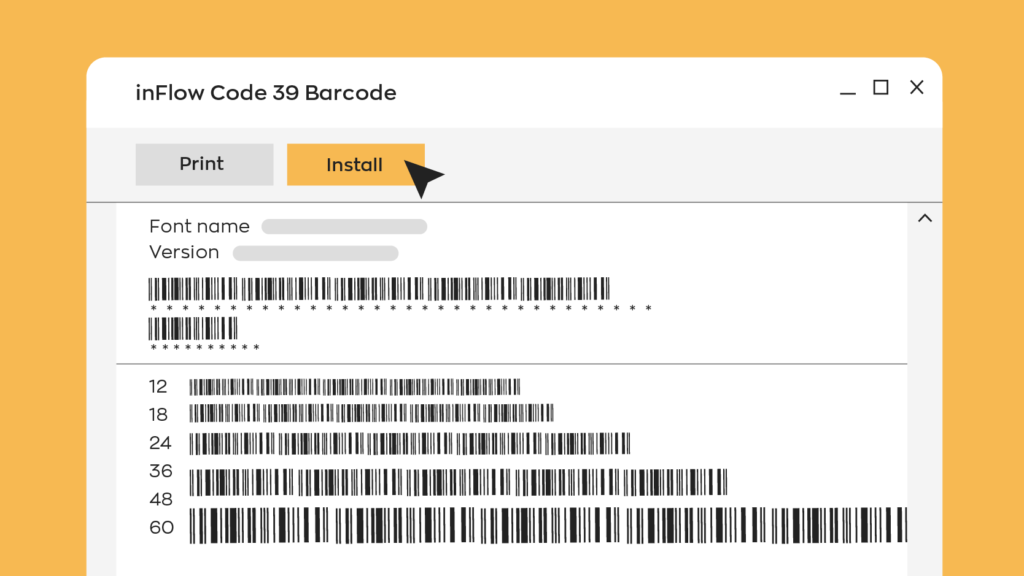 For OS X 10.3 or above, you only need to double-click the font file and click the "Install Font" button at the bottom of the preview.
Next, in any program that uses fonts, such as Microsoft Word or Excel, you can change your data into a barcode by selecting "inFlow Code 39 Barcode" as the font. Or, if you'd like the machine-readable only option, you would choose "Code 39 Machine Readable" It's like turning your writing software into a barcode generator!
How do I use the Code 39 barcode font?
If you wanted to change "1321MTLW" into a barcode, you would first write it out with a regular font, highlight it, and then change the font to "inFlow Code 39 Barcode". Here's what it looks like: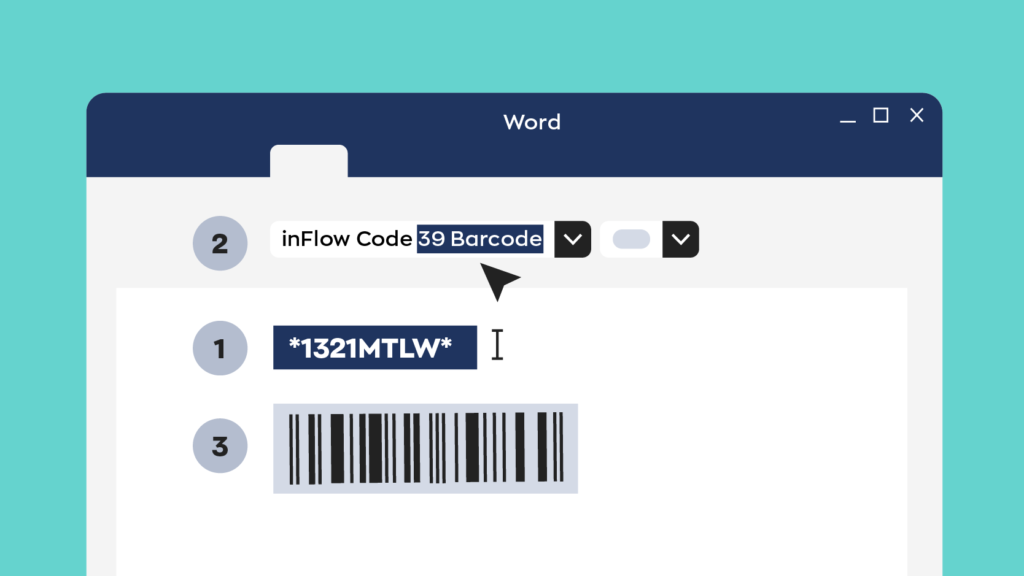 It's also important to note that you must add an asterisk (*) to the beginning and end of your data. This is because scanners look for this character to know where to start and stop reading the barcode.
So, for example, to create a barcode of "1321MTLW," you would enter "*1321MTLW*" in your word processor.
It's also important to note that the asterisk characters won't appear when the barcode is scanned. So, for example, scanning "*1321MTLW*" as a barcode will simply return "1321MTLW."
Another good tip for finding the font quickly in the font list after it's installed is to start typing "inFlow Code 39 Barcode" or "Code 39 Machine Readable" when your font list is selected. This way, you can avoid having to scroll through your font list.
We stress-tested the font with the inFlow Smart Scanner and found that the font could be reliably read at size 24 if you're printing with a basic inkjet printer. However, we did have some success with a font size as small as 16.
Remember that adding spaces will create two separate barcodes, so you'll need to use a hyphen or dash instead of spaces.
How do I put barcodes on my products?
To make the Code 39 barcode font more helpful and actually get barcodes on your items, you can print them out using sticky label paper. We've found the Avery series of label stickers are affordable and easy to set up. They have many options for both laser and inkjet printers.
Simply use the template provided by the manufacturer (typically in Microsoft Word) and format your labels accordingly.
Now, all you have to do is peel and stick the barcodes to your products!
How do barcode fonts fit in the big picture?
Using a free barcode font is just one step in a series to start tracking and managing your inventory more efficiently. Below are all the steps you need to get an inventory tracking system started:
Assign your items a product code.
Turn product codes into barcodes by using the Code 39 barcode font.
Print those barcodes using labels or a special barcode printer.
Use inventory software so your computer can use barcodes to manage your inventory.
Check out our free e-book, too!
If you're looking for more detailed information on how to get a complete barcoding system working for your business, you should download our free PDF book "Barcode Your Small Business." This eBook won't bog you down with technical jargon. It teaches you all about barcoding quickly and efficiently, walking you through all the above steps. A short read that's straight to the point. What's not to love?
Click here to download your copy!

Or, if you'd like a handy reference guide for some of the most widely used acronyms in the world of barcoding, you can read our barcode glossary.