— 7 minutes reading
On any given day you're likely to see at least one GS1 barcode. In fact, GS1 barcodes are scanned billions of times every day. We might not always notice them, but barcode systems are just about everywhere, from retail to healthcare and beyond.
Although they look a little complex, barcodes are very simple to use. They're not just for big box stores, either. Barcodes can come in handy no matter the size of your business.
We sat down with Michelle Covey, VP of Commercialization at GS1 US to get her insights on everything barcode related. Watch our barcoding deep dive with Michelle below:
Why GS1 Barcodes Are Important for Your Small Business
In the following article, we'll take a closer look at how to make barcodes, what they are, and what their future holds.
If you're interested in a more in-depth look at how you can get started barcoding your small business be sure to checkout our Ultimate Barcoding Guide. It covers everything there is to know about barcodes.
A quick history of the GS1 barcode
The first barcodes were thought up over 70 years ago. In 1948, Inventor Bernard Silver overheard a supermarket executive explaining that he needed a way to put codes on his products. A simple problem without a solution, yet.
This conversation sparked an idea that set Bernard Silver and his colleague, Norman Joseph Woodland, on the track to invent the barcode. During this time, Engineer George Laurer also worked on the task, codifying the information into a numeric form we still use today, UPC.
It wasn't until the 1970s that barcodes as we know them appeared. In June 1974, a packet of Wrigley's Juicy Fruit gum was successfully scanned, making barcode history.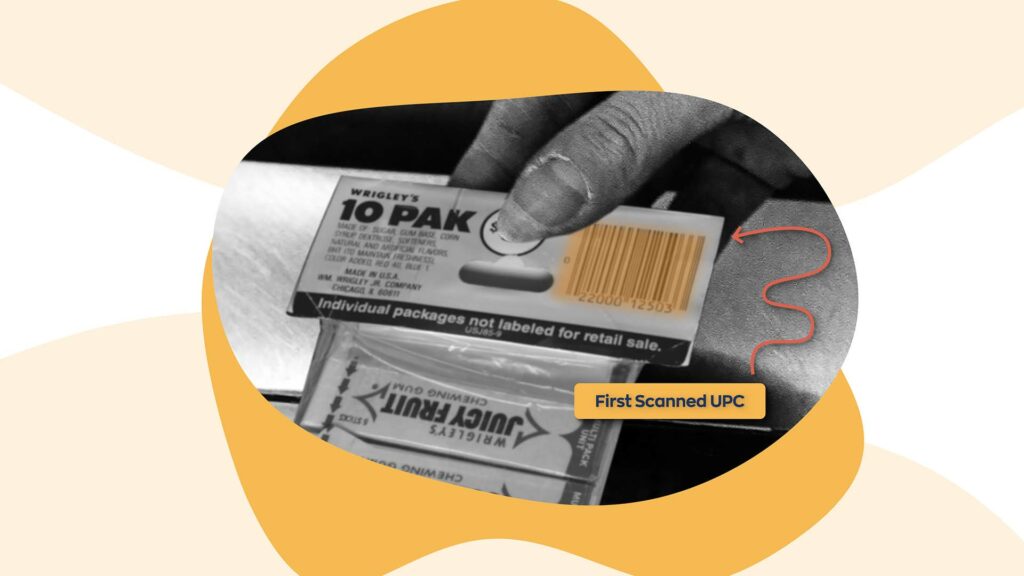 Today, barcodes have spread around the world and even have their own global standards set by GS1. These barcodes are internationally recognized and easy to use.
What is a GS1 barcode?
Barcodes: When we talk about barcodes, we're actually referring to the black and white lines (or another pattern for 2D barcodes). The barcode is a machine-readable version of the numbers underneath.
In traditional barcodes, the presence or absence of lines of varying widths represents the numbers.
Numbers (GTIN): The numbers underneath the barcode identify the product. When barcodes are made, the product identifier number is created first, then it's encoded into the barcode so that machines can read it.
In some cases, this is a unique number that can be used internationally, called a Global Trade Item Number (GTIN).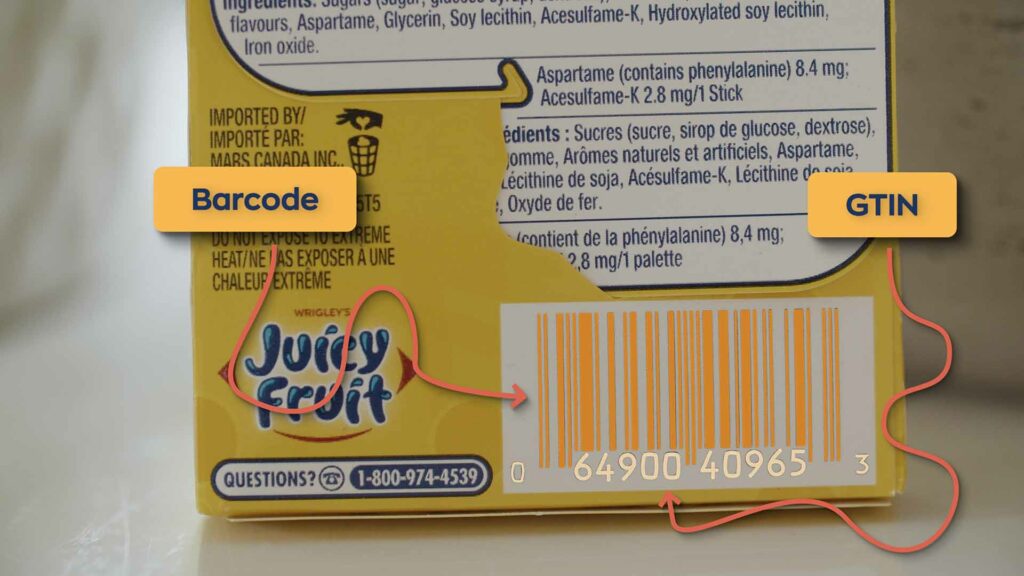 What is a UPC barcode?
When you start looking at how to use barcodes, you'll probably come across the term UPC. The number under the barcode (the GTIN) can appear in several formats. The Universal Product Code (UPC) is one of these formats, commonly used across North America, and is an example of a GS1 barcode.
A UPC barcode is encoded with 12 numbers. The digits on the left represent the company and the five on the right identify the specific type of product. The final number on the right is a 'check digit'.
What are barcodes used for?
In some industries, such as retail, barcodes are now so useful that businesses can't function properly without them. One of the most common uses for barcodes is when we pay for a product at the register. But barcode systems can help with a huge range of retail tasks, including:
Receiving products
Adjusting stock
Product picking
Stock transfer
Checking stock
Looking up orders
Without a barcode system, it's tough to keep track of the status of a product. Today, barcodes are also used in a wide range of areas, including ticketing, mail handling, and healthcare.
For example, the UK National Health Service recently launched a food app that lets families scan food barcodes and then suggests healthier alternatives. As technology develops, more and more use cases are appearing.
This is because, while traditional barcodes (the ones with vertical lines) can store enough information to identify products, multi-dimensional barcodes can store a lot more. QR codes, for example, can point us to a website or app filled with information about a product or event.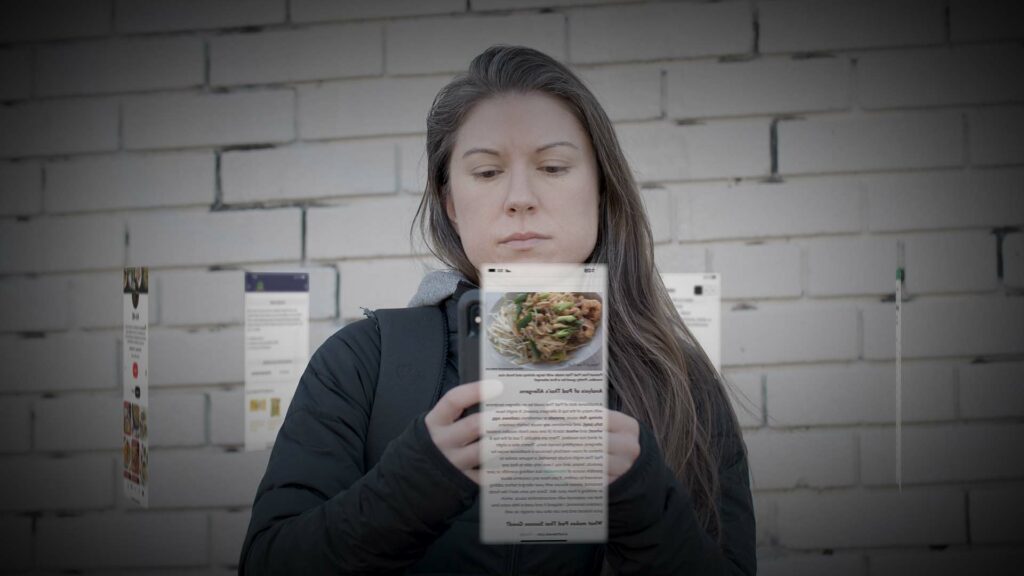 This opens up a world of opportunities, from tracing the source of a recalled product to connecting patient information in hospitals.
Barcodes for small businesses
Small, online retailers sometimes feel they don't need a GS1 barcode. But barcodes for small businesses are important. If a company decides to expand to other channels, it'll need a way to identify its products.
The rise of omnichannel shopping is paving the way for a mix of physical and digital (…yes, sometimes called phygital…) and businesses need to meet customers where they are.
So, using a GS1 barcode means that, wherever your product is scanned, it's clear that you're associated with it. This can help protect your brand and provides the seller with reassurance about the product's authenticity.
Of course, growing businesses might not need hundreds or thousands of barcodes at first. GS1 now allows businesses to buy a single GS1 barcode, so they can hit the ground running.
How to make barcodes
There are several ways to make a barcode system. The right solution depends on what your business needs. It's possible to generate barcodes with online tools, but after the first few products, this can become tricky.
Imagine, for example, you decide to launch a new t-shirt in four colors and three sizes. Each color and size combination needs its own barcode so that it's easily identifiable. That's 12 barcodes for just one type of t-shirt.
Using the right tools
Because barcoding is an ongoing process, using the right software can help you keep up. For example, inFlow's app generates barcodes and turns your mobile device into a barcode scanner. Or, if you already have your own barcodes, you can easily input them and start scanning.
Printing your barcodes is easy, too. You can even use a standard office printer to make labels for your shelves. If you prefer a high-tech option, we also offer the inFlow's Smart Scanner and work with DYMO label printers.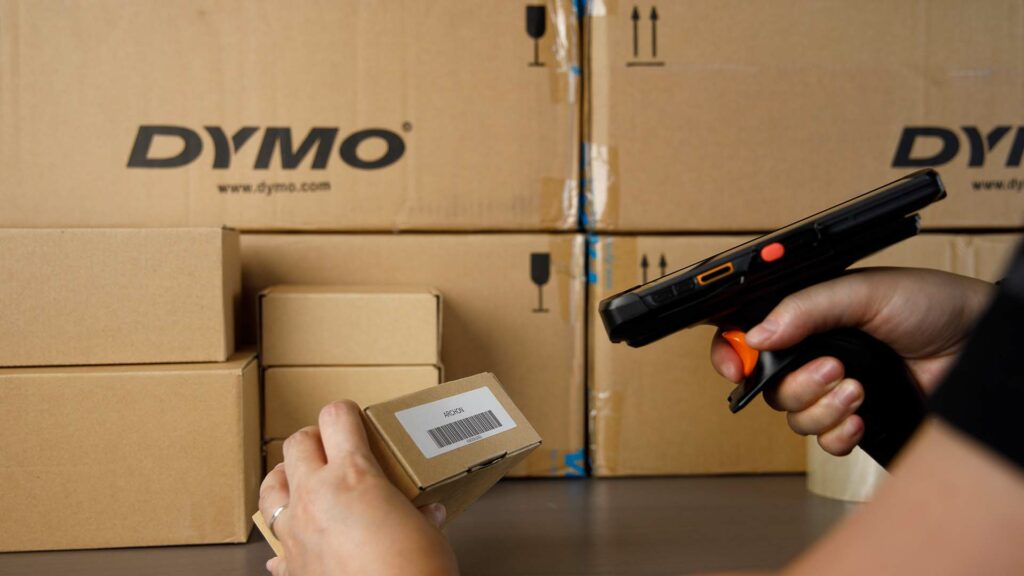 Getting a GS1 barcode
For globally recognized barcodes, GS1 offers Global Trade Item Numbers (GTINs) that are encoded into barcodes and used around the world.
GS1 provides UPC barcodes, which are widely used in North America. You can then use these GS1 barcodes with a platform or tool that suits you.
The future of GS1 barcodes
The traditional GS1 barcode (vertical-line barcodes) are extremely useful, but multi-dimensional barcodes can store much more information. These might be QR codes or matrix barcodes with digital links.
With these links, we can give a consumer information about how an item of clothing is made or trace a food product all the way back to the field.
We can expect to start seeing more and more of these multi-dimensional barcodes as businesses around the world find ever more ingenious uses. In fact, GS1 has launched a program called Sunrise 2027 to help companies make the change from one-dimensional barcodes.
Barcoding today is easier than ever. We can help you get started with GS1-registered US barcodes .