— 5 minutes reading
We previously provided a free barcode font that many of you downloaded and have been working with for your business.
However, we received your feedback that the the free font wasn't as useful it could be, since it produced barcodes that were only machine readable (not human readable). So we set out to make a better version, and here it is.
Where can I download the inFlow Code 39 font?
All you need to do is enter your email address and we'll send you the download link right after, along with a few helpful tips about how to use it.
If you're interested in an in-depth look at how you can get started barcoding your small business be sure to checkout our Ultimate Barcoding Guide. It covers the code 39 font and everything else barcode related.
Why this font is special
For example, if you turned *GOINFLOW* into a barcode using our old code 39 font, the results would look like the following:

While this barcode works and is perfectly scannable, it may not be as useful as possible. For example, if you printed a bunch of barcode stickers using the old font for many different products, you wouldn't be able to distinguish them from one another.
This is why we created our very own code 39 barcode font! Using the inFlow Code 39 Barcode Font, *GOINFLOW* now looks like this:

Ah, much better! Scanners can read the barcode and people can read the text below it—everybody wins!
While it's a basic font, it should work for 99% of small businesses looking to implement any sort of internal barcode system. The font supports:
letters A-Z (in caps)
numbers 0-9
characters (asterisk, dash and a period)
We also stress-tested the font and it seems size 24 is the minimum font size to ensure your codes will be readable when using a basic inkjet printer. We did notice, however, some codes could be read even when printed at size 16.
Just as a reminder, for your codes to work with a scanner, you have to include the * characters at the beginning and end of your barcode. This tells the scanner when to start and stop scanning.
It's also important to note that the * characters will not appear after you've scanned your code. So scanning *GOINFLOW* will output the text GOINFLOW. You can even try this for yourself by printing the following out:

How do I install the inFlow Code 39 font?
Install the barcode font in Windows
It's really simple to install a font in Windows 7, 8, or 10. Simply double click the font file after you download it and click "install" on the next window that pops up. You can also try right clicking the "inFlow Code 39 Barcode.ttf" font file and select the install option right from that menu.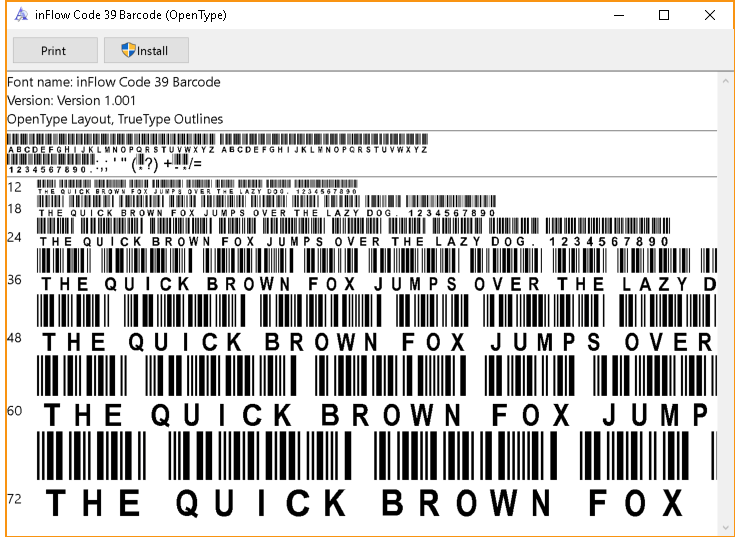 The font will be ready to use in all your programs including Microsoft Word and Excel. You usually don't have to restart any programs or even the computer for that matter.
For other versions of Windows, you can install the font by placing the "inFlow Code 39 Barcode.ttf" file in your fonts folder. This is usually under C:WindowsFonts or C:WINNTFonts (can be reached as well by the Start Menu > Control Panel > Appearance and Themes > Fonts).
Install the barcode font on the Mac
For OS X 10.3 or above, all you need to do is double click the font file and click the "install font" button at the bottom of the preview.
Just like Windows, you can also place the Font file in your fonts directory. For macOS, you can place the font file under /Library/Fonts (for all users), or into /Users/Your_username/Library/Fonts (for you only).
Get software that creates barcodes for you
If you're looking to cut out the hassle of typing out unique barcodes for your products, inFlow can help. Our inventory software can automatically generate barcodes for just the products you want, and we even integrate with DYMO printers to create labels for your items or shelves.
You can use your existing USB scanners with inFlow or turn your smartphones into barcode scanners to speed up work.
Ready to try inFlow out now?