— 9 minutes reading
If you've ever sat down and talked to anyone in marketing, it won't be long before you'll hear the phrase "search engine optimization" or SEO. Most manufacturers consider SEO important for ecommerce companies or drop shippers, but the truth is SEO for manufacturers can help open up a whole new avenue for attracting potential customers.
As a manufacturing company, you can benefit greatly from implementing search engine optimization best practices on your website. If anything, you stand to benefit from manufacturing SEO more than most ecommerce companies.
The thing is, in most B2C niches, the competition is rather high in SEO, so it takes a lot of resources to see results. In manufacturing, though, you might find yourself in a niche with lower competition. This means you might not have to work as hard to get more business from this channel.
Interested in how to do this effectively? In this blog, we will cover the six most important aspects of SEO for manufacturers.
Keyword research
Arguably, the most important thing to do to master SEO for manufacturers is keyword research. Including keywords on the pages of your manufacturing website is the way to let Google know what those pages are about. That is why the first step in any search engine optimization job is finding the right keywords for your website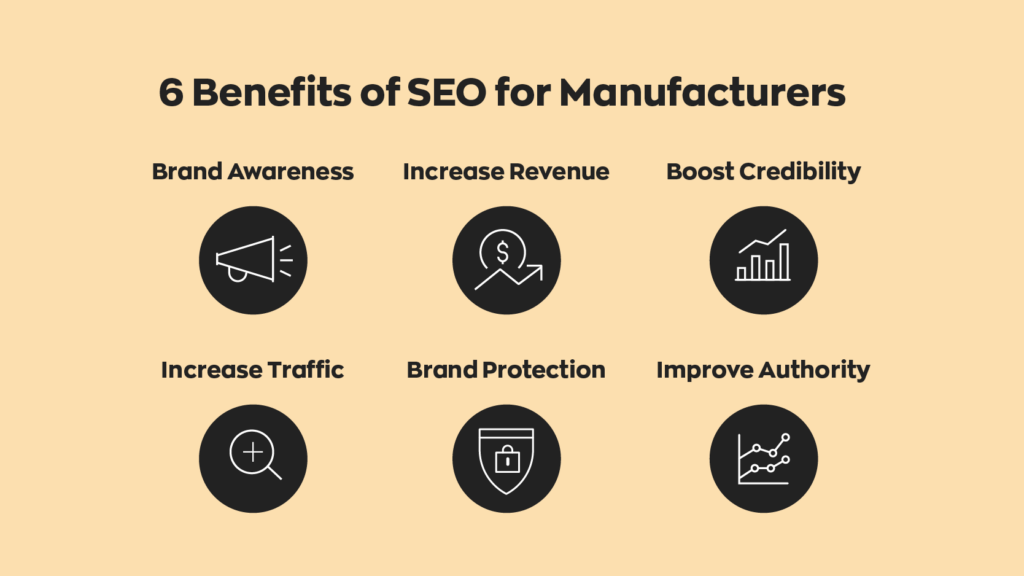 You can find them with free tools like the Google Keyword Planner and many other paid SEO tools. Focus on keywords related to your products and the industries you serve with the product pages. If you're thinking of running a blog, look for user pain points, details of the manufacturing process, or general informational topics for your industry.
Choose relevant keywords for your audience
The most important factor to focus on when choosing the right keyword for each page is relevance. You want the keywords you find to match the page's content. Otherwise, even if the page shows up on searches for the keyword, users won't stay on the page because it wasn't what they were searching for.
When you're choosing which keywords to prioritize for the blog, check the search intent first. What problem are users trying to solve by searching for that word? If it's an informational query, go for it. However, if they are looking for a specific brand, you might have to avoid it.
Focus on search volume and keyword difficulty
Another two key factors you want to focus on are keyword difficulty and search volume. Keyword difficulty is an estimation of SEO competition — how good are the pages that currently rank for that keyword, and how easy would it be for you to beat them? Most SEO tools will give you that score when you search for a keyword.
The search volume is the estimated amount of monthly searches for a particular keyword in a given search engine. Generally, you want to prioritize keywords with lower difficulty and higher search volume.
SEO for manufacturers typically doesn't have a lot of competition, so you might not need to chase very high search volumes. Focusing on keywords with a medium search volume but highly relevant to your niche might be enough to boost sales.
Once you compiled the list of the right keywords, it's time to start tracking your keyword ranking. The best way to do this is with a keyword rank checker. You want to start monitoring your positions before optimizing website pages. This allows you to compare your pages' positions before and after optimization.
This way, you will know how well your SEO is performing.
Invest in your content marketing efforts
With a list of keywords that align with your industry, you can not only optimize the product pages but also start doing content marketing. With SEO for manufacturers, content marketing is mainly producing blog posts.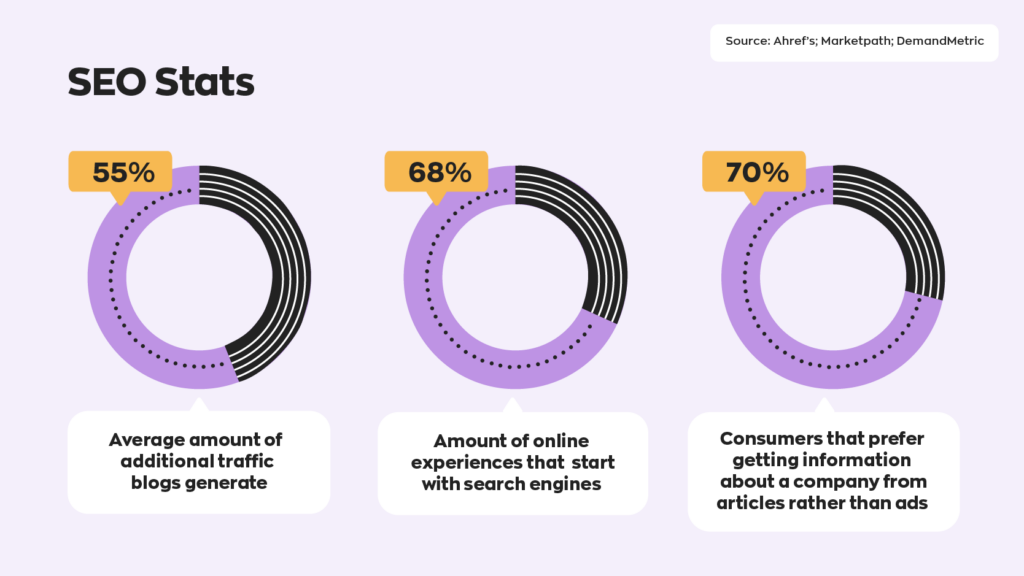 These posts should cover topics that your potential customers are interested in. Keyword research helps here since you can discover plenty of essential topics to cover by looking up long-tail keywords, mainly questions related to your industry.
You can also use tools like Answer the Public or look around for industry-related questions on Quora or Reddit. Another option is to brainstorm with your team and develop a list of topics based on the following.
Details of your brand's products
Insights into manufacturing processes
Guides for picking the right products
Competitor comparison
Industry reports and trends
Remember that blog posts aren't the only type of content you can produce. If you have the resources, consider creating video content. Most manufacturers favor this type of content and find it to be the most useful.
You could do videos on the same topics that are useful for your blog. Apart from appearing on the platform of your choice, you can also get traffic from Google and have your videos appear on the SERP.
Link building
Apart from finding the right keywords, a crucial aspect of SEO is building quality links to your manufacturing website. Google treats links as votes of confidence for your business, so the more links pointing to your site and the more authoritative the sites linking to you are, the higher Google views your website and business.
SEO for manufacturers tends not to be as competitive as some other niches in terms of links. You still have to research with specialized SEO tools, but in many cases, you can easily beat the competition by acquiring a couple of dozen good backlinks.
Now, how do you go about building those links? Here are a few techniques you can follow.
Link to your business from your social media pages and review websites
Register on local and national business directories and leave a link to your business
Ask your local industry association for a link
Find industry-related blogs and write for them regularly if it's an option
Create industry reports and promote them to get quoted in dozens of articles
Distribute press releases to the media
Acquire links from local and national news media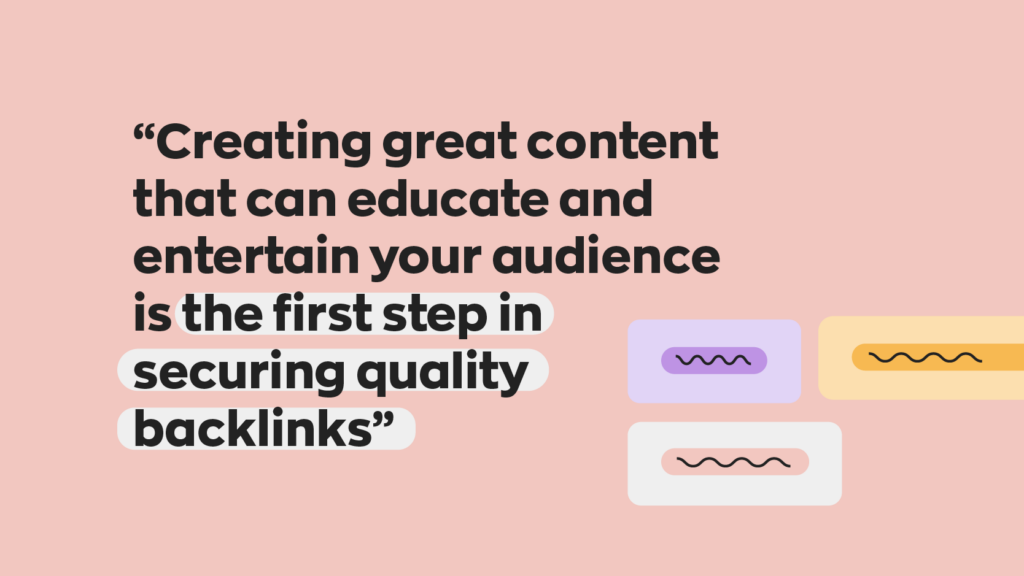 The last tip might sound like something available only to people who have the right connections, but it's far easier than that. Go on a website like HARO and find reporters who need information and commentary on your industry and contact them. Over some time, you'll receive a fair share of links.
Local SEO for Manufacturers
The majority of manufacturing businesses have only one or a few locations, so local SEO for manufacturers plays a significant part in the overall SEO process. If you don't have that much competition in your local area, you'll be fine with following a few simple optimization tips.
Make sure your Google Business Profile page has updated information and contains all the required elements
Make sure the name, phone, and address (NPR) are consistent across all mentions on the web, notably GBP, directories, and review sites
Submit your website to local directories
Include local keywords on the website
These basics will ensure that your local searches start going up. If you're still struggling with local rankings, try encouraging customers to leave reviews on GBP and other platforms, and try to build more local backlinks.
Work on your Featured snippets
A featured snippet is a special place before the first organic result that perfectly answers the keyword search intent. It receives as much as 44% clicks in SERP, as per Engine Scount research. Getting this position for a keyword means you're likely to generate more clicks than the first organic result.
Since it displays quite a lot of information, it might entice users to click on the article to read more.
Getting a featured snippet for one of the keywords your campaign focuses on is not guaranteed, but what you need to do to get one is fairly simple.
Focus on keywords that don't have a snippet yet
Write or rewrite the article for this keyword with great quality in mind
Include bulleted lists of essentials and images
Use structured data markup to signal to Google what each element of the page means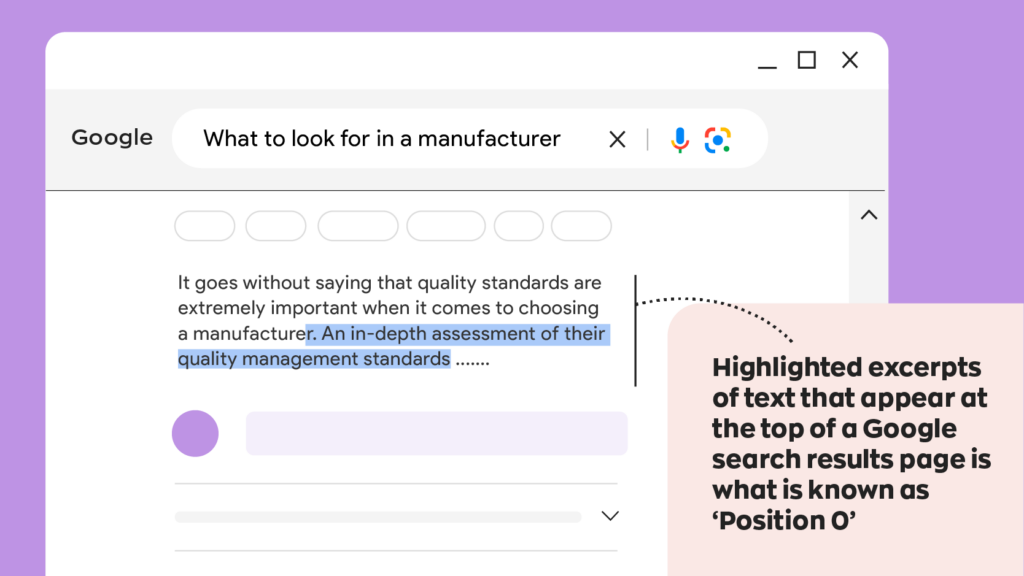 That last part is crucial; getting a featured snippet in your SEO for a manufacturer's campaign is almost impossible.
Technical SEO for Manufacturers
The last thing you should do for manufacturing marketing is on-page optimization. It involves an array of technical site improvements that make it easier to navigate for both users and search engine bots.
To start off, you can follow some best practices:
Check that your key pages aren't blocked from indexing in robots.txt
Create a sitemap and submit all your important pages
Make sure all important pages are accessible within 3-4 clicks (the best option is to link to them in navigation)
Link between related pages to boost cross-discovery
Apart from these basics, you'll want to do a website audit to find your website grade. You can use a free tool like Lighthouse that works in every Chrome browser. The tool will assess your website for technical issues that can worsen your site's performance and score it.
It will even suggest how to fix the technical issues with your website.
Remember, though, that fixing code-related issues might take some IT help. You can fix the more minor stuff, like resizing images on your own.
How inFlow will help you handle the influx of new business
Overall, SEO for manufacturers is arguably easier than many other niches because manufacturers tend not to invest in SEO as much, and there's a bit less competition. To make organic traffic your key source of sales, you will most likely have to do the basics and slowly work towards building more links.
The odds are you will only have to spend a small amount of money for big results, so the sooner you start investing in SEO, the better. But once you start to see some results, you'll likely need to ramp up production to keep up with the new demand. This is why you should make sure your manufacturing operation is running as smoothly as possible.

A ton of manufacturing businesses have been using inFlow to meet their inventory management needs, and it's helped them keep up with their growth and minimize their overhead. Our manufacturing software is an end-to-end solution and has all the features a manufacturer would need, like real-time inventory tracking, bills of materials, sales orders, purchase orders, a built-in barcode system, and much more!
In fact, we recently added even more features that manufacturers love, like manufacture orders and kitting/bundling. So if you're a manufacturer looking to streamline your operations, then consider giving inFlow a try.