— 5 minutes reading
Before today you had to use inFlow's Windows app to do any sort of manufacturing work. So if you wanted to change your bill of materials or create a product, you had to have a Windows PC.
That all changes today with the launch of manufacturing in the inFlow web app.
Here's looking at you, Mac and Linux users!
Just like with stock counts, this wasn't just a matter of transferring existing features from the Windows app. We've taken the time—and a lot of great customer feedback—to revise and improve upon manufacturing in inFlow.
Here are some of the highlights:
prioritize orders based on what's in stock
more easily estimate build costs
outline your production routing
streamlined complex builds with sub-assemblies
disassemble products
view quantity buildable
auto-build after a sale
Looks good, right? Read on to learn more!
Meet manufacture orders
One of the simplest changes we've made is that work orders (WOs) are now manufacture orders (MOs).
If you've been using work orders already, don't worry: all prefixes and order numbers will stay the same for existing inFlow customers. Just know that when we mention MOs, they're the same thing as WOs.
Prioritize what to build next
Aside from orders and due dates, you now have more tools for deciding what to build next. There's a stock availability column that shows you whether you have enough stock to complete that order right now. You can also star orders to pin them to the top of the list.
You can customize your list further by filtering or even adding or removing columns.
Estimate building costs ahead of time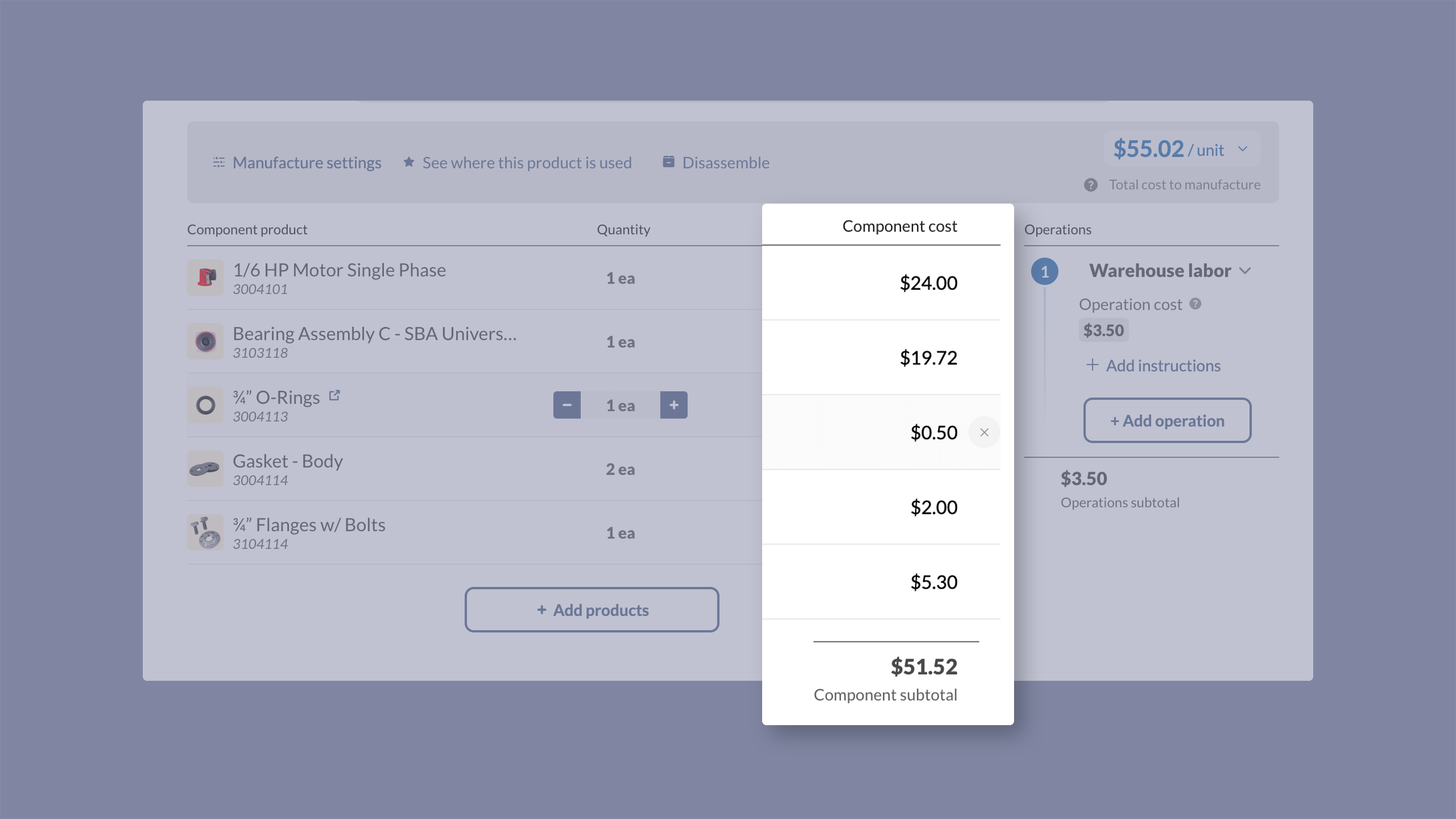 If you build products that contain smaller products then this change is for you.
We've changed the way that inFlow reports on sub-assembly costs within a bill of materials. Any costs shown for sub-assemblies in BOMs now uses the calculated cost of components (instead of the cost on the product record itself).
What this means is that you'll have a better cost estimate on the BOM tab, even if one of the sub-assemblies on that BOM has never been built before.
Production routing (a.k.a. operations)
In addition to the bill of materials, you can also outline the required steps to complete a build. We call these operations. You can add instructions and variable costs (based on how long you think the task should take).
When it's time to build on an MO, you can tick off each operation in sequence to track your progress.
Redesigned manufacture orders
We've updated manufacture orders to be easier to read, even if you have complex builds with multiple sub-assemblies. You can show or hide the raw materials with just a click, which should make it easier to focus on what you need to do on larger builds.
Each assembly will show up on a separate line, and you'll see a status for which ones you can build based on the statuses along the right side.
If you show the raw materials, you'll even be able to see which raw materials are preventing you from completing that build.
When you're ready to work on an assembly, just select it to see its pick list and operations. You can complete them in whichever order you prefer.
Other manufacturing improvements
Make and unmake (disassemble)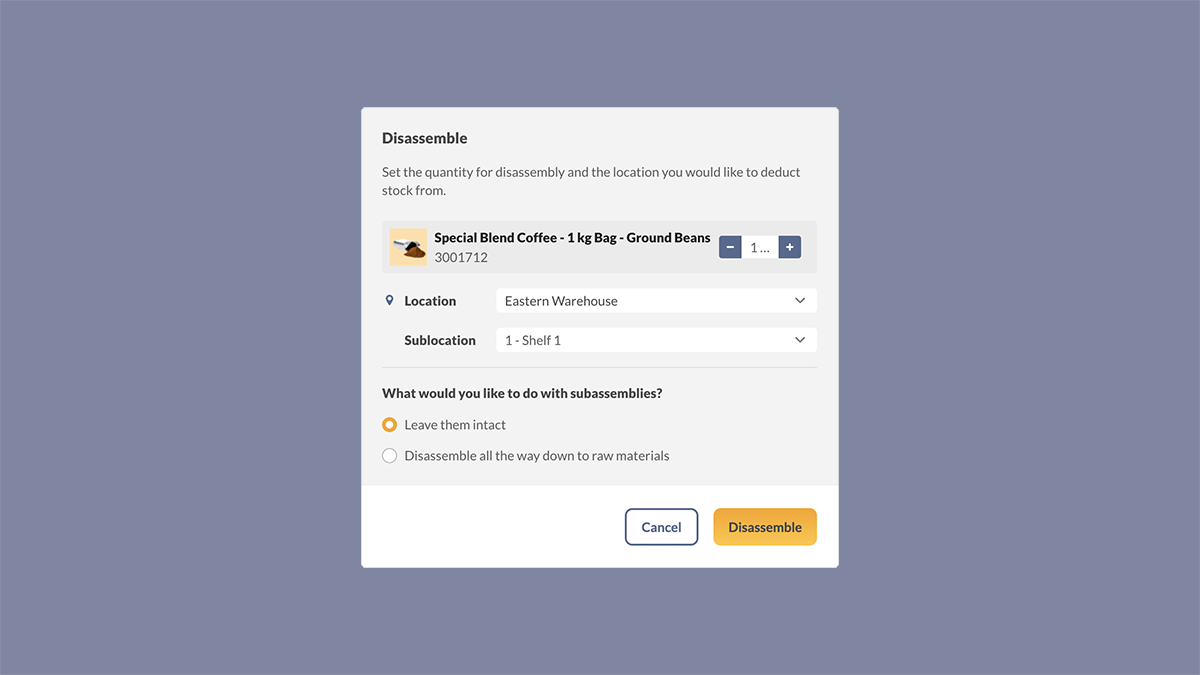 Any product that has a bill of materials can now be disassembled.
Just head to the Manufacturing tab of the product record and you'll have the option to disassemble that product. The details of the disassembly will appear as new stock adjustments in inFlow.
View quantity buildable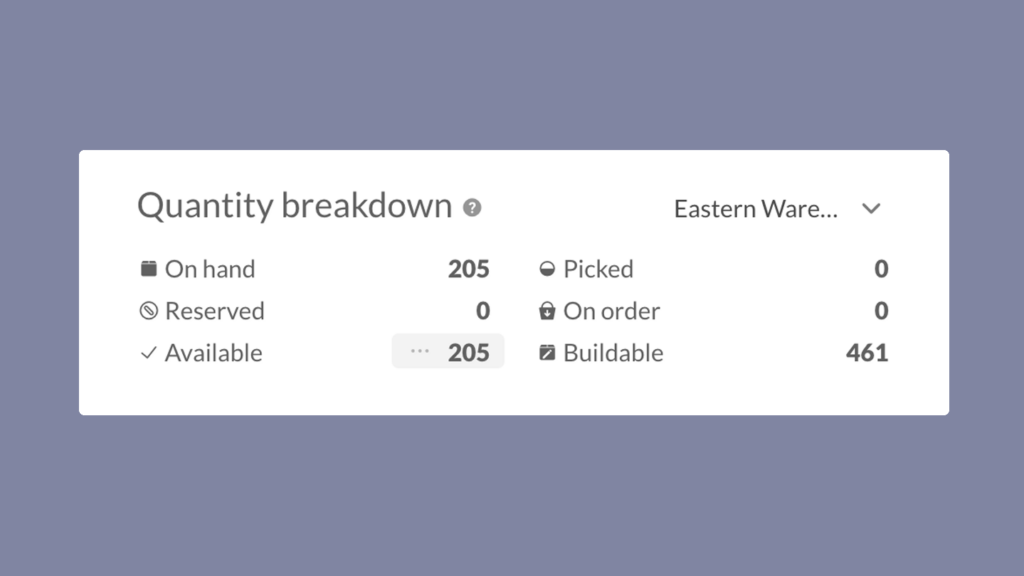 You might stock certain sub-assemblies just to keep them ready for upcoming builds. But it's also useful to be able to see how much of a product you could build, given the raw materials at that location. The new Buildable quantity shows just that.
Quantity available and quantity buildable can also be reported as a single number. This is great if you sell a product standalone, but also separately as a kit. This will allow your e-commerce sites to accurately list the correct stock levels for a standalone product, and the kits that contain it.
Automatically build after you sell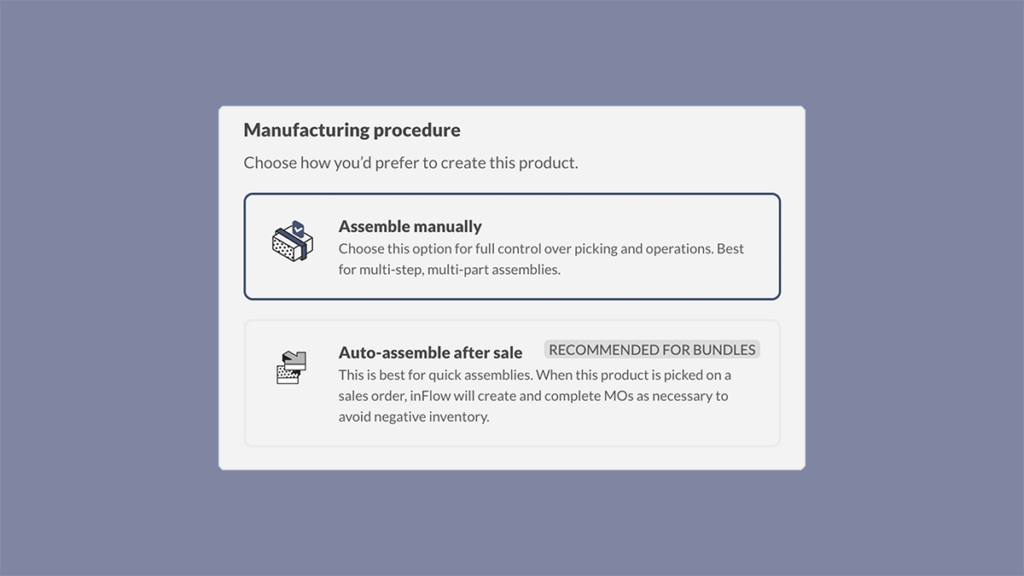 If you have kits or bundles, or if you can quickly build to order, you can have inFlow automatically create and complete a manufacture order after you fulfill a sales order.
This can help you keep inventory accurate across any connected e-commerce stores, and also saves you from having to create and complete a separate MO yourself.
---
That sums up the major changes to manufacturing in the web app. These features are available to any inFlow customer who uses BOMs and work orders right now. So head on over to the web app to check it out!
If you're not using inFlow for manufacturing and order management yet, today's an even better day to get started with a free trial.