— 2 minutes reading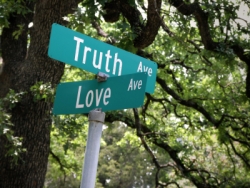 I just finished reading Steve Pavlina's new book called Personal Development for Smart People.  It boils down the teachings of hundreds of self-help books into one framework based on the idea that an individual should consciously strive to live with the three core principles of truth, love, and power.  The book is full of practical, down-to-earth ideas about how to develop and apply these principles.
There's no question that in any small business, the personal effectiveness of its core members is hugely important.  However, I find that thinking of an organization like a separate individual can produce helpful insights.  Let's take a look at how thinking of the principles of truth, love, and power as applied to a small business can give you ideas to improve.
Truth:
– What external sources can you learn from?  e.g. advisors, blogs, books, similar businesses
– Do all the important people in your company regularly talk directly with customers?
– Do you have easy access to the numbers on the trends for your sales and expenses?
– Do you have easy access to find out how much inventory you have and where?
– Do you have checks and balances in place for your decision-making processes?
Love:
– Do your company's workspace and culture provide a positive working environment?
– Do your employees feel valued and work together well?
– Does your company build a strong enough bond with its customers to make them want to talk about it?
– How can you further build your company's reputation and exposure to your target market?
– Is your company socially and environmentally responsible?  What contributions can you make in the community?
Power:
– How quickly can you perform common tasks like invoicing customers?
– How is the financial health of your organization?
– Do you have sufficient cash or credit to invest in new initiatives?
– Do your employees have the right tools and skills to be fully productive?
– How powerfully are you able to respond to change from your customers or competitors?
This multi-dimensional way of thinking can help you identify often neglected aspects of your business that could be improved.