It's almost hard to believe it's holiday time once again! Every year, just before the holidays, we start the hunt for something interesting to send to some our customers who purchased multiple licenses as a small token of our appreciation.

While at a design conference in November, we met a gentleman by the name of Richard Brault. He and Dianne Croteau founded a design shop called Ninutik that uses pure Canadian maple syrup as a canvas.
The results are not just beautiful, they're extremely tasty too!

Richard describes the spirit of Ninutik design to be "Elegant, modern, distinctive."
"Our intent is to present maple syrup – a Canadian cultural icon – through the lens of design, art and sugarmaking."
What's more, they invited the inFlow team to their headquarters to see first-hand how the magic happens!

We were blown away by the attention to detail and the pride of craftsmanship that goes into each and every order.
And with that, the hunt was over! We'd found exactly what we wanted to share with our customers for 2013! Not just something delicious, but truly Canadian too! (Did you know Canada is responsible for over 80% of the world's maple syrup?).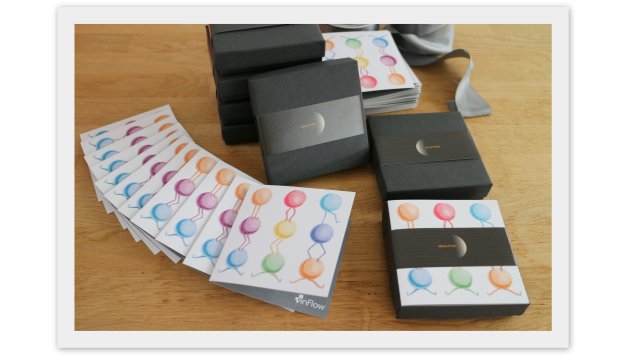 With a little love, we made cards, wrapped boxes and shipped packages to (hopefully) make it in time for the holidays! We also opted to use some fancy tools this year, like the Dymo Labelwriter 450 and labels from www.labelvalue.com (we'll have a full overview of the printer and process in an upcoming post).

If anyone else is looking for that perfect Canadian made gift that will satisfy anyone on their list, check out Ninutik! You can see their gift list here. You can also follow them on twitter.