The Microsoft Surface Pro 2 shouldn't need too much of an introduction. It's the tablet/laptop hybrid built by Microsoft.While it's primarily targeted towards consumers looking for a more productive tablet, it just may be the perfect solution to use in your small business. In this review, we'll take a look at a few things you can do when you're using a tablet to manage your inventory for business.
First, we'll take a look at the different options the Microsoft Surface comes in and later show case some specific things you can while using it to manage your inventory.
Microsoft Surface RT vs. Surface Pro
The two main options when it comes to buying a Microsoft Surface is the RT version or the Pro version.
The main difference is that the Microsoft Surface RT (also just referred to as Surface) comes with Windows RT 8.1, while the Surface Pro comes with regular full Windows 8.1.
Windows RT 8.1 typically allows for better battery life for mobile devices; however, you won't be able to run any traditional windows applications.
Windows 8.1 is the full Windows software, allowing you to run and install any windows applications including inFlow Inventory. Both the Microsoft Surface Pro and Surface Pro 2 come with full Windows 8.1.
There's also two generations of Microsoft Surface tablets available today. This includes the Surface and Surface 2 running Windows RT 8.1 and the Surface Pro and the Surface Pro 2 running full Windows 8.1.
Confused yet? We'll break it down a bit more below.
Microsoft Surface Pro 2 – $899
The Surface Pro 2 is a full fledged computer in a tablet form factor running full Windows 8.1. It comes equipped with a 4th generation Intel Core i5 processor. Simply put, this will handle your day-to-day computing needs with ease.
It's also relatively slim at 0.53 inches (13.4 mm) and weighs about 2 pounds. We opted to test out this version of the Microsoft Surface, since it seems it would be well suited for most small businesses.
Microsoft Surface 2 – $449
The Surface 2 comes with Windows 8.1 RT and a Nvidia Tegra 4 1.7 GHz Quad Core processor. To make it more of an attractive device, Microsoft includes Office apps such as Word Excel, and Outlook. However, since you can't load any traditional Windows programs, it's hard to recommend this device to small business users. You couldn't run inFlow Inventory or QuickBooks Desktop, for example!
The first generation of the Surface and Surface Pro
If you haven't guessed by the number "2" in some of the model names, there are two generations of Surface tablets.
You can still buy the original first generation Surface (about $349) and Surface Pro (about $599).
The Surface Pro is good value at $599; however, there seems to be limited stock available at the Microsoft Store.
The Difference Between the First and Second Generation Surface
The main difference between the Original Surface Pro and Surface Pro 2 is that the processor has been updated. Not only is it faster, Microsoft claims it's more battery efficient, giving you nine hours vs. the five hours of the first Surface Pro.
Another subtle difference is the dual-angle kickstand. The second generation models have an additional kickstand position that gives you more viewing options. You'll find the additional viewing angle much more comfortable when viewing the tablet on a desk.
What can the Microsoft Surface Pro 2 do for my business?
Traditionally, if you use a computer for your business, you've been confined to specific workstations. Even if you use a laptop, it can be cumbersome if all you want to do is check something on the fly.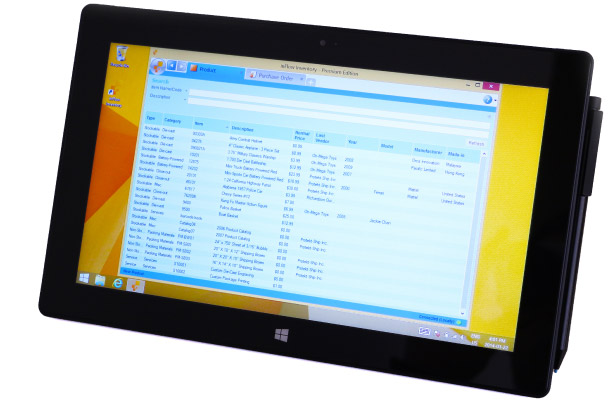 Well, with the Surface Pro 2, you now have the advantage of a full powered desktop PC with the mobility of a tablet. This is especially true if you're running a business that deals with physical goods that need to be accounted for.
For example, you've probably seen those expensive handheld computer scanners that sell for well over $1,000 used to scan inventory in and out.
Well, since the Surface Pro 2 has a full sized USB port, you can connect any USB barcode scanner to it! While not required to use inFlow, using a barcode scanner sure makes things more efficient and easier.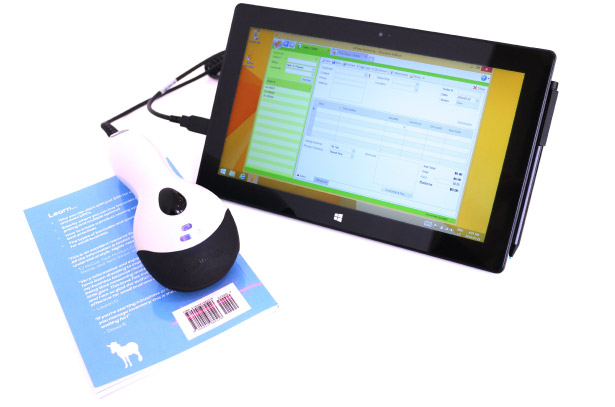 Of course if you're using a barcode scanner, you may need to create barcodes for your items as well. We also have a a full barcoding resource available for you that teaches you exactly what you need to set up a complete barcoding system.
While the Surface Pro 2 isn't as portable as a handheld pocket PC scanner, it's definitely one of the most cost effective at under $900. Plus, it's significantly more functional since it's a full computer too.
Let's take a look at some of the things you can do using inFlow Inventory on a tablet like the Surface Pro 2:
Mobile Receiving
Accept purchase orders and easily scan in your received items to check them against the purchase order.
Mobile Order Processing
Say a customer comes to pick up an order and wants to add a few more items. No problem! Create a new sales order right on the spot for them.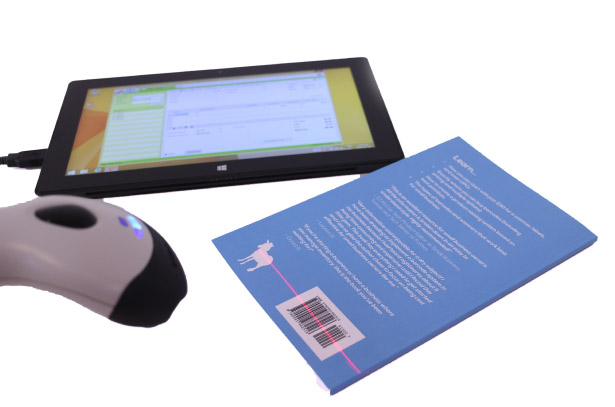 Mobile Cycle Counts
Look up exactly what inFlow says you have in stock and make a note of any discrepancies – all without having to print out extra paperwork or go back and forth to a computer.
Sales Floor Point of Sale (POS System)
Don't be tied behind the counter anymore! You can use inFlow and a Surface Tablet as a mobile POS System to ring up sales orders right on the spot.
Mobile Salesforce
You can also tether your Surface Pro 2 to your cell phone's data connection, giving you internet access. After doing this, you can remote into your workplace via a virtual private network (VPN) to see your live inventory database. You'll always know exactly what you have in stock.
How do I get inFlow on my Surface Pro 2?

Since it's just like any regular PC, there really are no special requirements to install inFlow Inventory on your tablet. Just go our website on your tablet and click to download inFlow.
We did notice that there was an install issue if you name your computer the exact same as your login name. So to be safe when naming your computer, just add a hypen and the letters "PC". So, your login name could be "Matt" and and your computer name could be "Matt-PC" It seems this error has to do with installing SQL Server which is a required component of inFlow.
Other Tips and Tricks
Don't forget that when buying a Surface Pro 2, you're also eligible to take advantage of a 1 year free Skype app (calling to landlines in 60+ countries). You also get an additional 200GB of SkyDrive storage for 2 years, which is handy since our 64GB model only came with about 30GB of storage space we could use.
The Surface Pro 2 also comes with a special digitizer pen (Surface Pro Pen), which comes in handy if you need more precise control over desktop apps. We didn't realize until afterwards that it docks neatly where the power connection goes while on the move. Plus, of course, the pen is great for taking hand written notes.
Where do I buy the Microsoft Surface Pro 2?
You can buy the Surface Pro 2 at the Microsoft Store or any technology retailer, including:
What do you think? Could you use the Surface Pro 2 in your business? Let us know in the comments below: