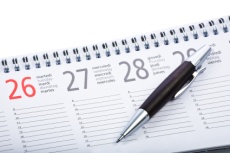 We're all busy these days, especially at work.  Team meetings, project deadlines, business travel, not to mention all your personal activities and errands.  Keeping track of your own schedule can be hard.  But to remember the schedule of everyone else in your team to coordinate better with them can be headache-inducing.  Wouldn't it be nice if there was a centralized calendar you could share with your team?
Google Calendar is the answer.  It is an online web-based calendar that can be shared between you and your colleagues.  You can set events and send email invitations directly on it to streamline your meeting arrangements.  It will even email you reminders of the events if you want.  Best of all, it is free.  You can even keep a separate private calendar right on Google Calendar, so that you jot down your family get-togethers and errands all in one place, without sharing all these details with your co-workers.
Give it a try today.  Stop keeping everything in your head and save yourself some headaches.