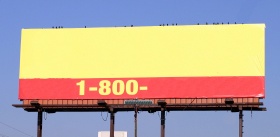 You may want to consider setting up a toll-free 800 number so that you can:
· Project a more professional image
· Make it easier for your customers to reach you
Toll-free numbers used to be quite expensive – something only a big company would have. This is no longer true – you can set up a toll-free number starting at around $10-20 a month. But since most of your customers don't know this, having one is a sure way to impress them. You're also more likely to get customers from outside your immediate area to call in, since they don't have to pay long-distance charges.
Here's how it works. You set up a phone menu, and when your customers dial in, they pick what extension to call. You can forward these extensions to you and your colleagues' local numbers and cell phones. If it's after hours or you miss the call, their voicemail will be delivered to you via e-mail.
Here are some service providers that you can try:
· GotVMail – USA & Canada
· Toll Free Forwarding – International
· BT RingCentral – United Kingdom
· dm Club – United Kingdom
Do you have friends who talk to long-distance customers?