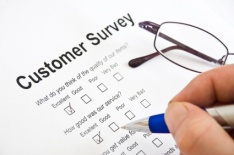 Listening to your customers is critical in identifying how your business can improve.  But usually, you only hear from either your greatest fans or the customers having the most trouble.  What do the rest of your more moderate customers think?
An online survey tool can help to gather more feedback and help you organize it to decide how to improve.  You can make your own survey, invite your customers to complete it, and then generate reports with graphs and charts on their responses.  For example, you might find that only 30% of your customers know about your latest product, and decide to improve that by showing it more prominently on your website or sending out a newsletter.  Most of these tools are free to start, but will charge reasonable rates if you have a large number of responses.
Here are 2 of these online survey tools:
– Survey Gizmo
– Survey Monkey
Give it a try today.  What your customers think might just surprise you.