Are you a former inFlow On-Premise user that migrated to inFlow Cloud? Reordering by location has been one of the highest requested features made by the community, and we've listened! We've improved the reordering process to make inventory tracking more flexible and customizable.
Currently, reordering is done across all your locations so you could only set one reorder point. This meant you'd have to estimate a reorder point that takes into account all those locations.
With the coming improvements, you'll be able to set a reorder point per location. inFlow will also be able to display quantity on hand, quantity reserved, and quantity available per location.
Will these changes affect how I reorder?
These reorder improvements will come with a change to the way you'd use locations in inFlow. For example, if you're currently using the location field to track sections in your warehouse, this will affect your reordering workflow.
Does the following apply to you?
I only have a single location to keep track of items, and I've been using the Location field to track my aisles / shelves / bins
I use the Location field as a workaround to track anything other than main locations (e.g. sublocations, expiry dates, etc.)
If it does apply to you and you want to use the new reordering features, not to worry! You can check out our guide for how to set up your locations.
Otherwise, if you don't use inFlow's purchase orders or the Reorder Stock feature, then you won't have to change anything in your setup, but there may be some other changes to the way locations behave that you might want to know about.
If none of the above apply to you or if you're just not sure and want to confirm if this affects you, please don't hesitate to reach out to us at support@inflowinventory.com.
Please read on to see how this may affect your current workflow, and what you can do to switch to the new feature when it's released!
Here's a list of all the changes. Click any of the links below to jump to that section:
Setting reorder point & reorder quantity per location
Since reordering is so important to inventory tracking, the Reorder Point & Reorder Quantity fields will move to the Main Info tab. The Barcode field will also move to the main tab (both were previously in the Extra Info tab).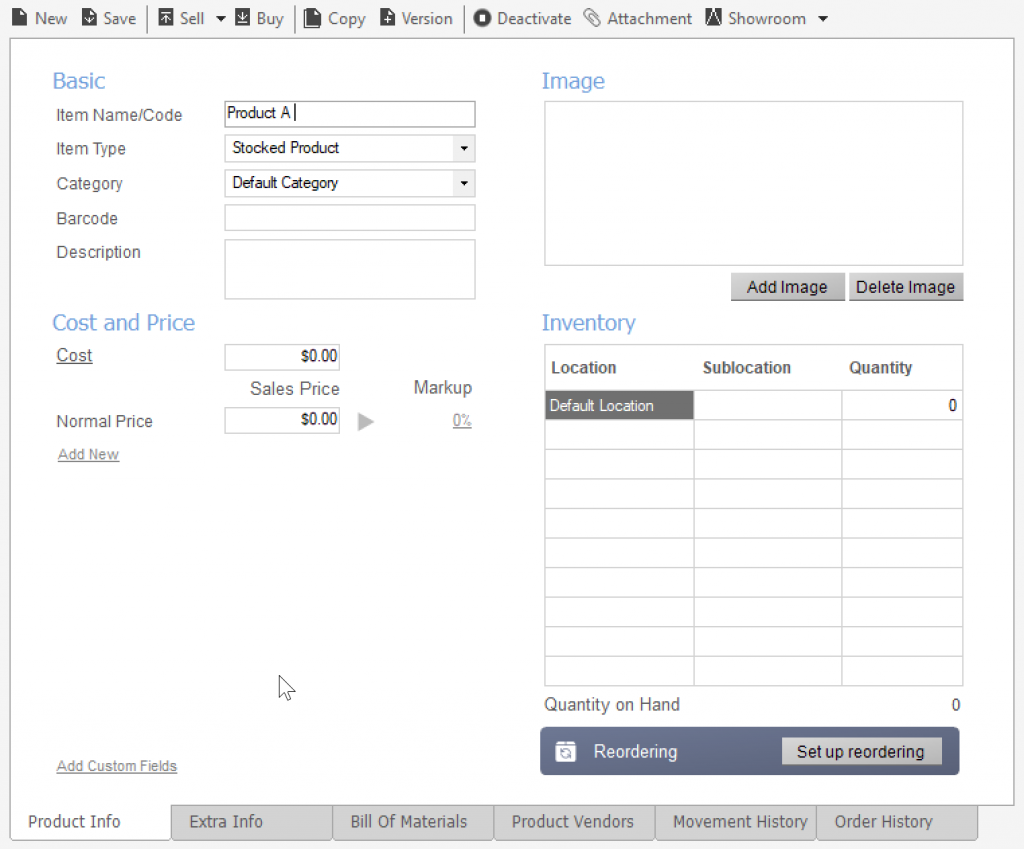 As you'd need to set a reorder point per location, these settings will be in a pop-up window so it can comfortably list all your locations. The set up reordering button (pictured above) will lead to that new window.
Here's a sneak peek at the new Reorder Settings window.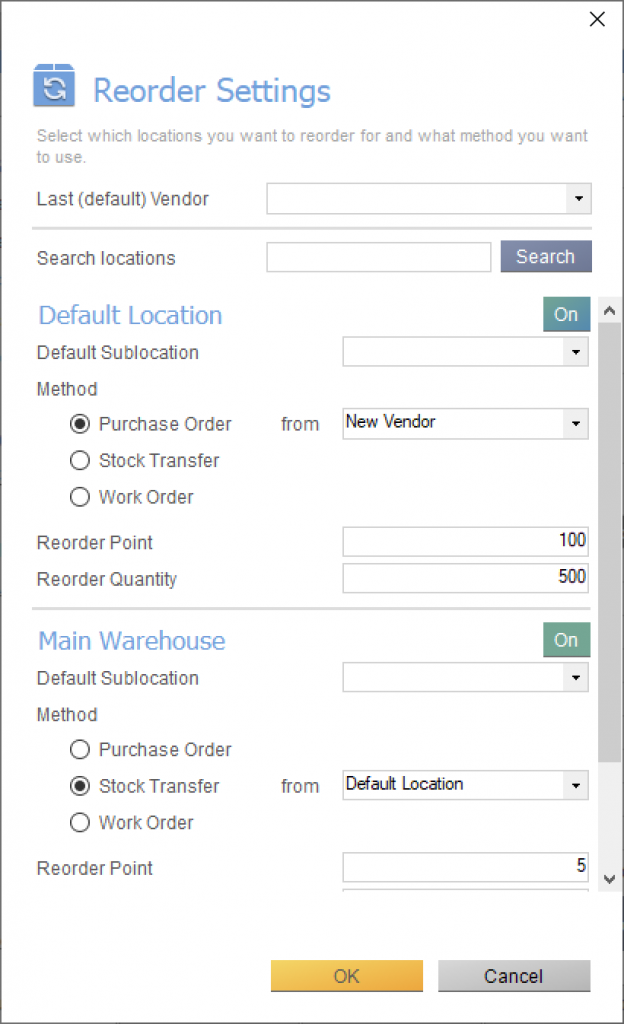 From this list of locations, you can choose to enable reordering for each location or not. We've also removed the product Default Location, but each location will have its own default sublocation (pictured above).
We're also excited to introduce the new Reorder Methods:
Purchase Order (e.g. for this location, reorder from a preferred vendor)
Stock Transfer (e.g. for this location, reorder from another internal location, like the main warehouse)
Work Order (e.g. reorder via a work order, for any items that are manufactured instead of bought)
Once this is set up, when you use the Reorder Stock feature in inFlow, it will generate the required purchase orders, stock transfers, or work orders for any items below the reorder point in that location!
We'll have a more in-depth article for the new Reorder Stock feature soon. For now, this should be enough information to prepare you in advance.
You can download the Reorder Settings import file here to get started on setting reorder points, quantities and method per product and location. Then, all you'll need to do when we release is to import that file and you'll be good to go!
Need help with this file? Email us at support@inflowinventory.com.
Automatic order location setting

inFlow's Order Location field controls where the products will be bought / sold from. This field was automatically filled based on the following hierarchy:
Customer default location (applicable to sales orders only)
Personal default location in Personal Settings (if the above isn't set)
Blank (no location if none of the above were set)
With the new improvements, when you start a new order, it will no longer be blank (pictured in the before / after comparison).
Customer default location (applicable to sales orders only)
Personal default location in Personal Settings (if the above isn't set)
Global default location in Company Settings (if the above isn't set)
This will affect your workflow when clicking Fulfill or Autofill. Products will be received / sold from that Order Location (pictured above) unless you specify otherwise in the Fulfill or Receive tab.
We recommend each team member set their own personal default location to avoid having to always change the Order Location in a new order. You can do this now in advance as this behaviour is already in inFlow.
For example, if you're always receiving stock into "Main Warehouse", then you can go to Main Menu > Options > Personal Settings and set "Main Warehouse" as your default location. That way, any purchase order you receive will always use that location.
Single location setting per document

Previously, locations were specified at the product line-level in the stock transfer, stock adjust, and count sheet documents. This was probably a lot of work if you were only trying to adjust / transfer stock within one location, since you'd have to repeatedly select that location for each item!
We've made this simpler and faster. You'll be able to specify the location you want to adjust / transfer / count for at the top (pictured above), and then go ahead and select products.
Note that if you do need to make adjustments across multiple locations, you'll need to start separate documents for each location (since you can only specify one location per document).

For this change, unfortunately we could not show both the old documents with per-line locations and the new changes with per-document location, so we've retroactively split any existing documents involving multiple locations.
Don't worry, none of the historical data / quantities will be affected! The document number remains the same but will have an added suffix to show that it was split. In the example image above, SA-000004 was previously a single document involving 3 locations. After the update is released, that document will be turned into 3 documents (one for each location), all with the same document number so you can still search for it if you need.
Changes to the inFlow API
If you have access to inFlow's API for your own integrations, this release will affect you as the changes are substantial. You'll likely run into unavoidable errors, but we'll be updating the inFlow Cloud API documentation as soon as we release so you can make any necessary changes.
Questions/Support
If you have any questions on the improved reordering or run into any issues, please email us at support@inflowinventory.com