— 6 minutes reading
Business paperwork has a bad reputation. Manually creating documents for partners and suppliers can be time-consuming and complicated for a company of any size. But computer-generated documents can change that, which is why many turn to electronic data interchange (EDI) integration.
But how does it work in practice? We delve into the world of EDI, including why and how EDI integration can make business run more smoothly.
What is EDI?
EDI, in one form or another, has existed since the 1960s. The process helps two companies exchange business documents in a standard, electronic format. These documents (sometimes called messages) normally include the same information as they would if they were on paper.
With EDI in place you'll have uniform formatting across all your documents. Ensuring they include exactly the right information for the recipient. This is one of the key differences between EDI messages and other types of digital documents that might be emailed or faxed.
Working with an EDI system can save time and minimize room for error as businesses switch to automated processes for exchanging information.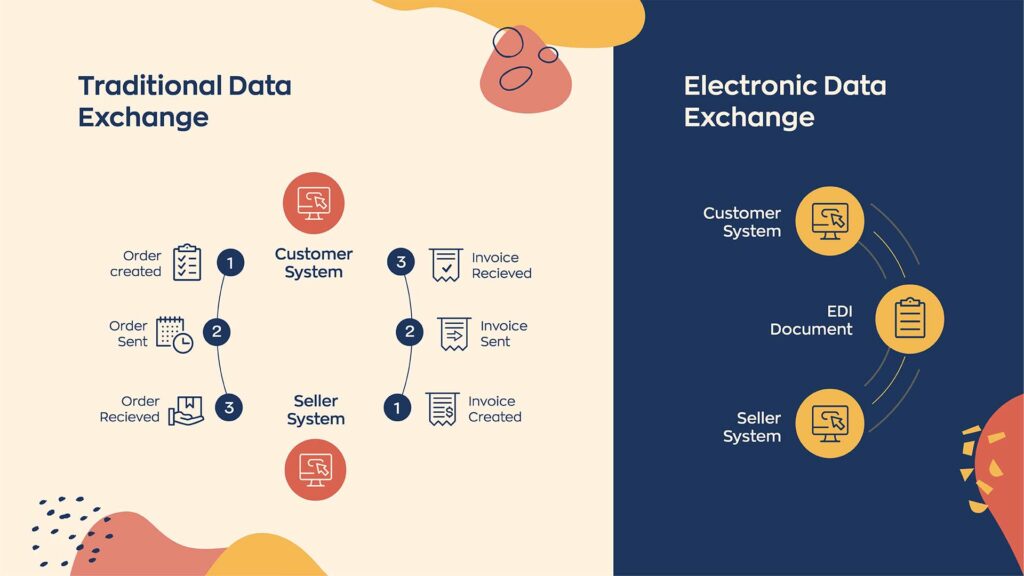 When can you use an EDI system?
You can use EDI messages in any number of situations. This includes ordering, invoicing, and many stages in between.
For instance, if a retailer wanted to ask their supplier how many units they had left, they could simply use an EDI 846 to find out. Or they might receive another type of EDI for a purchase order or for amendments to that order.
As an article in Forbes explains, EDI can help with warehouse processes, too. An EDI 940 ship-from-warehouse lets a manufacturer easily tell one of its warehouses to ship a product to a retailer. The 'ship-to- and 'bill-to' addresses are clearly labeled alongside the list of quantities and product details. You could also scan barcoded documents to avoid manually typing in product numbers.
Small businesses and EDI integration
It's common for large businesses to use an EDI system. It helps them standardize their documents across the supply chain, meaning they send and receive the right details every time. It's usually mandatory for smaller businesses that work with them to conform to the same EDI standards, too.
Getting started with EDI can be daunting for small- and medium-size businesses. After all, they face different IT challenges than large enterprises, with reduced budgets and staff numbers.
However, there are ways to get set up quickly. Working with a platform that offers EDI integration may help you manage the process more quickly. For example, inFlow now supports three EDI connections through CartRover.
If you don't want to limit your small business to working with other small businesses, you'll need to be EDI compliant.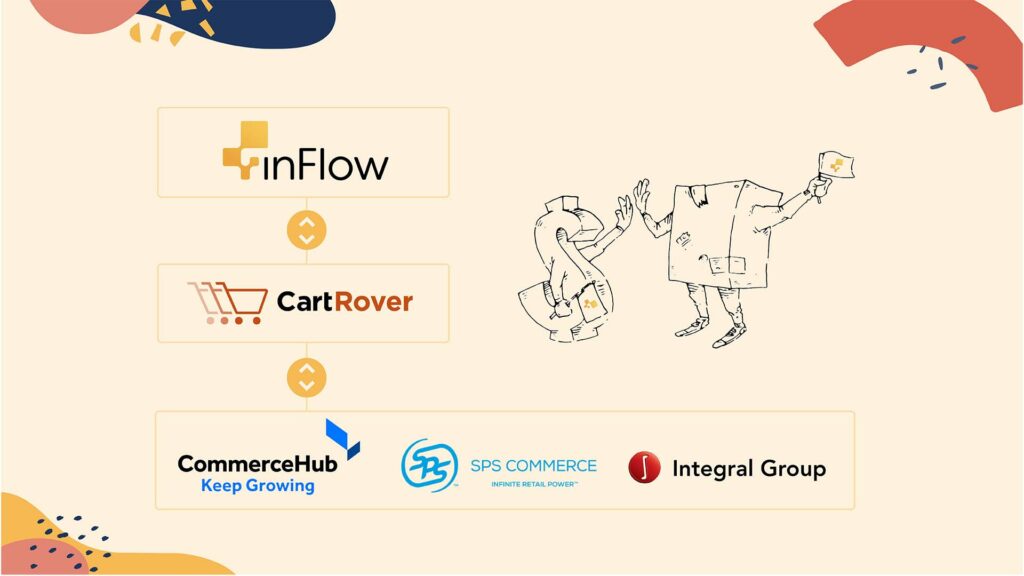 Benefits of EDI
Swapping to a new system can take a little adjustment and often the benefits may not always be easy to see right away.
But when it comes to electronic data interchange, IBM highlights these five key ways its integration can be helpful:
Save time and money
EDI means more automation and less manual work.
Improve efficiency and productivity
Business documents take less time to process and share, and have greater accuracy.
Reduce errors
Less manual data entry along with standardization creates far less mistakes.
Improve traceability and reporting
EDI integration works with a range of IT systems.
Support positive customer experiences
Efficient transactions and reliable product delivery make for great service.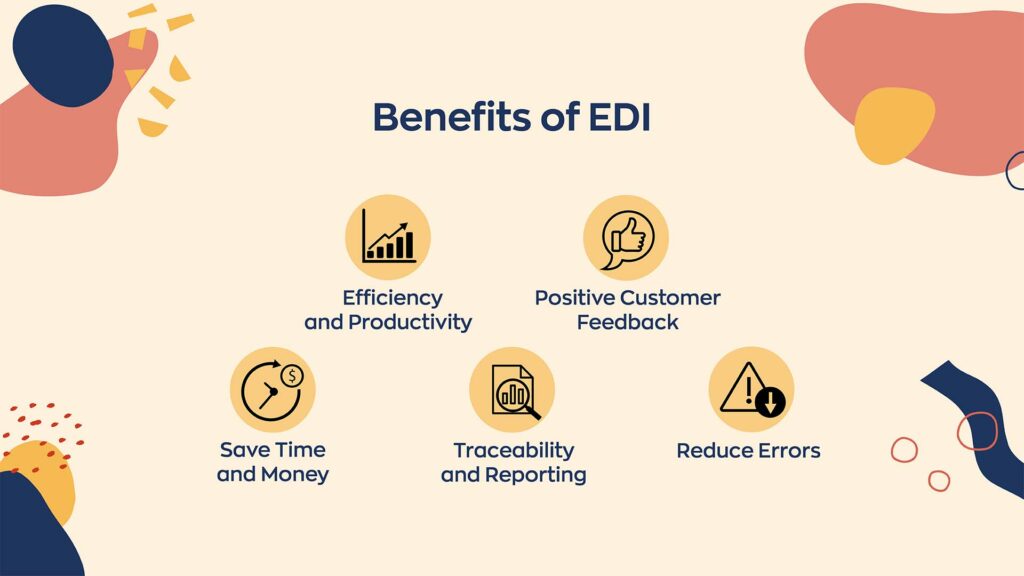 EDI in ecommerce: an example
EDI in ecommerce works in a similar way to other industries. However, the exact documents an ecommerce company needs to exchange across the supply chain will depend on its business model and the requirements of its partners.
To see how ecommerce EDI works more closely, let's take the example of a drop-shipping returns process, as explained by SPS Commerce.
As you may know, in drop shipping, the retailer doesn't stock the product. Instead, they take the order information and send it to a third-party supplier who then ships it directly to the customer. As much as retailers might like the transaction to end there, sometimes it doesn't.
As SPS Commerce explains, more than 25 percent of drop-ship orders are returned. So, an efficient returns process is needed to save time.
Typically the retailer deals with the initial request to return the item. They would then have the return sent directly to the third-party supplier. For this model to work good communication between the retailer and the supplier is crucial.
With a single EDI document, drop-shipping partners could immediately check things like:
the consumer
order number
UPC
quantity
location
condition of returned product
They could also prompt a refund.
This automated process helps speed up the returns process, provide the right information, and keep communication smooth between partners.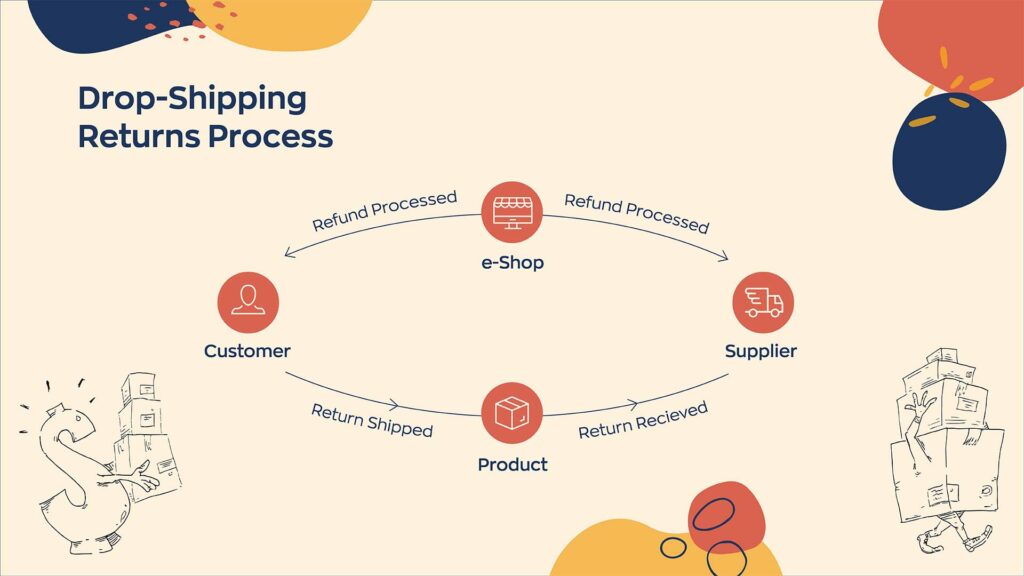 EDI standards explained
EDI standards refer to the format of the electronic document. There are several sets of standards, some of which are more prominent in specific areas of the world.
For instance, GS1 EDI standards were developed by (as you may have guessed) the organization GS1. GS1 is a neutral organization that specializes in creating standards across industries. So whether it's EDI standards or barcodes, GS1 makes sure everyone is using the same agreed upon "language". They're responsible for the development, implementation, and maintenance of the Voluntary Interindustry Commerce Solutions (VICS) EDI Standards. Most big businesses within the US and Canada adhere to VICS EDI standards for their EDI documentation and they require anyone they do business with to also comply.
So you'll need to follow specific EDI standards depending on where you are in the world and what industry you're operating in. There is no one-size-fits all solution when it comes to EDI standards.
The future of EDI systems
Technology has developed particularly rapidly in the last few years. Understandably, businesses want to choose a system that will suit them in the long term and not just for the time being.
Many companies have limited options if they want to explore business opportunities with larger partners. Often these relationships come with an obligation for EDI integration.
The good news is Deloitte predicts that EDI is here to stay. They say "no viable alternative exists which could rip‑and‑replace EDI. It is, and will remain the workhorse of B2B communication for the coming years."
It works well once you've established an EDI connection. So, large businesses (such as retailers) who already use EDI would then face high costs in switching to another communication channel.
Instead of replacing EDI systems as businesses progress, Deloitte discusses the possibility of using APIs (a type of software intermediary) alongside EDIs as a hybrid way of communicating.
inFlow and CartRover
At inFlow, we recently announced an exciting new integration with CartRover. This means we now support EDI through SPS Commerce, CommerceHub, and Integral Group. So, whether you're already working with EDI or you're looking to get started, inFlow can help.