— 3 minutes reading
We're excited to announce that we've brought stock counts to our web app!
Stock counts are useful for setting the record straight: inFlow shows you the quantity on hand, you count the actual physical products on the shelf, and then you can check for any discrepancies. This is crucial to maintaining inventory levels that you can trust and exposing how much inventory shrinkage (shrink) your business has had in a period of time.
Counting one sheet at a time in Windows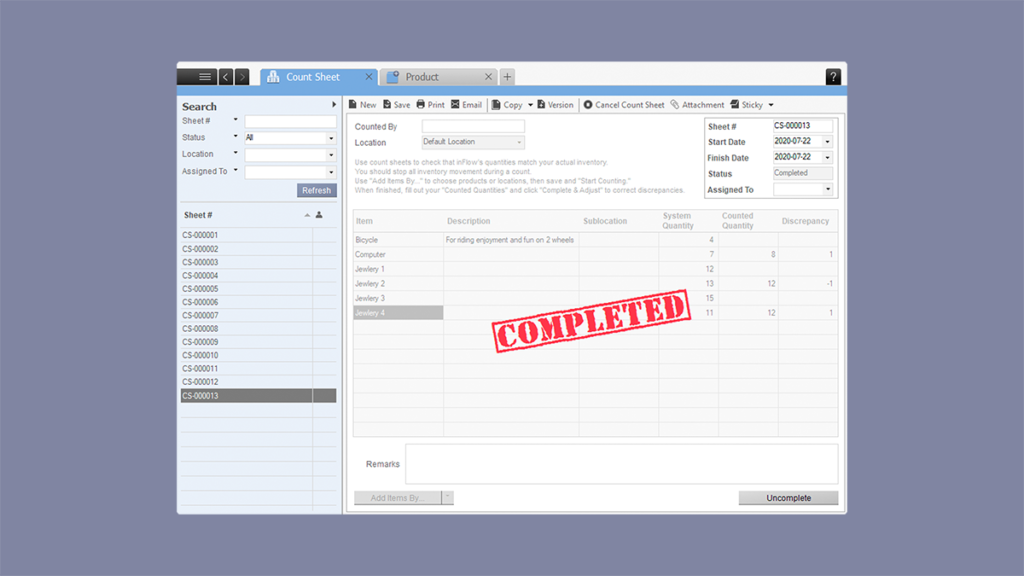 We've had stock counts for years in the Windows app: we've called them count sheets there. Each count could support a single sheet, so counts in the Windows app would look like one scrolling record.
This works well if you do smaller cycle counts of particular categories or sublocations, but it can be tougher to view if you're counting products by the hundreds or thousands. It can also be a challenge to track progress on a long count sheet when the work is split amongst multiple people.
That's why we're introducing some newer ways to work in the web app.
The web app supports multiple sheets per stock count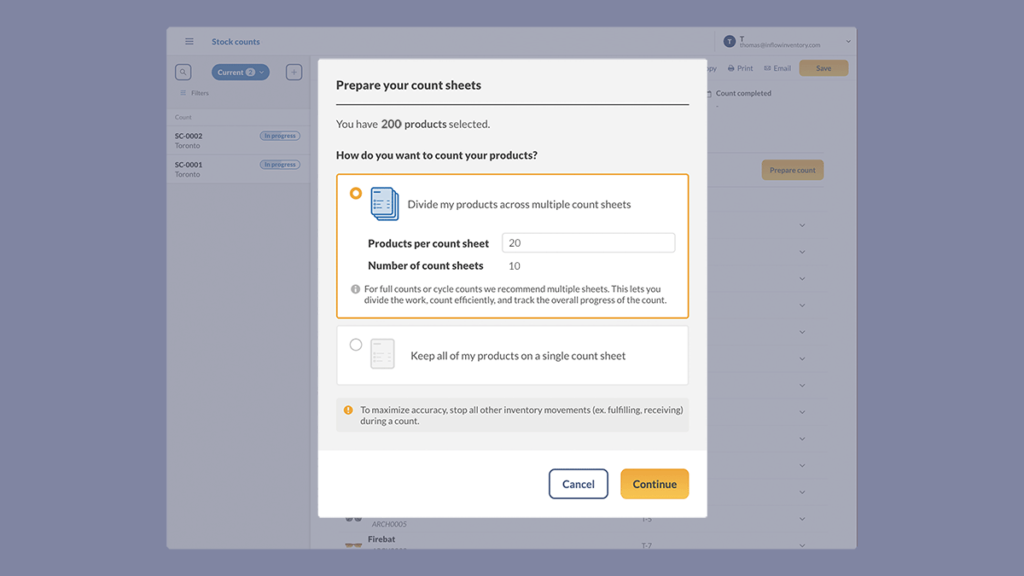 You can still create single-sheet stock counts in the web app (and they're still sticking around in Windows), but if you have larger physical inventory counts, you may find it a lot easier to divide that work across multiple sheets.
For example, if you have to count 200 products, you can split that work up across 10 sheets.
These sheets are not physical sheets of paper—think of them more like sub-documents that specify what needs to be counted, and by whom.
If you like to plan ahead, you can assign team members to each sheet. Or you can simply look at a sheet's status to see if it's open, complete, or see if someone is working on it right now.
It's now easier to manage stock counts
Every stock count consists of two records:
the stock count outlines which products should be counted at which location
the sheets within a stock count help to divide the work and track overall progress
To help organize all of this, you can now assign a stock count to a team member. That team member can act as the general supervisor for the entire count and assign team members or help to double check counts.
If your inFlow plan supports user access rights, you can also limit someone's access to count sheets only. This helps to ensure that only managers can start and finalize counts.
General improvements to counting in the web app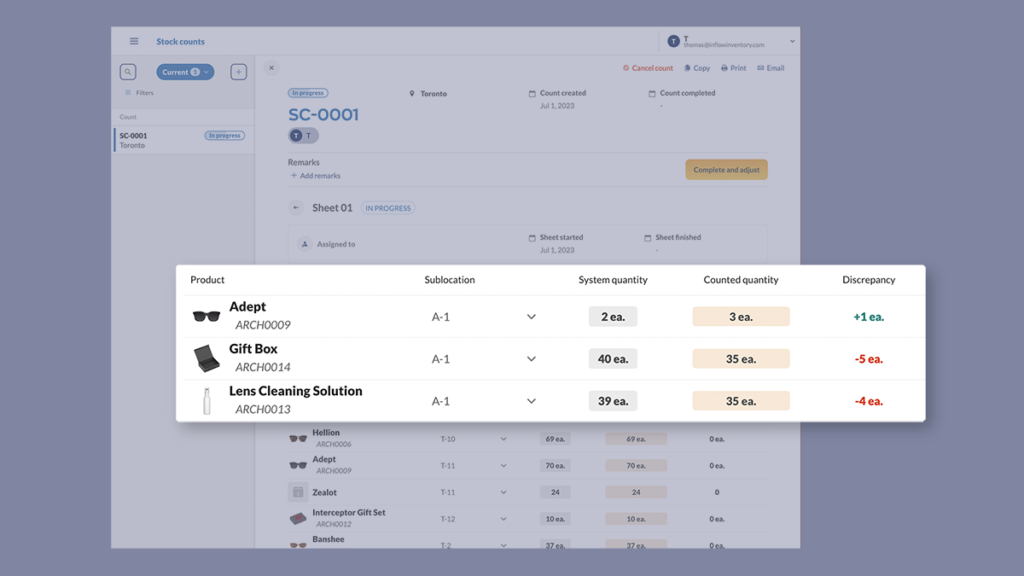 We've also tried to make the act of counting a little easier in the web app. Discrepancies now show up immediately after you input a counted quantity, and they're color coded so they're harder to miss.
Each sheet has its own remarks field and can be completed individually.
You'll also see a warning if multiple people are trying to edit the same count sheet at the same time.
---
And that's a quick summary of count sheets in the web app. They're a great new way to maintain accurate inventory in inFlow.
If you're not using inFlow yet and need a system to make physical inventory or cycle counts easier, you can start a free trial here: