— 7 minutes reading
Overstocking goods may help businesses avoid shortages, but this strategy isn't without its risks. When your excess inventory becomes obsolete, your dead stock can drag down your return on investment (ROI) and hinder your growth. Obsolete goods can cost you 25-30% more than your inventory's actual value. Every inch of wasted space in your warehouse means wasted electricity, maintenance fees, and more.
Getting rid of excess stock can be just as expensive. Obsolete destruction services can cost you hundreds (if not thousands) of dollars on top of your losses. Plus, it's unsustainable. Returned inventory alone added 5.8 billion pounds of waste to landfills — and that environmental impact doesn't even account for the energy used to get inventory there.
More than ever, warehouse owners are brainstorming new solutions to make use of their overstock. Luckily, it can be easy and beneficial for warehouse owners to develop a plan for reusing and recycling obsolete inventory.
Why you should have a plan to recycle obsolete inventory
Recycling inventory is an effective way to recover the cost of your excess stock and lessen your environmental impact. Naturally, it can be one of the best things you can do for your business in more ways than one.
Some of the greatest perks of reusing and recycling overstock are the marketing benefits. Choosing sustainable alternatives to obsolete destruction allows you to position your business as an eco-friendly and sustainable brand. Since the majority of modern consumers value environmental responsibility, this can be your chance to stand out from your competitors and grow a loyal client base.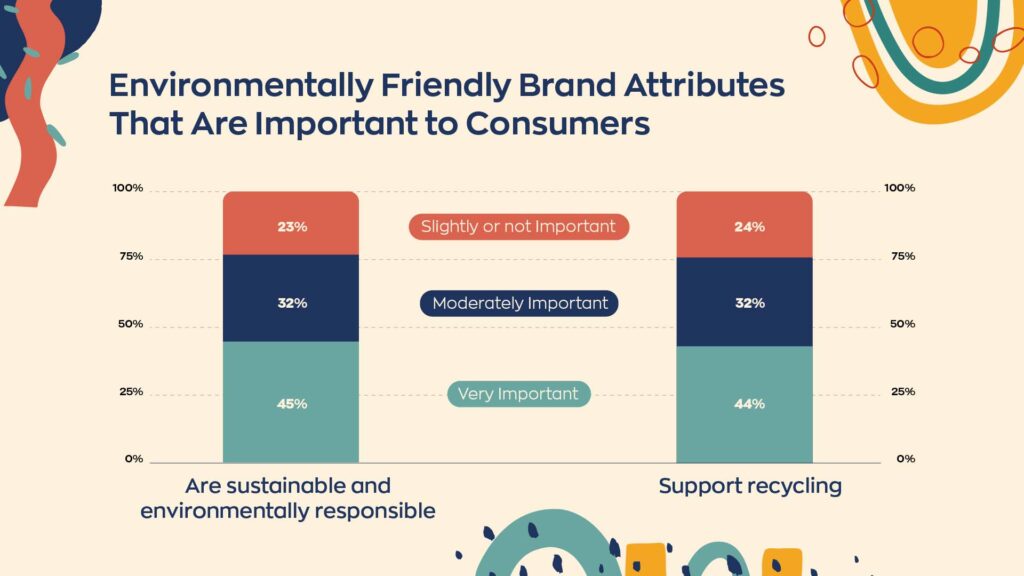 It's worth noting that there are both pros and cons of carrying excess inventory, and making use of your excess stock can also help you utilize its full value. While holding onto dead inventory can come with high storage costs and destruction can render your goods a total loss, recycling helps you recuperate some (if not all) of your costs. Plus, once your old inventory is off your shelves, you can make room for new products your clients will purchase.
So how do you get started with recycling obsolete inventory? Let's dive into seven steps you can take.
Keep on top of what is truly excess
Many businesses keep their overstock for far too long. When you overestimate demand or fail to keep track of the lingering items in your inventory, obsolete goods can become a major problem in your warehouse. Identifying excess goods early on allows you to quickly repurpose extra or unsellable items and save a significant amount of money and energy.
Supply chain forecasting can be a powerful tool for identifying excess goods fast. When you can accurately predict how much you'll sell, you can effectively identify what's likely to be left behind. The best part is, forecasting doesn't have to be complex.
Using simple formulas like the inventory turnover ratio formula, which tells you how fast you can sell your inventory in a set time frame, you can quickly uncover what's likely to become dead inventory before its "expiration." This way, you can make use of those goods before they become unusable — or, at the least, pull them from your shelves as soon as your turnover slows significantly.
Warehouse management software can also support your forecasting by showing you real-time stock levels. It helps you visualize what's moving quickly and what's been sitting for far too long.
An additional perk of supply chain forecasting is the fact that it can help you avoid ordering too much overstock, while still ensuring you have some safety stock in case of delays. For instance, when you calculate your reorder point, you'll avoid ordering more products well before your current inventory is set to sell.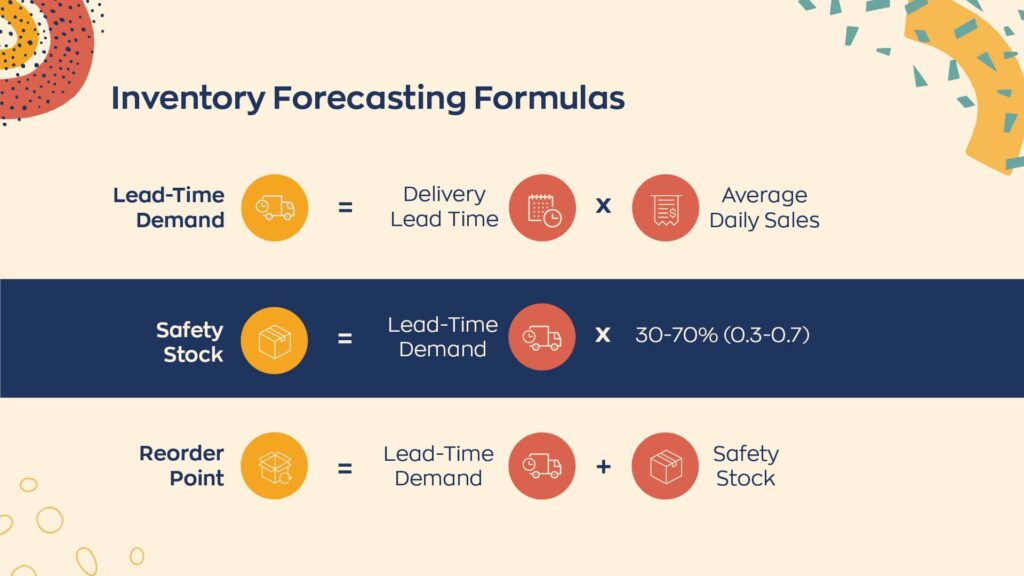 Once you identify (and minimize) the number of excess goods in your warehouse through supply chain forecasting, you can start to identify where they'll go or how you'll recycle them.
Consign with other businesses
Excess stock may be unsellable in your stores — especially at full price — but it's not necessarily unusable. If your obsolete goods are in good condition, you can still earn a profit by turning them into consignment inventory.
Selling on consignment involves providing your products to a retailer at no cost, then earning a commission when your goods sell. It's an effective way to clear your warehouse and eliminate the need to maintain obsolete goods while still getting your products in front of consumers. You won't earn as much from consignment inventory as you would from selling it yourself, but it does help you avoid the high costs of holding onto dead inventory.
Rework old inventory into new products
Upcycling isn't just for crafters. Even when a product becomes unusable — for instance, if a laptop breaks or a shoe breaks apart — it may contain some valuable materials that you can use to produce new goods to sell. As an example, Nudie Jeans is a clothing company that breathes new life into old and torn jeans by turning them into bucket hats, patches for its repair service, and more products.
You can also consider selling or giving your old inventory items to other businesses that can repurpose them. If you've ever seen totes made from chip bags or vases made from wine glasses, you know that one warehouse's trash can be another company's treasure.
Return to the supplier
In some cases, your excess inventory doesn't have to go anywhere new. Some suppliers allow you to send inventory back for a refund or credit. Check with your suppliers about their return policies, which will likely come with terms and conditions around the condition of your goods and the timeline of your return.
If you want to make returns a part of your repurposing plan, you'll need to do so as quickly as possible. After all, most suppliers won't accept returns six months after you receive them. This strategy is ideal for products that you don't plan to keep on your shelves for long (like holiday items).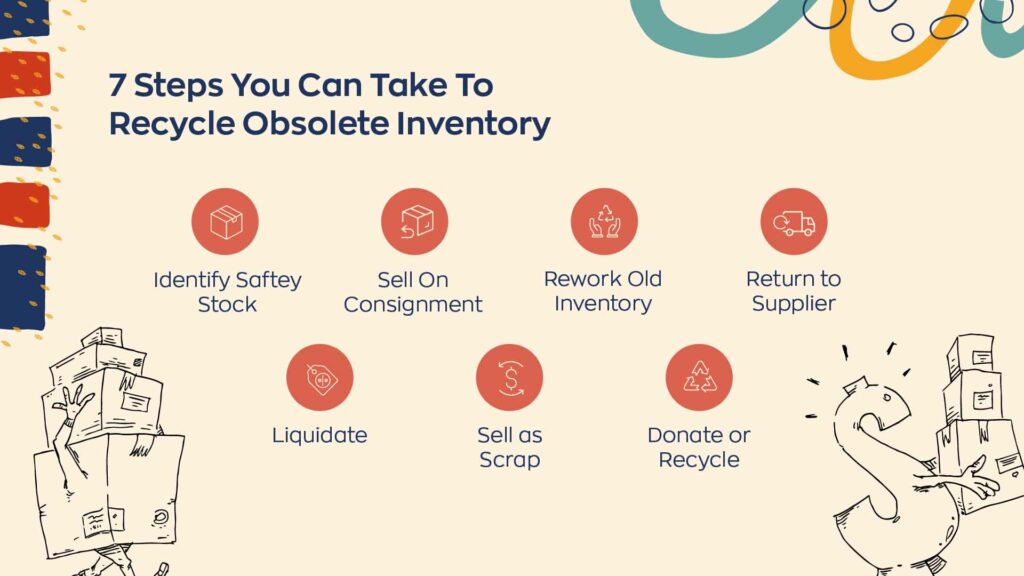 Sell overstock at a discount
Consignment isn't the only viable option for usable goods. Sometimes, selling goods at a big discount allows you to earn more than the commission that consignees will offer. If you have excess stock that's in good condition, consider liquidating stock to retail customers. With your profit margins in mind, identify the most eye-catching deal you can offer, whether it's a buy-one-get-one sale or a steep 75% off deal.
When selling obsolete goods to retailers, you can also consider bundling items together for better deals or giving discounts to customers who purchase from you in bulk.
Alternatively, you can sell your usable overstock straight to liquidation companies, which can purchase large portions of your excess goods (though usually at a bigger discount).
Sell to scrap dealers
Some unusable goods can be sold in bulk, too. Scrap dealers frequently purchase unusable products, like outdated appliances and car batteries, for their valuable parts or materials.
While this solution isn't as universal as general repurposing or upcycling, scrap dealers can be a reliable resource for any business looking to sell their dead inventory. Some scrap dealers may even offer free pickup services, so you don't have to make regular trips to their location.
Donate or recycle
Creating a recycling and repurposing plan for your overstock can help you make great use of your obsolete goods. However, no solution is perfect. Odds are, you'll still be left with some excess inventory you'll have to take as a loss — but if sustainability is your goal, as it should be, tossing it in the trash should be your last resort.
Set a recurring date, either quarterly or yearly, to take your dead inventory to recycle or donation centers. While this overstock management solution won't bring you any profits, donating and recycling are two eco-friendly ways to ensure all of your goods — whether they're usable or not — are utilized or repurposed by consumers if they can't otherwise be sold.