— 6 minutes reading
In September 2020, Intuit, the parent company of QuickBooks, purchased TradeGecko for $80 million USD. TradeGecko, a popular inventory management solution, was quickly rebranded to QuickBooks Commerce (QBC), and for a short time, things continued business as usual. But in June 2022, the announcement was made that QuickBooks Commerce would sunset. As with any end-of-service announcements, this has left many QuickBooks Commerce users scrambling to find a new solution. So: what are your options? Should you consider switching to QuickBooks Online? What features does QuickBooks Commerce offer, and what is it missing? And, more importantly, why is Intuit doing this?
What is software sunsetting?
In the software industry, "sunsetting" means that while the existing software will remain available for users, it won't receive any support whatsoever. Apart from a lack of support, users will no longer receive updates or new features. In short: you're on your own. Unfortunately for QuickBooks Commerce users, QBC will officially sunset on August 31st, 2023. Which, at the time of writing, is just around the corner.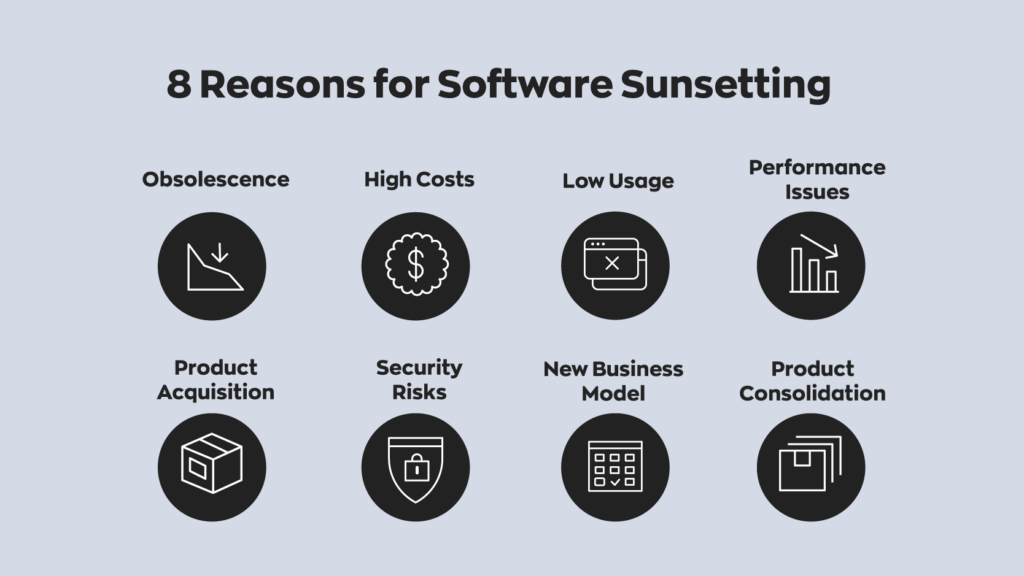 The subscription service take over
Something that people learn quickly in the business space is that business-oriented services usually run on a subscription model. While most people balk at the idea of more subscriptions (and rightly so), there's good reason for this. Most importantly, while these services can be expensive, they save money in the long run. If you replace $1,000 in monthly labor costs with a $200/month software solution, you're effectively saving $800 every month. That adds up quickly.
But, these software solutions also aren't maintenance-free. On top of releasing new features, software companies constantly release optimizations, security updates, and so on. Developing these features and updates costs money and a lot of it. Recurring income is vital to the long-term success of a business, and subscription models are a simple solution. But how does this relate to sunsetting?
Why did Intuit decide on a QuickBooks Commerce sunset?
There's a variety of reasons, but as with many things, it all comes down to money. Developing multiple different platforms with different purposes is expensive, and that doesn't take into account operating costs. Intuit has to provide customer support for each product, different marketing strategies, and so on. That gets expensive quickly.
If you look a bit closer, you'll realize there's more to it. Much of Intuit's recent marketing strategy revolves around aggressively selling its cloud solution, QuickBooks Online (QBO). While QBO started as an accounting platform, Intuit has been expanding the service's capabilities, including an inventory management module. In short, Intuit is trying to funnel existing QuickBooks Commerce users toward QuickBooks Online. This helps cut down both operating and development costs, and it's likely that their goal is to increase their overall revenue.
What features do QuickBooks Commerce and QBO have?
While QuickBooks is best known for its accounting software, purchasing TradeGecko, an existing solution, and adapting it has left Intuit with a robust system. On top of a perpetual inventory system, QuickBooks Commerce (as well as its successor, QuickBooks Online) can generate various reports and also serves as an invoicing platform. Couple this with its near-seamless compatibility with QuickBooks' accounting features, and there's a solid argument to be made in favor of adopting QBO.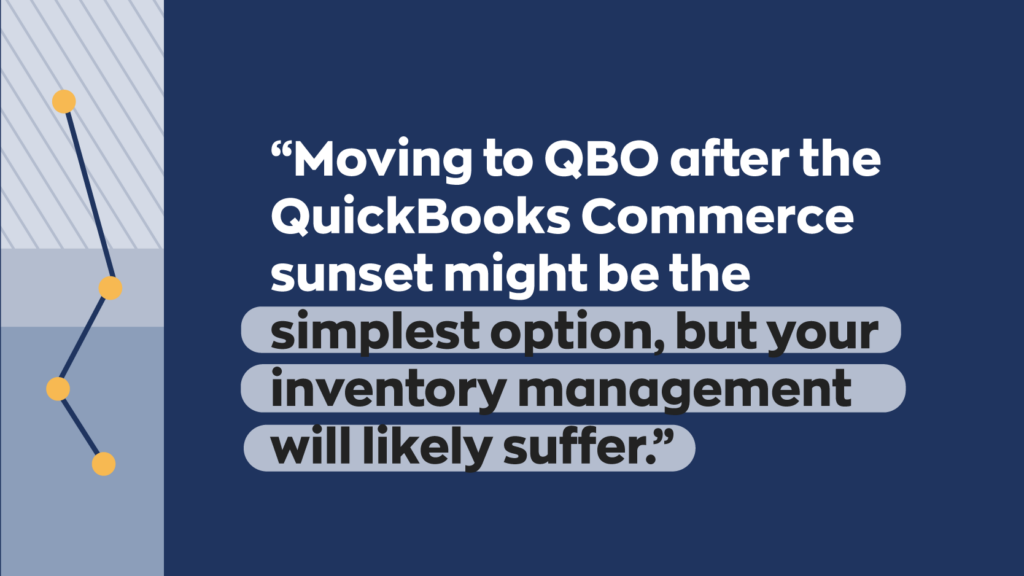 However, QuickBooks is primarily an accounting platform. Their inventory feature set is good enough for business owners just starting out, but once things get going, some shortcomings become apparent. One big thing is that, at the time of writing, QBO doesn't have a built-in barcode system. That feature is behind their QuickBooks Enterprise product, which markets itself towards large businesses, which is reflected in its price. This means that QBO users rely on invoicing to keep track of their inventory in real-time. That's alright for low-traffic or service-based businesses, but for retailers, you'll need a barcode system. There's no way around it.
And while QBO is capable of generating valuable reports, other inventory solutions typically offer far more. These reports provide helpful information you can use to create sales forecasts and factor into other business decisions.
What do TradeGecko customers think?
This decision by Intuit isn't without some controversy. Some users migrated to QB Commerce from TradeGecko and preferred other accounting platforms. These customers may feel pressured to change not only their inventory management software but also their accounting solution.
And while QuickBooks Commerce's sunset is just across the horizon, this decision follows the rebranding of TradeGecko to QuickBooks Commerce. That decision wasn't without controversy, either. One of TradeGecko's selling points was that it was an international platform. When Intuit took over, using QuickBooks Commerce was restricted to US customers.
At the time of writing, it's unclear what Intuit's long-term goals are. It's worth considering the longevity of the platform, given the recent sunset of QuickBooks Desktop 2020 as well.
What options do QuickBooks Commerce users have?
It's possible to keep using QuickBooks Commerce, but it's also a really bad idea. QuickBooks Commerce sunset means that once August 31st comes around, QBC users will receive no support whatsoever. In other words, if something breaks, you're out of luck. Worst case scenario, you could be unable to migrate your data, effectively taking you back to square one. That leaves QBC users with two options: switch to QuickBooks Online, or find a new solution.
Switching from QB Commerce to QBO
Admittedly, switching over to QuickBooks Online is a pretty attractive idea, especially for those already using QuickBooks for accounting. Having two different solutions bound to the same platform is never bad. There's also a good chance that transferring data from QB Commerce to QB Online will be easier than with other platforms.
Not everything is rosy, though. While QuickBooks Online starts at $30/month, you'll have to subscribe to their "Plus" plan to use their inventory system. That might not sound like a big deal, but that increases the price to $90/month. Despite the price bump, users on the Plus plan won't be able to send batch invoices. You'll need the Advanced plan to do that, which costs $200/month.
QuickBooks Commerce Alternatives
While QuickBooks Online has the advantage of seamless cross-platform access, they're far from the best inventory management solution available. Most other solutions also offer integrations with both QuickBooks and other services, giving them similar versatility. For example, on top of a QuickBooks integration, inFlow offers integrations with eCommerce platforms like Amazon and Shopify, allowing it to function as a true business hub. And, of course, inFlow has a built-in barcoding system, a must for many businesses. Make no mistake, QBO's inventory system is good enough to get by, but once things get moving, it falls short.