— 2 minutes reading
Earlier this summer we brought stock transfers to the web app. This fall we're upgrading them on your phone.
You could previously send stock transfers from iOS and Android, but you couldn't receive the transfers (they were received instantly) or view any open or completed transfers.
That's all changed for the better with our latest update to inFlow's mobile app.
See all of your stock transfers at once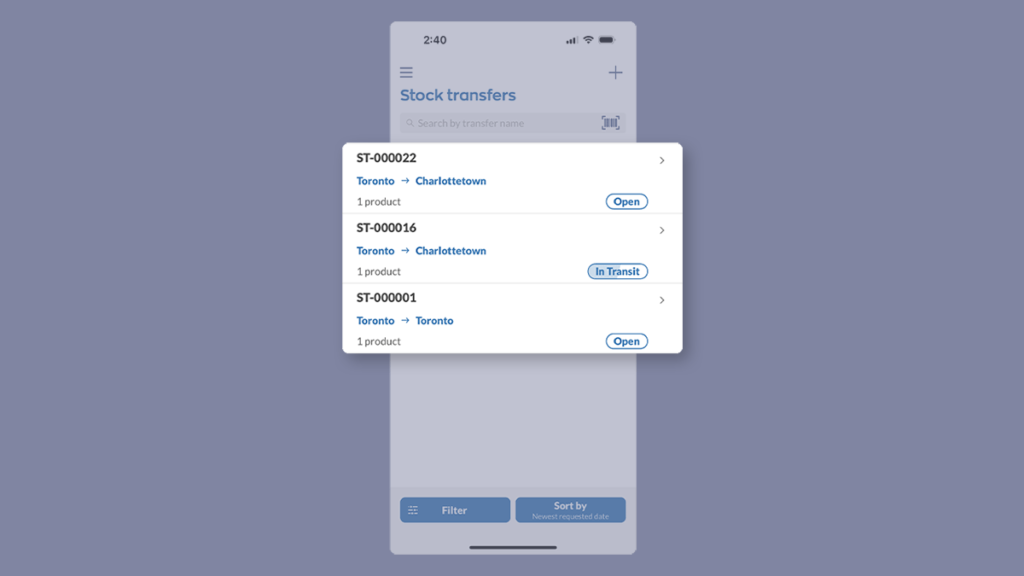 You can now see a list of transfers that are open (unsent) and in transit (sent). And you can of course filter this list further by location, date range, or assignee.
There are even options for showing completed and cancelled transfers, in case you need to check on something that's already happened.
Separate send and receive dates
If you're sending stock from one location to another, it usually doesn't get there instantly (inFlow isn't that advanced…yet). But due to technical limitations, this is how our mobile app used to work.
Now when you're you send a transfer out, you can just mark it as sent.
Then one of your team members a separate location can use the web, Windows, or mobile apps to mark it as received when it arrives. If you'd like to make this process even easier, we suggest assigning a stock transfer to someone at the receiving location. They'll even get an email about the order being assigned to them.
Full stock transfer control on every device
This update completes our goal of providing you with full control of stock transfers—no matter what device you have at hand. We hope it saves you time and makes working in the warehouse a little more efficient than before.
As always, if you have any feedback, just email us at info@inflowinventory.com.
And if you aren't using inFlow yet for your stock transfers and inventory control, you can start a free trial below: