As of today, you can view and edit inFlow Cloud customer information right from your web browser. This is part of our ongoing effort to make our web app more powerful (Insider tip: we're working on sales orders next!).
If you've already tried editing your products in the inFlow Cloud web app, then the customer screen will look very familiar. It's a reimagined layout of your customer information that's better suited to vertical scrolling in the browser. The customer screen has editing capabilities right from launch, so you can change contact information, shipping and billing addresses and add up to 10 custom fields for your customers.
But that's not all. While we worked on this customer screen, we took a bit of time to streamline two other customer-related details.
Standardizing our address form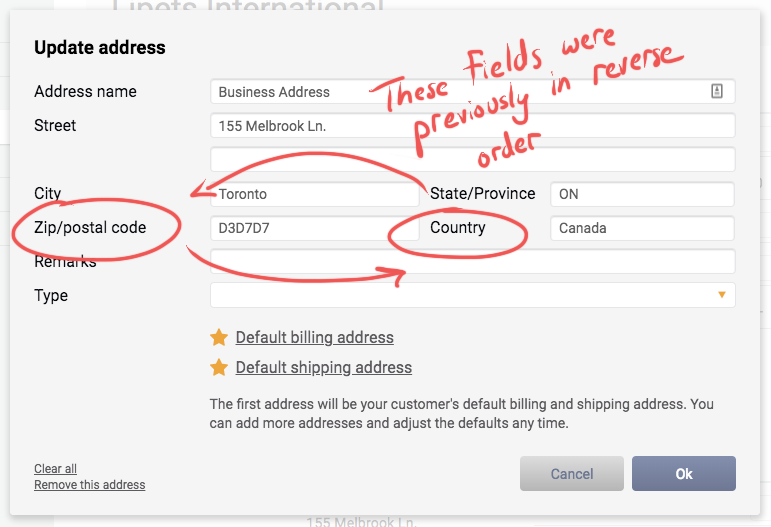 The first change has to do with the placement of the Country and Zip/postal code fields for customer addresses. Previous versions of inFlow had these fields in a reverse order, which was not the standard that most of our customers expected when filling them out. We've now standardized these address fields so that Zip/Postal code is entered before Country.
Billing and shipping addresses
This inFlow Cloud update has simplified things by removing the concept of a Business Address and making it easier to assign a default Billing Address or Shipping Address.
If one of your customers only has a single address in inFlow Cloud, that address will be the default Billing Address and Shipping Address.
If you choose to add more than one address to a customer record, our handy star-shaped buttons make it easy to select new defaults for billing and shipping.
The new customer screen is available to inFlow Cloud users right now at https://app.inflowinventory.com. The changes to billing and shipping addresses as well as Zip/postal code/Country are also live in inFlow Cloud for Windows.
---
We're working hard on more improvements for inFlow Cloud, so please let us know what you think in the comments.
If you haven't used inFlow before, follow the link below to check it out!