Hi, my name is Danny Liedorp and together with my partners we founded the website www.attiranceshop.nl about one year ago. We have our own forwarding company Needs Import b.v. specializing in import consultancy and introducing new brands to our local markets. The opportunity for cosmetics came up when we were contacted by a natural cosmetics brand from Latvia who wanted to put their products in the Dutch market.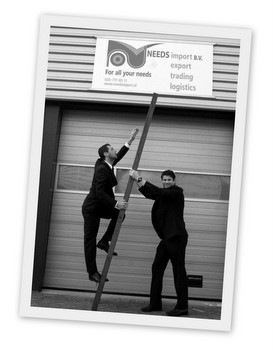 We were successful in doing this and the whole process started to grow quickly along with the help of social media. We caught our first big client when the third biggest online retail store in Europe, Neckermann, agreed to carry our products. Because of this, we were in the need for a better computer program since we were starting to handle larger stock quantities of products. That's where inFlow Inventory came in to help.
We are in 5 small retail shops as well as one test phase to see how the consumer likes our products. The feedback we've been receiving is very good and looks promising. Our friends and wives are also involved in the company, making it a bit of a family business too.
What inspired you as an entrepreneur?
There are many reasons I wanted my own business; the first, namely for the free time. Don't get me wrong-we work a lot more hours than we used to, but at least we get to determine our own hours and in meantime enjoy what we do.


Strangely enough, the ongoing crisis is also an inspiration. In the Netherlands we normally work until you are about 65 to start enjoying a well-deserved retirement. It seems this isn't realistic anymore and I would have to work till I'm 82 years of age to be able to be set for retirement. Even social security is not something that is so 'secure' in my country. It's like receiving a very small cigar out of your own box. So, I decided, let's combine our thoughts and power and try to make our own business instead of working for a boss and seeing what happens in about 30 years…
My inspiration also comes from writers such as Mr. Jos Burgers in the Netherlands and of course, Steve Jobs. My favorite quote from Steve is, "Why join the navy if you can be a pirate?"
One of our favorite quotes of Mr. Jos Burgers is "Flowers do not grow faster by pulling them", and that's one quote that is really close to us. We want results tomorrow, but sometimes you have to let nature take its course and sometimes it takes longer then you want it to.
What are the some challenges you have faced?
Don't be afraid to start. Seriously. If you want to achieve gold, you should go all in. A lot of people fantasize about what it would be like to just quit their job and start for themselves. You have to stop fantasizing and just do it. Put your life and passion into it and it will work. There is one thing worse than losing, it's quitting.
Also, don't be afraid to use your charm and develop your networking skills. Even if someone is not interested in your business, don't be afraid to talk to them. You never know what connections you might make.
What makes you unique and different?
Our import consultancy and forwarding services are different because of our personal approach and out of the box thinking. Our clients like our passion and commitment and the fact that we offer solutions before the problems even arise.
In cosmetics it's the touch and feel of our products that make a big difference. They are very high-end, like French cosmetics and yet are still natural. For example, the baby line is 99.3% organic. You don't find many cosmetics like that in the Netherlands.

We are also always open to new ideas and new partnerships. For example, we are looking to open our own home store this year. My plan is to see if there are other companies who want their products in the Netherlands and we will offer them shelf space. They would do the same for us in their home countries. It's all about reciprocation. We get a lot of requests from India, for example, but they have to wait on being tested for the European market. We can also help them with that.
Due to the recession, everybody is stepping on the brake here, nobody wants to do extra investing. I want to be unique and do the opposite. As Warren Buffet said, "When everyone else is greedy, be afraid. When everyone else is afraid, be greedy".