A barcode printer review – printing sticker labels with the Dymo Label Writer 450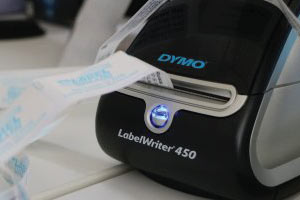 The Dymo LabelWriter 450 is one of the most popular barcode label printers on the market today. It's a thermal label printer, which means it uses heat instead of ink to print labels.
So, no need to buy ink cartridges, but you do need to purchase special labels. The good news is, since it's such a popular printer, labels are relatively inexpensive and widely available. For example, you can buy 500 address sized labels from labelvalue.com for under $12. That's about $0.02 a label.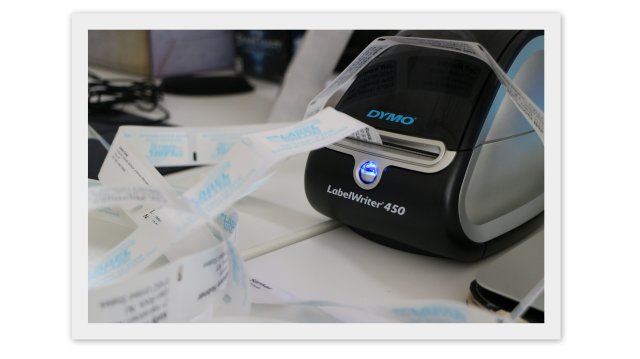 What can the Dymo LabelWriter 450 do for me?
Well, chances are if you're running a small business, you're already in need of labels! The Dymo LabelWriter 450 can print a variety of labels from the most basic to some more interesting ones.
For example, you can print:
Return address labels
Address labels (and import an Excel list of names and addresses)
BIN/location labels
Product information labels
Barcode or Universal Product Code (UPC) labels
How do I print barcodes, stickers and labels using the Dymo LabelWriter 450?
The Dymo LabelWriter series of printers also come with printing software that lets you edit and create labels very easily.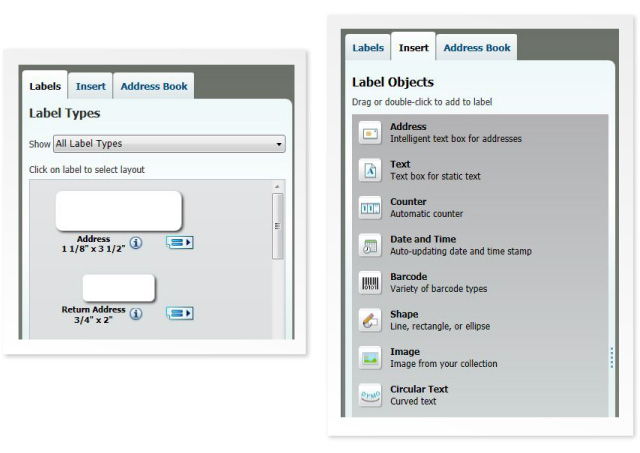 You first select your label type by scrolling through a list of labels. Unfortunately, there's no search field where you can search for the label type you're looking for. Once you find the correct label you can then add objects to your label. These include
Static and circular text
Smart Address Box (uses different addresses loaded from a spreadsheet)
A counter (lets you number your labels individually)
Date and time (automatically prints today's date)
Barcode (20 different types including code 39, UPC and QR)
Shapes (rectangles, circles, lines)
Images and clip art (use your own image or use Dymo's own built in clip art library of over 200 images)
After you've designed your label, you simply press the big blue "Print" button and you are sticker printing in no time! We'll look at more specific case examples below.
How do I print barcodes?
Say you make and sell candles and just finished a batch of 50 pieces that you need to label.
First, you would pick an appropriately sized label and then go to "Insert" and click "Barcode".
You then have the option to select the barcode data and the type of barcode you wish to create. After you select your options, you can select 50 copies and then click "Print!" Within a few moments, you'll have 50 sticker barcodes ready to attach to your candles.
Generally speaking, Code 39 is a safe bet to create barcodes for internal purposes. If you're looking to send your products to a large retail store, then you would want to use the "UPC" format. You'll also have to purchase UPC's from GS1 or buy them from a reseller such as http://www.nationwidebarcode.com/
How do I print return address sticker labels?
Similar to printing barcodes, you would select your label size, then go to "Insert" and click "Text" Use that space to put your address in. You can also add your company logo by inserting an image.

How do I print label stickers with multiple mailing addresses from a list?
In this scenario, there's one extra step which involves adding addresses from an address book. You'll find this process is very similar to Microsoft's mail merge feature (except it's a whole lot easier!).
As always, you first select your label size, but this time you go to "insert" and then "address." This puts in a text box (or a variable field) that you will enter your addresses in to or yo can import your addresses to this location.
Next, get your addresses ready by saving them in Microsoft Excel. Have a column for the recipient's name, address, city, province, country and postal/zip code (there's no need to include headers). As a helpful hint, try to cut down on addresses that are exceptionally large by using abbreviations where possible. This is important because the Dymo software will automatically resize the font to fit the entire address on the label. If you have too much information, the font size could end up being very small.
Now, inside the Dymo software, go to "Address Book" at the top menu and choose "Import." You can now select your saved Excel file and arrange the fields as you like. Be sure to use spaces and hit the enter key for new lines (the spaces will show up as a blue dot shown below):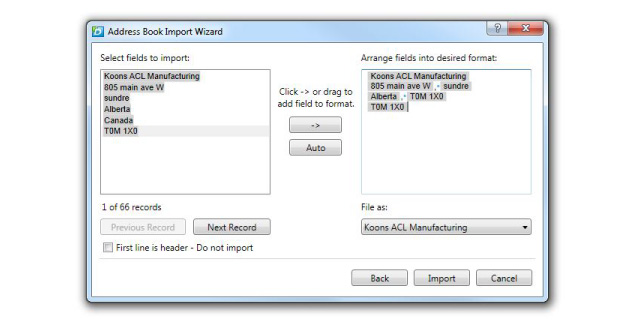 Once imported, you can now go over to the "Address Book" tab, select all addresses and press print! Now each label you print will have a unique address!
Things to watch out for, and other label printing tips and tricks
Don't bother installing the software that comes bundled with the printer – it will be outdated and useless. Instead, head over to the Dymo website and download the latest version here. You can also download the latest Dymo software by clicking here.
Since we're located in Canada, label sizes inside the software were quoted in millimeters. However, if you're buying labels from the US, they will be quoted in inches. This made it a pain to try to find the correct label type before printing. We had to go to Edit > Preferences > General and change the units of measure from "Metric" to "English"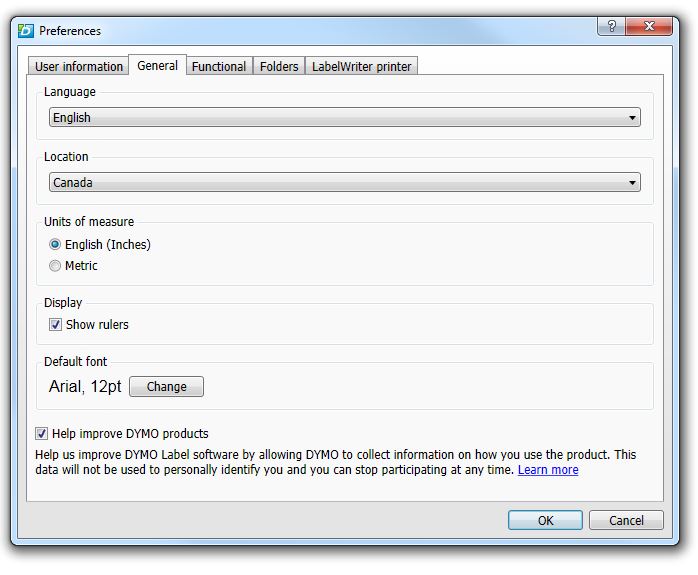 Overall, the Dymo label printing software is really well designed. However, for some reason, it took some time to get used to using the "Insert" tab to add content to our labels instead of just clicking on the label that was displayed.
Where to buy a Dymo LabelWriter 450?
Since it's a popular product, any major retailer will typically carry the Dymo LabelWriter 450. Amazon.com typically has the lowest price.
How does a barcode printer fit into the big picture?
Placing barcodes on your products is a great way to start organizing your small business. However, to make use of these barcodes, you would probably benefit from using inventory software such as inFlow Cloud. Unlike using an inventory template in Microsoft excel, dedicated inventory software can make sense of barcodes.
For example, with inFlow, you can use a barcode scanner to quickly scan in your products to create orders. What's more, you'll be able to know exactly where all your stock is and generate reports to help you do better business.
It's free and easy to try out, and we'll help set up you product list, too!
Looking for a barcode scanner to go with your labels?
We now sell barcode scanners! The Brite USB barcode scanner comes in your choice of 7 different colors and simply just works! It'll scan almost all 1D barcodes such as UPCs, EANs, Code 3 of 9, Code 128 and much more. Simply plug it in and you're good to go!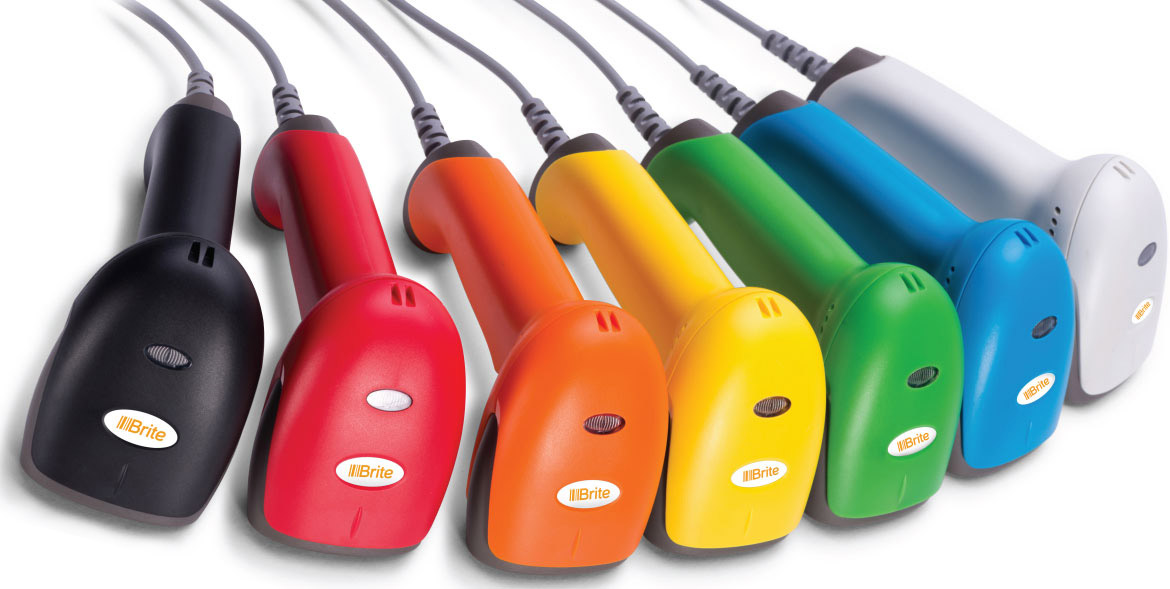 Comes with a full 60 day money back guarantee and full no hassle 1 year warranty. You'll love using it in your business!
Visit www.inflowshop.com to check them out now (on sale for a limited time).