— 2 minutes reading
You can now manage and view all of your stock adjustments from inFlow's web app.
Stock adjustments in the web work similarly to Windows: you can create new adjustments for a chosen location, and then add or remove stock to reflect what's on your shelf.
Oh, and if you happen to click on a stock adjustment while viewing your order or movement history, those transactions will now load up right in the web app.
Reasons for stock adjustments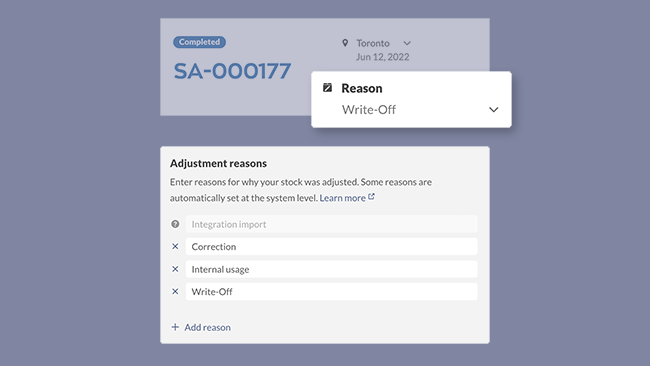 You can filter your list of stock adjustments based on status, location, date, and a new field: reason.
You'll see the new Reason field on web, mobile, and Windows to help you standardize and track different types of adjustments. Since it's a drop-down menu, you can be sure that all of the reasons are formatted the same way each time.
We've included a few common reasons, like Correction, Internal usage, and Write-off, but you can always customize or change these from the Options screen.
Other improvements
Thanks to some technological changes on inFlow's back-end, you can now back-date a stock adjustment in the web app specifically. This is a more niche use-case, but it can come in handy when you need to reflect inventory levels at a certain date.
And if the reason field isn't enough detail for you, you can now add ten (up from five) custom fields to stock adjustments.
---
It's easier than ever before to adjust inventory levels on the fly if you notice something is off!
And if you like what you see here and you're not using inFlow yet, you can sign up for a free trial below: