A quick and easy way to count your inventory at the end of the year (and to periodically make sure that your inventory hasn't "grown legs" and walked away in the interim) is to use count sheets.  Now this is something you can do in the Premium Edition only however we'll talk about how Regular Edition users can replicate the process as well.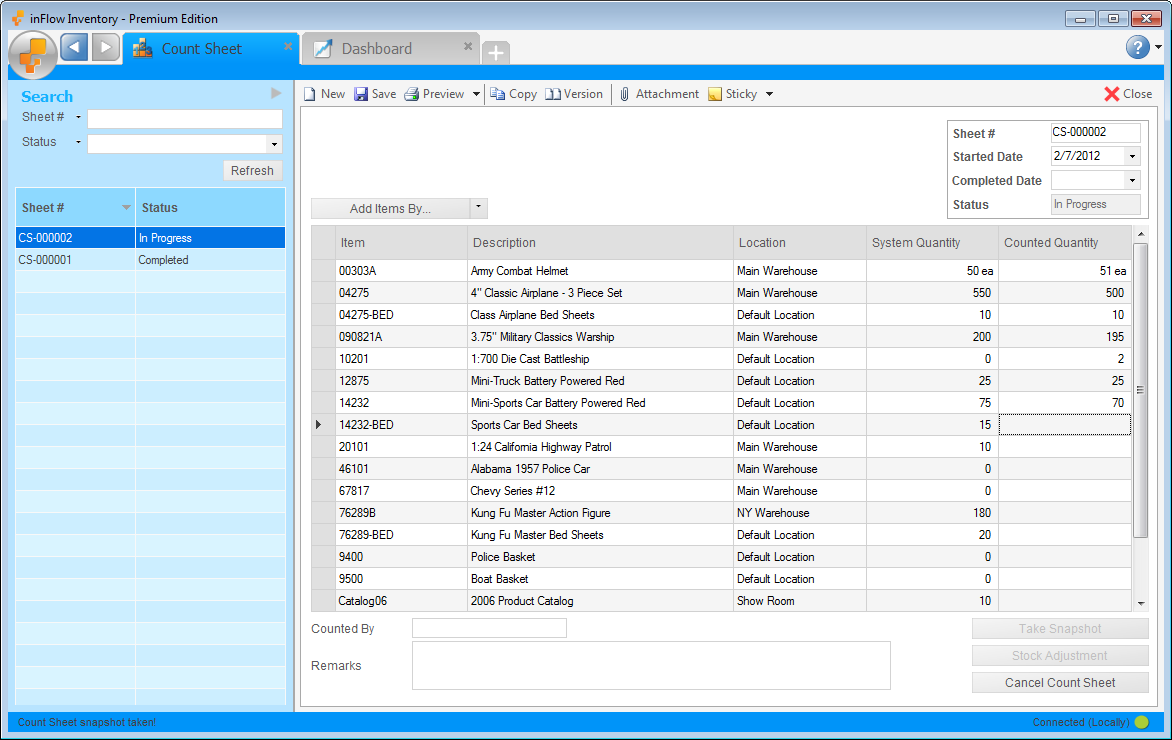 To use the count sheets in the Premium Edition:
Count sheets can be found under Main Menu > Inventory > Count Sheet and are used to make the counting and adjustment process as easy and painless as possible.  To add items to the list simply click the Add Items By… button at the top of the screen and choose the items you want to count within this window then click Select to list them in the main count sheet.  When you're ready, click the Take Snapshot button to fill the current quantity numbers in the first column.  From here you can count your inventory and then insert the counted numbers next to the snapshot numbers.  When you're satisfied (and all your rows have their totals listed in the second columns) you can click the Stock Adjustment button to make the necessary adjustments.
If you'd like more information on using count sheets please see our article here: https://www.inflowinventory.com/KnowledgeBase/questions/47/Count+Stock
To replicate this process in Regular Edition:
Pull an Inventory by Location Report by going to the Main Menu > Reports > Report List, then print it.  Count your inventory and write down the numbers on the report you printed.  Once you're done, open the Adjust stock window (Main Menu > Inventory > Adjust Stock) and simply adjust any items on the report that did not match the original numbers.
If you have a time saver you'd like to share, send it our way at support@inflowinventory.com.  If your suggestion is chosen your name and a link to your website will be shared.