PROFIT Magazine (a Rogers publication) announced their 13th annual HOT 50 which they describe as "the definitive ranking of Canada's top new growth companies."
Archon systems Inc. (thats us!) is listed as the 49th fastest growing company in Canada. The full press release is available on marketwire.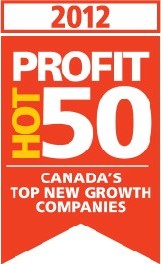 Of course, this would not have been possible without the continued support from the inFlow community. Thank you for trusting inFlow with running the operations of your small business.
A big thank you also goes out to all of those who have given us feedback over to the years. Your feed back has been invaluable to help make inFlow the best inventory solution worldwide for small business.
While the recognition is great, our work is never done and there is always room for improvement. We feel like we're just at the beginning of great things to come for Archon Systems and inFlow Inventory. We'll continue to work hard to help your business thrive through technology while staying true to our thinking.
Thank you again for being apart of our success and cheers to the years of inventory bliss ahead! 🙂