We use laptops here at the inFlow offices for our daily work, but we're always on the lookout for devices that might make life easier for us or our customers. When Microsoft announced their 10-inch Surface Go tablet a few weeks ago, we thought it might work well as a hybrid device for mobile inventory management in the office and warehouse. So here's our Surface Go review!
It isn't a powerhouse computer, but it does weigh only one pound and can run a full version of Windows — which means it runs full versions of Microsoft Office and inFlow Cloud for Windows. It also has a single USB-C port, so you can attach a USB barcode scanner to it (with a small adapter). Microsoft says the Surface Go has up to nine hours of battery life, so we thought it could be a great tool for bringing the full power of inFlow Cloud around in a form factor that doesn't require you to be at a desk or chair. 
So we bought a Surface Go and Type Cover a few weeks ago and put the combo through some real-world use at our office.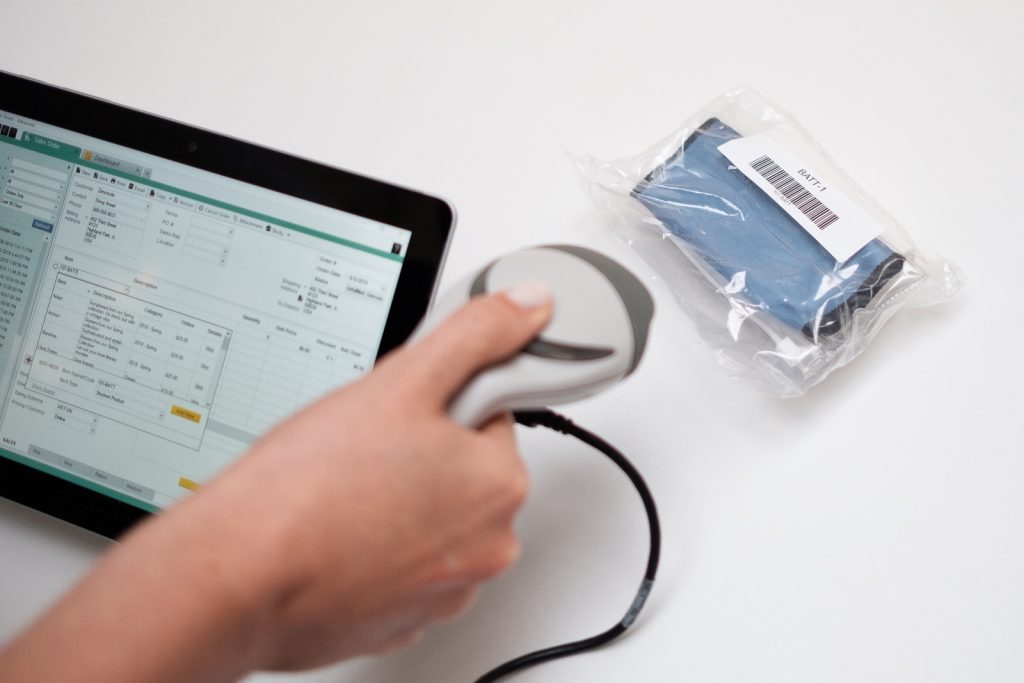 Skip the lower end Surface Go
The tablet comes in a few flavors, but we skipped the base $399 USD version for our Surface Go review. We spent a little more to try the $549 USD version, which comes with 8 GB of RAM and 128 GB of storage. Without getting too technical, if you're going to think about using this device for office work, you'll want the extra RAM to make sure Microsoft Office runs well alongside your web browser (and inFlow Cloud!). The 128 GB of storage is also the minimum for storage as far as we're concerned, because you'll really only have about 95–100 GB of usable space with Windows 10 installed. That space goes quickly when you start adding documents or syncing your business Dropbox folders.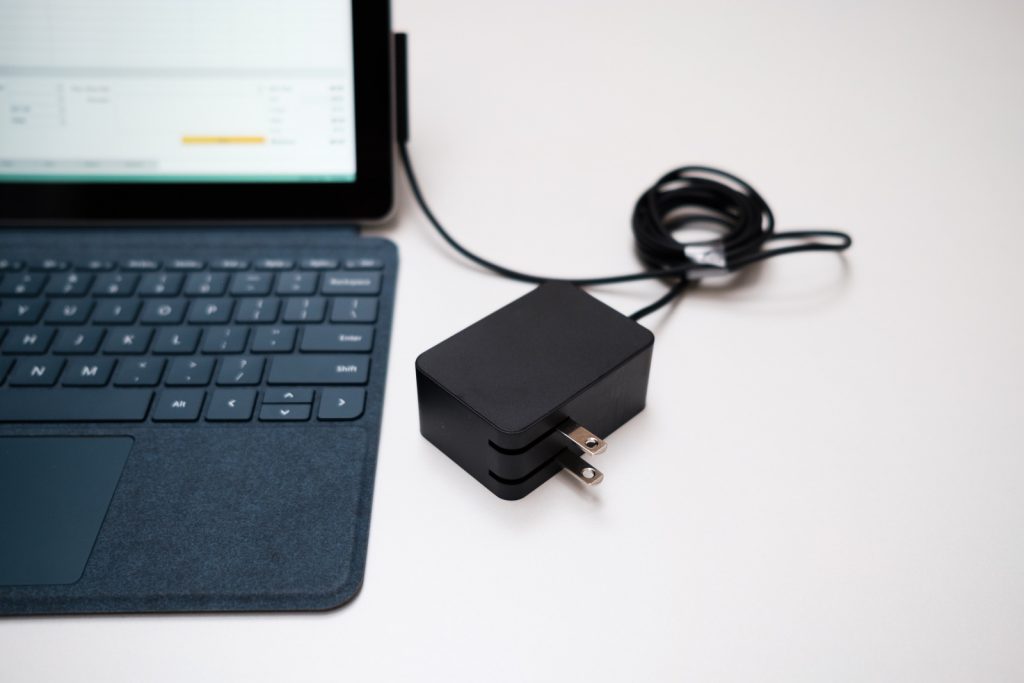 We also picked up Microsoft's Alcantara Type Cover for $129.99 USD. As the name suggests, it acts as a screen cover for when you keep the device in a bag, and a foldable keyboard. This accessory is optional, but it feels mandatory to get the most out of the Surface Go's form factor. It's such a light device that you want something equally portable to use with it, and nothing will be quite as small as Microsoft's own Type Cover.
One thing we can definitely say about the Surface Go: the feel of the hardware doesn't disappoint. This is a device that feels like it was made well, and it will look the part if you bring it to meetings. The AC charger attaches magnetically to the right side, and if you need more file storage space, you can attach a microSD card to the back. The only temporary downside to the physical design is that it uses USB-C, so you'll need some adapters to attach older hard drives or USB scanners. We say temporary because the whole tech world is slowly creeping towards USB-C, so you may as well get used to it sometime.
Windows in S-Mode
By default, the Surface Go boots up in S-Mode, which is Microsoft's way of ensuring the best possible experience with lightweight hardware. S-Mode limits the device to only using apps from the Microsoft Store, so we couldn't use it in that mode because inFlow Cloud is downloaded from our website.
Fortunately, it costs nothing to turn S-Mode off, and you can do so from within the Microsoft Store app. You won't even have to reboot the device. Just keep in mind that going from S-Mode to full Windows 10 is a one way trip.
Surface Go Performance (outside of S-Mode)
inFlow Cloud for Windows relies on the cloud (surprise!) to do most of the heavy lifting, so the Surface Go felt like a great candidate for it. We tried it out for a few days with some test databases, and although it took a little longer to load up, once we were in our app, it felt like business as usual.
Unfortunately using multiple apps on the Go can feel like a slog, even with the 8 GB of RAM and very few apps running. Using Google Chrome (our preferred browser) could be OK with just one or two tabs, but anything more and things would slow down to a crawl. Chrome would stutter as we scrolled through websites with a finger, and we needed to use Microsoft Edge in order to browse the web smoothly.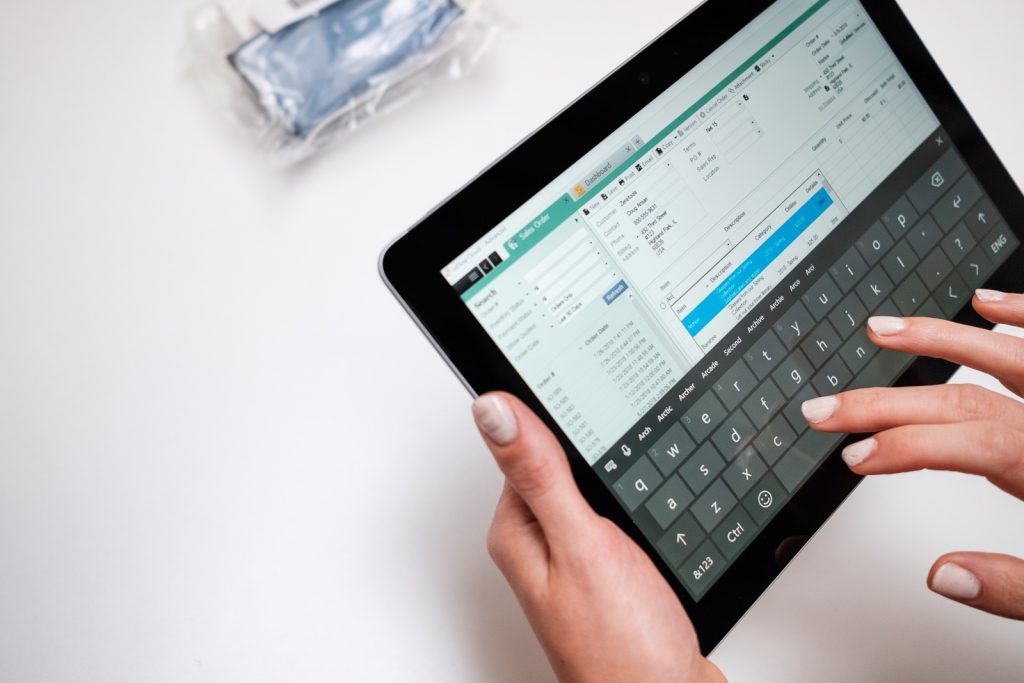 The other area of concern was battery life. Device makers usually overstate battery life, and we got about half of Microsoft's advertised nine hours. Part of this was due to the settings we used: the Surface Go has a performance slider that shows when you tap on its battery settings, and you can crank it down for maximum battery life or crank it up for maximum speed. In our testing we had to keep it at maximum speed for acceptable performance, and this netted us about four of five hours.
That kind of battery life would be OK if your intent was to purchase the Go for a casual "just in case" computer that fits easily into your bag, but it's only half a day's worth of entering sales orders or running reports, which means you'll need to top up the battery at least twice a day (once at lunch and then again at the end of the day).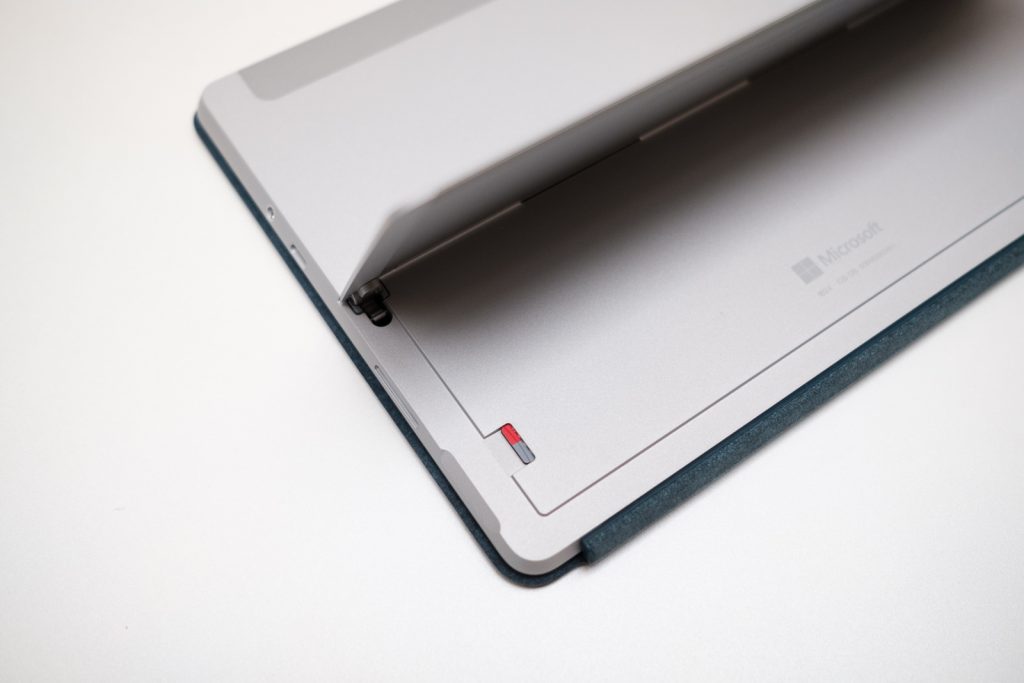 We suggest the Pro over the Go
We're being tough in this Surface Go review, but we think it ends up sacrificing too much power and battery life to truly be a reliable work tool. If you're going to purchase a Windows tablet to make your business a little more mobile for things like scanning and product picking, we'd suggest something a little more powerful, like Microsoft's $799 Surface Pro (specifically the i5 version). That model is more expensive than the Go, but it will feel much more like a standard laptop, and it should have the battery life to get through a full work day.
As for our Microsoft Surface Go, we've decided to return it. The hardware felt fantastic and sturdy and the form factor was really promising, but there were just a few too many compromises to recommend it in a business setting.