Some of the most time consuming choices a small business makes revolve around the software and tools they use. The heftier the price tag, the lengthier the debate about whether the tool is really worth it in time-savings, efficiency, and in some cases, the return on investment. In this post, we're going to look at some of the most useful small business software for a business to operate, from marketing to inventory management.

Small business marketing Software
Online marketing tools can help you effectively spread the word about your business throughout the web, helping your customers discover your business through content, email, search, and social media. Here are just a few of the many complete online marketing tools small businesses depend upon.
HubSpot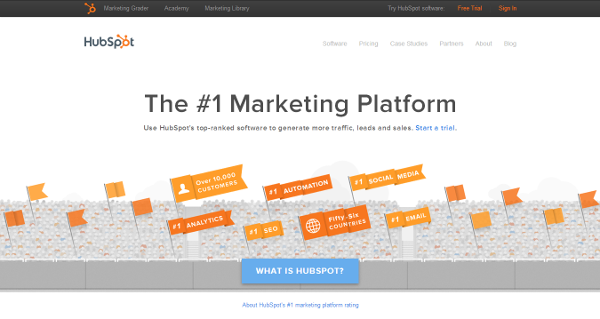 HubSpot is a well-known, all-inclusive inbound marketing tool. It allows small businesses to manage their contacts, blog, email marketing, social media, website development, landing pages, marketing automation, search engine optimization, analytics, and forms in one platform. If you're looking for a one-stop shop for your business's marketing, this is the tool to try.
Pricing for HubSpot starts at $200 per month for the basic business package with 100 contacts. The pro package starts at $800 with 1,000 contacts, and the enterprise package starts at $2,400 per month. While it does seem like a steep cost, if you decided to piecemeal different tools and platforms for the same array of features, you would end up spending about the same, which makes this tool worthwhile to most businesses.
Infusionsoft
Infusionsoft is another marketing automation tool that helps businesses manage their contacts, appointments, tasks, leads, email marketing, and even e-commerce. Tying in your email marketing with your ecommerce is especially helpful when it comes to sending specific emails to people at particular points in your sales funnel, such as the abandoned cart email that encourages people who might have started a purchase but not finished it to complete the sale.
Pricing for Infusionsoft starts at $199 per month for businesses with up to 2,500 contacts. If you would like ecommerce to be included, the pricing begins at $299 per month for businesses with up to 5,000 contacts. They even offer a kickstart package for $1,999 that helps businesses set up Infusionsoft with one-on-one consulting and custom implementation.
Small business accounting software
Next on the list is accounting software. The following are two of the top accounting software choices for small businesses.
QuickBooks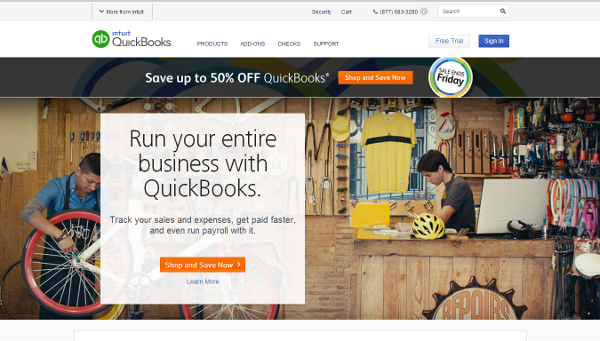 QuickBooks by Intuit allows businesses to track their sales, expenses, and payroll. You can also use their online payment gateway to accept credit card and bank ACH payments from customers. It simplifies tax time reporting, collaborating with your accountant, and allowing you to see what's important to your business's bottom line.
Pricing for the basic QuickBooks features is actually quite affordable. It starts at $12.95 per month for basic features and one user access, and goes up to $39.95 per month for full features and up to 5 user access. Payroll capabilities come separately for businesses that need it, starting at $39 per month with additional fees based on your number of employees and the number of states they are located within.
Wave Apps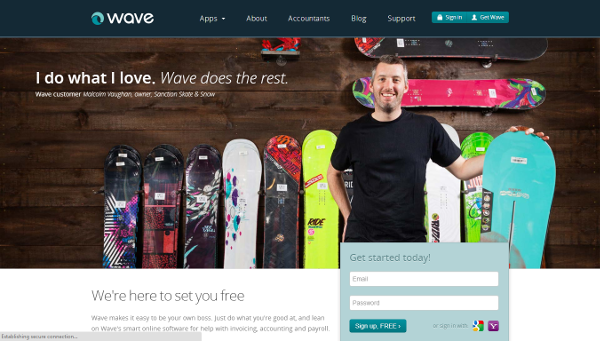 Need something less expensive? Wave is accounting software that helps businesses manage invoicing, accounting, payroll, and payments. It's ideal for businesses with nine employees or less. Because it is aimed for small businesses, entrepreneurs, contractors, and freelancers, it comes with a great price tag: free. Plus, you'll even get special offers from other companies whose products can help with your business.
Small Business invoicing software
If you're not ready for full accounting software, but still need to invoice your customers, the following are two popular and easy to use invoicing tools to try.
>FreshBooks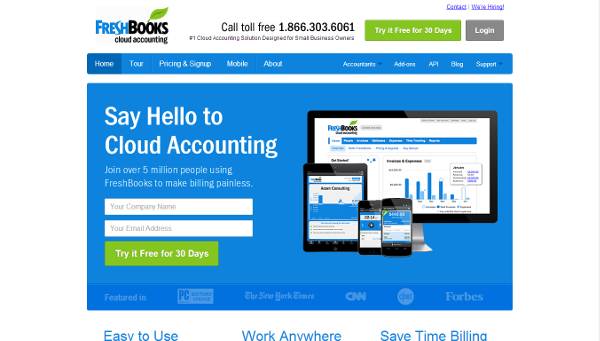 FreshBooks allows businesses to manage their invoicing in the cloud (online). It allows you to customize invoices, accept online payments from popular services such as PayPal, track expenses, set up recurring invoices, manage auto payments, send late payment reminders, log time spent on a project, and run simple income reports. You can also use it as a simple project management tool to keep notes about projects and log your time against invoices.
Pricing for FreshBooks starts at $19.95 per month for up to 25 clients, and moves up to $39.95 per month for unlimited clients and unlimited user access. If you only have one client, you can even use the basic features (minus project management tools) it for free!
Zoho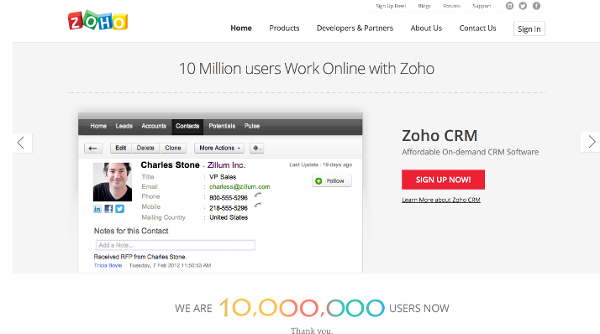 Zoho is another online invoicing tool that allows businesses to create online invoices and quotes, track expenses, track time against projects, and accept online payments from popular online payment processors.
The pricing for Zoho is a little less expensive – you can mange up to five customers for free, up to 500 customers plus three users for $15 per month, and an unlimited number of customers plus users for $30 per month.
Small business online store software
Do you sell products online? Then you'll likely need an online shopping cart system. Here are two popular platforms to choose from.
Shopify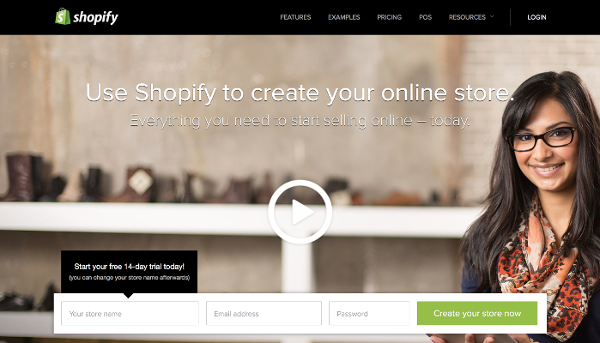 Shopify is one of the top ecommerce platforms that allows you to create a storefronts hosted by Shopify and manage all aspects of the customer experience, from the shopping cart to marketing & SEO. If you started your business funding with Kickstarter, it even integrates with their platform to help you fulfill offers to backers.
Pricing for Shopify starts at $25 per month for unlimited products. They also offer plans at $79 and $179 per month for additional features such as offering gift cards, advanced reporting, and real-time carrier shipping information.
Magento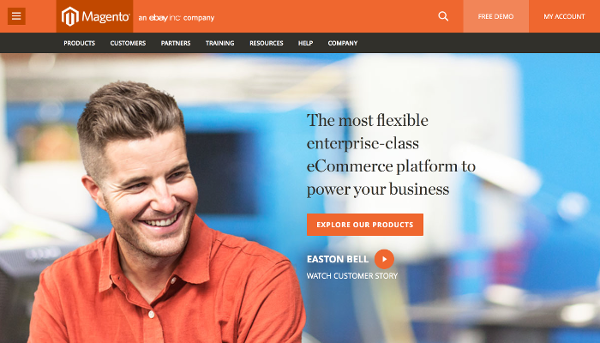 Magento is a more flexible ecommerce platform that can help all sizes of businesses, from small to enterprise, manage their online store with different editions of their product. They offer storefronts as well as the option to download and install their software to your own server. For small businesses looking for an easy solution, they offer Magento Go, a fully hosted ecommerce solution.
Pricing for Magento Go starts at $15 for 100 products and full features. Larger pricing plans, based on your number of products, range from $25 to $125 per month.
Small business inventory management software
If you run an item based business, chances are you need full featured management software. While some of the accounting and invoicing products include basic inventory management, the following offer advance options such as barcoding, multiple locations and much more.
Fishbowl inventory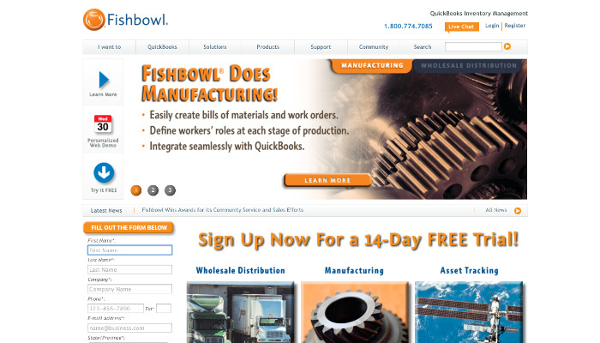 Fishbowl inventory management by QuickBooks offers a variety of features, including QuickBooks integration, multiple location management, inventory management, order management, part tracking, shipping, multi-currency, sales & purchase orders, and reporting. Additional features include manufacturing, bar coding, point of sale, and more.
While this platform is targeted to small and midsize businesses, it's pricing is more towards the midsize level. The software starts at $4,395, with additional costs per number of users and support required.
inFlow Inventory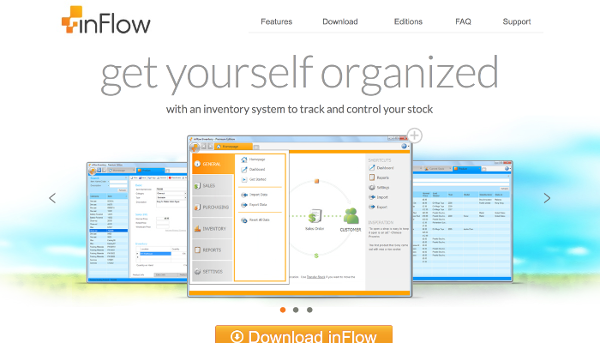 inFlow Inventory, on the other hand, is a full featured small business inventory platform with small business pricing. Its features include product management, barcoding, multiple unites of measurement, multiple location management, full movement history, order management, invoicing, re-ordering from vendors, sales & purchase orders, product tracking, customization, and advanced reporting.
Pricing for inFlow starts at a level small businesses will love: free for up to 100 products + customers, 15 reports, and support. For additional features and unlimited products + customers, you can choose the regular edition at $299 per license or the premium edition for $499 per license. You can download the free edition today to try it out for yourself.
We hope we have helped you find some great products for your small business needs. Which ones do you use and recommend? Please share in the comments!