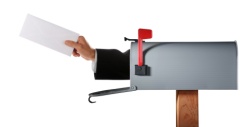 If you sell products online or offline, you might be familiar with this all-too-common customer story:
1 ) Maria wants the product you sell.
2 )  She finds you through Google, eBay, or a friend's recommendation.
3 )  She buys your product.  You do everything right and she loves your customer service.
4 )  In 2-3 months, Maria completely forgets that you exist.  Next time she wants a similar product you carry, she finds your competitor instead.
The best way to convert this into a happy ending is also one of the simplest.  Send updates through email.  Here's the alternate ending:
4 )  When making the sale, you ask Maria if she'd like to get updates on new products and discounts through email.  You promise to email her a coupon for 10% off her next purchase.  She's happy enough with your company that she gives you permission.
5 )  Once a month or so, you send relevant updates about new products or sales.
6 )  Three months later, Maria sees your email and thinks that she could use something in red to go with her original purchase, so she buys another.
7 )  Six months later, Maria sees a new product that you announced through email and decides to buy one of those too.
8 )  And they live happily ever after.
Send your happy customers email updates to remind them about your company once in a while and introduce new products or discounts.  This is one of the most effective ways to increase sales without spending a fortune on marketing.