Running a business is complex, with many moving parts that are unique to your specific situation. With that said, one thing holds true for almost any company; It's nearly impossible to be successful without a sound accounting process. Today that may mean adopting cloud-based accounting software, for your business.
How to Choose Cloud-Based Accounting Software in 2022
For many small businesses, evaluating their current accounting process frequently falls to the backburner. If you have an outdated —but functional — accounting process, it's tempting to write it off as "good enough". However, sticking with the status quo of basic accounting systems can be a real mistep.
With the right accounting systems in place, companies can better manage expenses and revenue. More than this, proper accounting systems let you quickly and easily collect, track, and interpret key business metrics. Unlocking this data will help you understand what's driving your business (or holding it back). From there you can make business decisions driven by data.
Modern cloud-based accounting software also unlocks the ability to work with inventory accounting software like inFlow. With inFlow you can manage your inventory, stock levels, and fulfillment, creating a comprehensive inventory accounting system.
In the following post, we'll explore how choosing the right accounting software can impact business success. We'll begin by touching on how accounting methods have progressed over the centuries, and how these advancements have impacted the business world. Bringing us to the present, we'll explore the advantages of cloud-based accounting solutions like QuickBooks Online and Xero — and how using them alongside modern inventory management systems like inFlow can help your business thrive.
Before Cloud-Based Accounting: from the abacus to the digital age
The concept of "accounting" is ubiquitous today. But the tools, processes, and systems used to collect, record, and interpret accounting data has changed dramatically over the years. As technology developed the speed and accuracy of accounting improved in turn. Here are a few highlights:
Counting on the abacus. In ancient civilizations like Babylon, one of the earliest tools developed to aid with accounting was the abacus. Used along with parchment and papyrus, the abacus was a integral device. Instead of relying on counting by hand, merchants were able to use this tool to track their transactions more easily.
Bring on the bookkeepers. After the widespread adoption of the abacus, trade continued to grow, and with it the need for a more detailed system. This led to the emergence of early bookkeepers, which used a single-entry system to keep track of trades in ledgers. This system relied on recording all debits and credits in the same line. The trouble was this method was time-consuming and less than efficient.
The development of double-entry bookkeeping. The next major advancement in the accounting process came in 1494, when the "father of accounting and bookeeping," Italian monk Luca Pacioli, published the first work on double-entry bookkeeping. A double-entry system calls for transactions to be recorded more accurately as debits and credits. This method effectively laid the foundation for modern accounting.
Adding it all up. Even with the advantage of better bookkeeping systems, accounting for inventory still required wholly manual work. That was until the 1890s, when William Seward Burroughs' adding machine became commercially available.
Entering the digital age. While very different from the computers that we use today, the first commercial scientific computer — IBM's 701 Electronic Data Processing Machine — took accounting into the digital age in 1952.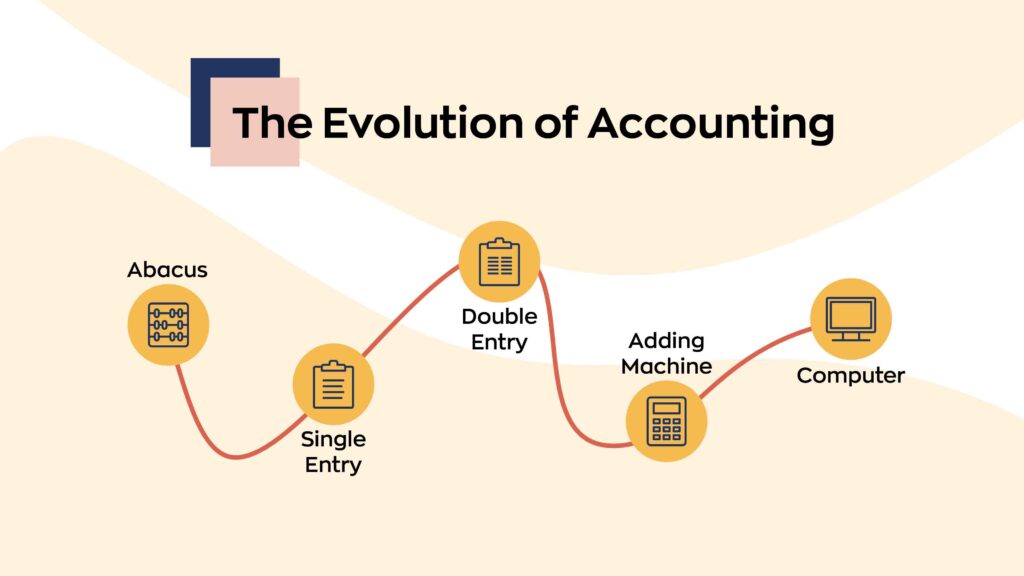 The downside of old school accounting
In the decades since the IBM 701, computers have come a long way. With all the innovation it's easy to see the many downsides of old-school accounting processes.
Outdated accounting systems require:
hours of manual data entry
the storage of hard-copy documents in filing cabinets
data being uploaded to one central server — which makes it difficult for people to access information quickly
Even more, these old-school accounting systems often require a dedicated full-time staff. For instance you would need a chief financial officer (CFO), accountants, bookkeepers, data entry clerks, and an IT personnel.
Luckily for today's small businesses, technology has evolved and moved us forward again. Now, the digital age of accounting has reached the next level with cloud-based software.
Enter: cloud-based accounting software
Cloud-based software is accessed online — providing businesses with real-time information and greater, more flexible access to their data. These automated systems simplify time-consuming and tedious tasks while making analytics accessible. This frees up employees' time, allowing them to focus on more strategic functions in their companies.
Some of the key benefits of cloud-based systems include:
Less time spent on manual tasks like data entry
Streamlined workflows
Easier document sharing and remote access
Automated analytics
Access to real-time information
An opportunity for small businesses
While the benefits of these cloud-based systems are clear, some small businesses have not yet taken advantage of these tools.
In fact, a small majority of small businesses have not yet adopted cloud-based accounting software. According to a study conducted by Fit Small Business (web archive), less than half of the 300 small businesses surveyed answered "yes" when asked whether or not they were using cloud-based accounting software.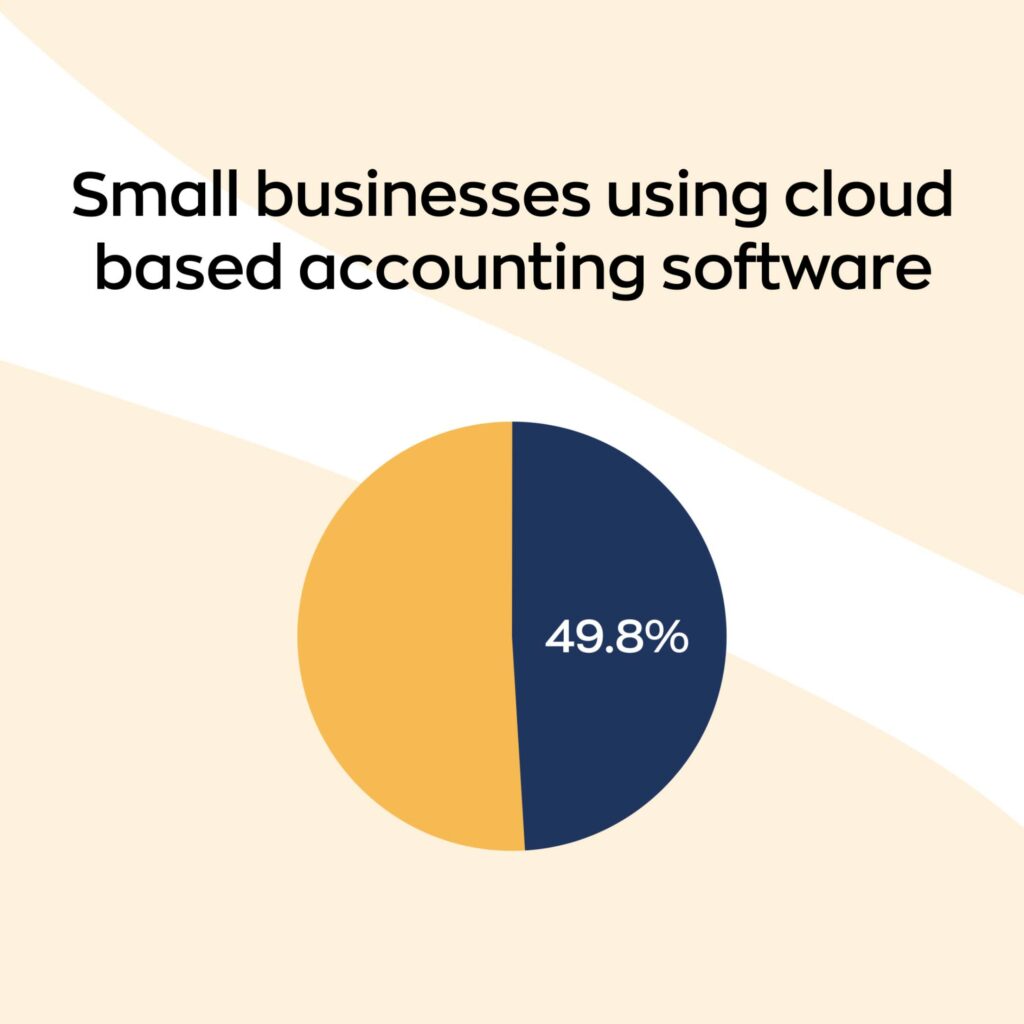 With cloud-based accounting solutions now readily available, and also super affordable, small businesses can easily utilize these powerful tools. With that in mind, adapting to emerging technology can put your company ahead of the curve, giving you a leg up.
Want a quick way to assess if your accounting system is outdated? Ask yourself the following questions:
Can you access your information from anywhere?
Is your data updated in real time?
Can you collaborate with other users online?
If you answered "no" to any (or all) of these questions, your business could likely benefit from cloud-based accounting software.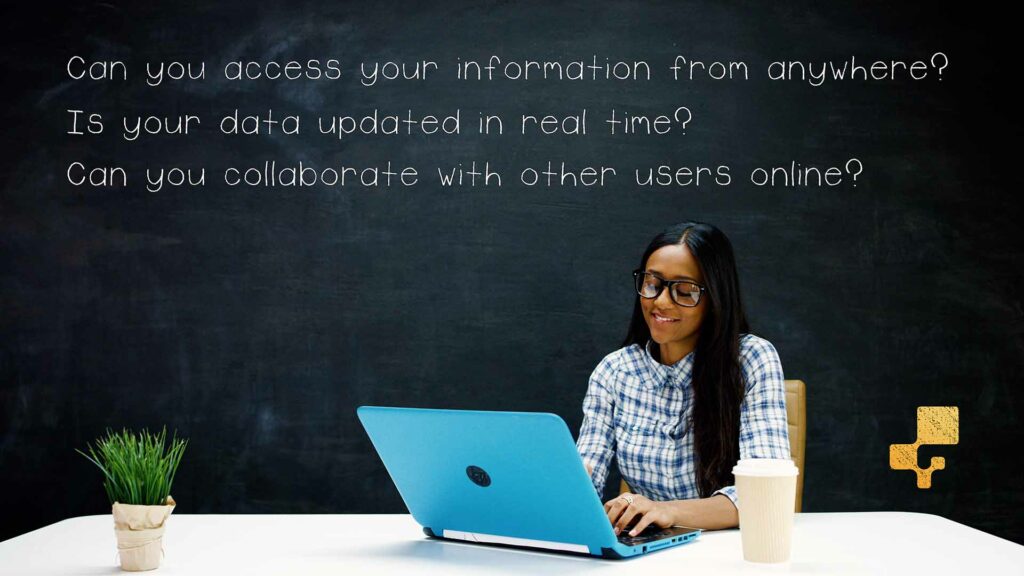 Create a complete inventory accounting system with QuickBooks Online or Xero — and inFlow
So where can you start if you're considering a cloud-based inventory accounting system? QuickBooks Online and Xero are two great examples of inventory accounting software for small businesses.
While both systems can bring your company streamlined accounting workflows and analytics, that isn't the only advantage they offer. Both Xero and QuickBooks Online are capable of integrating with apps, like inFlow, which make them even more powerful tools.
For any business doing online accounting with inventory, the combination of cloud-based accounting software like QuickBooks Online or Xero with inFlow creates a complete inventory and accounting system. inFlow acts as your inventory accounting software (tracking stock levels and fulfillment), while Xero or QuickBooks Online tracks your business' bookkeeping and finances.
Together, this type of integration can help your business:
Cut down on double entry
Push sales orders and invoices and purchase orders as bills
Push total inventory values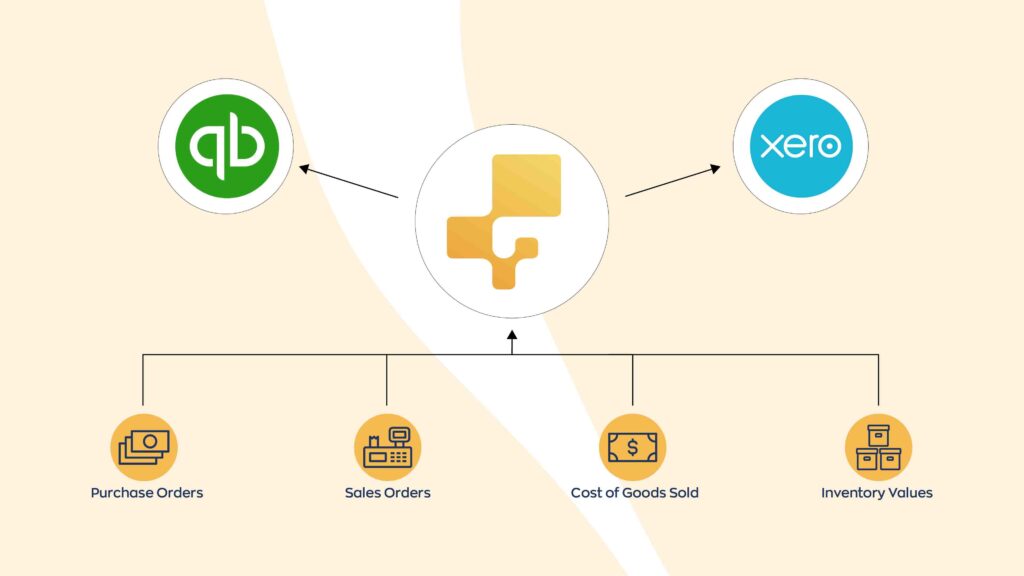 The right systems save you time — and give you an edge on your competitors
Proper accounting is central to any successful business, but, as technology develops, so too do the best accounting systems.
Today, adopting cloud-based accounting software is one of the most effective ways to streamline and grow your business. What makes that software even more useful is if it integrates with other business solutions, like your inventory management software.