— 4 minutes reading
We now offer two different kinds of email notifications in inFlow Cloud: low stock notifications and assignment notifications. Both of these features can help you and your team take a more proactive—instead of reactive—approach to inventory management.
Avoid stockouts with low stock notifications
Low stock notifications have been around for a while now. They're basically an electronic version of someone yelling from the back room, "We're running low on pink shirts!" Except inFlow's notifications are based on the reorder points that you set in the app, so nobody needs to yell (unless they want to).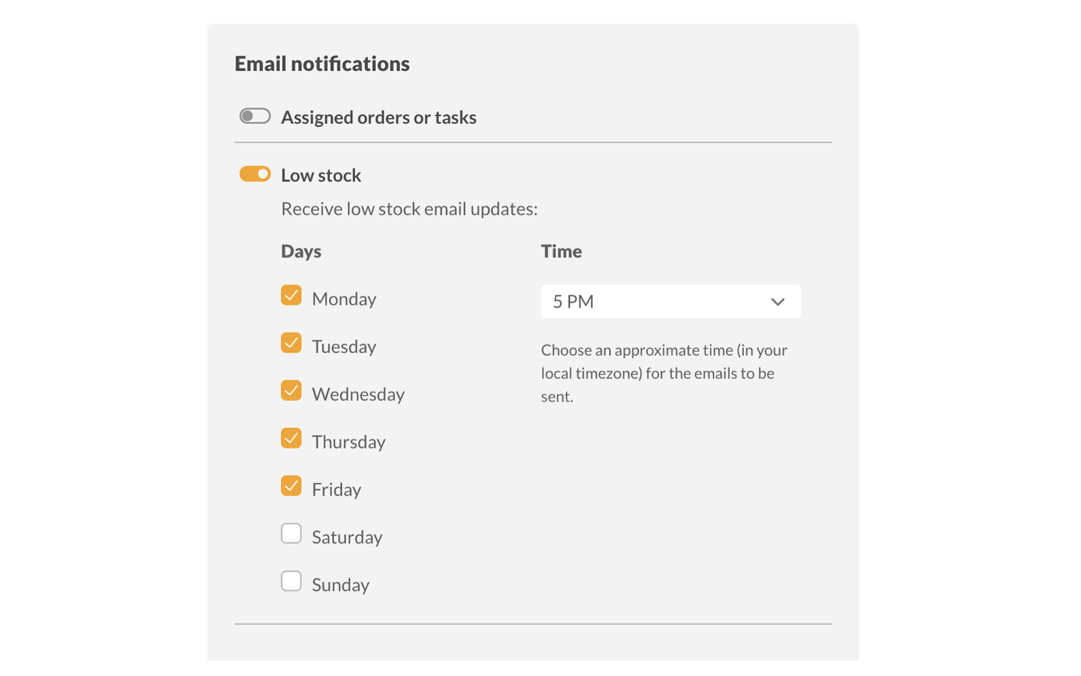 Low stock notifications are on by default on new inFlow accounts, but you can always choose the time and days that you'd like to receive them. For example, you could choose to receive low stock emails every Monday at 9am, or every weekday at 5pm. These aren't instant notifications, but rather daily digests of what's low in stock at a given location.
You'll find low stock notifications in your personal settings, so you can dial in the frequency of emails that works best for you.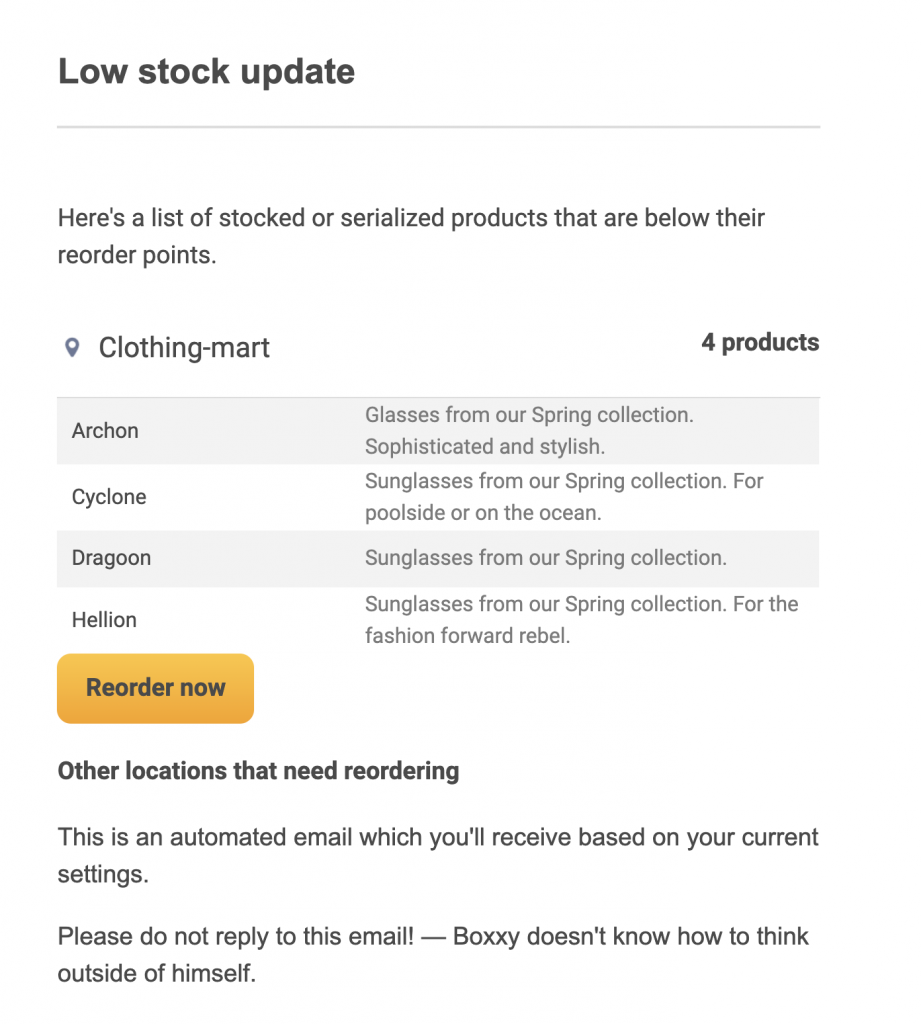 When you receive a low stock email, you can take action on it by selecting the Reorder button in the email. That will take you straight to the Reorder stock window in the web app.
Avoid idle hands with assignment notifications
Inventory is like a team sport—it takes a lot of different people to handle purchasing, receiving, selling, and fulfilling. All of those tasks are important to keep products moving smoothly for your customers. It's usually pretty obvious when there's work to do, but without clear delegation, it can be confusing to tell who's in charge of which order. This can cause a bit of lag time on orders if it wasn't clear who should get the work started.
Assigning work to other team members
inFlow's assignment feature helps you delegate tasks to different team members throughout the different stages of a cycle count, stock transfer, or order. If you haven't seen our assignment feature before, this 30-second video will show you how it works and how it can help you work better with your team.
The other challenge of assigning work is, well, letting people know that they have work to do. This is where our new assignment notifications come in handy.
Unlike low stock notifications, assignment notifications are just something you toggle on or off (it defaults to on). With notifications on, you'll receive an email every time somebody else assigns one of these tasks to you in inFlow:
purchase order and quotes
sales order and quotes
count sheets
stock transfers
work orders
(By the way: work you've assigned to yourself will not trigger any notifications)
When you're done with your work on an order, you can either clear the assignment status from the order, or assign the work to somebody else to take care of the next steps.
Loading sales or purchase orders from notifications
Oh, and if the assignment notification is about a sales or purchase order, you can select the link to go straight to that order in inFlow.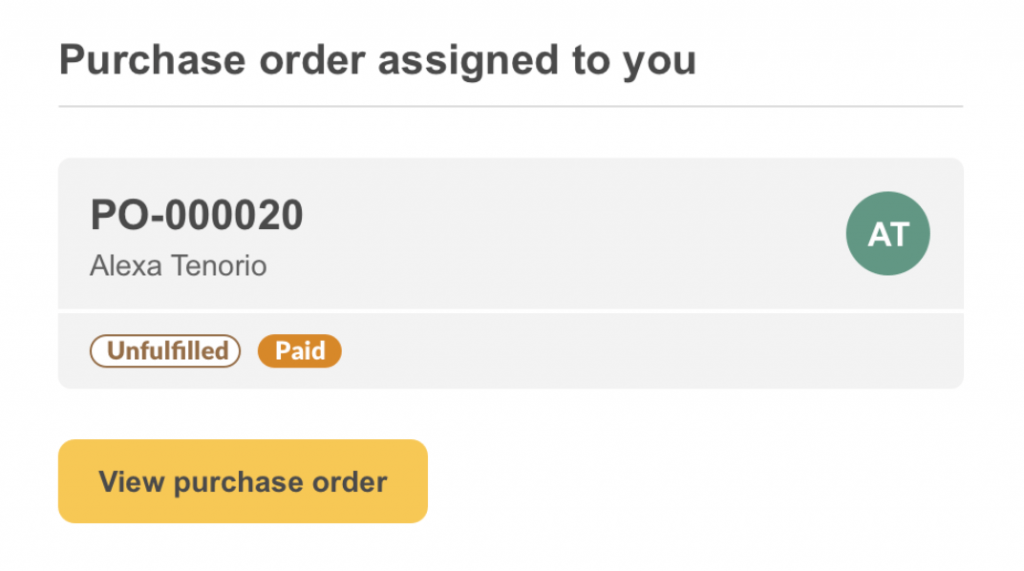 If you're using a smartphone you'll be taken straight to inFlow Cloud for Mobile (if you have it installed). If you view the email on a desktop or laptop, clicking on the link will load that order up in our web app.
Notification systems help you scale your success
If your company is just a handful of people who share a lot of the work, you might not think you need notifications. But as your business grows and you need to hire more people in specialized roles, notifications can help to maintain efficiency (and accountability) at scale. We recommend adopting more structured systems whenever you can, and that's why we've built them right into inFlow.
And just in case you aren't using for inventory and order management yet, our free trial will help you try out this proactive approach first-hand.