— 6 minutes reading
Fulfillment by Amazon (a.k.a., Amazon FBA) is one of the best ways for your small business to outsource storage and fulfillment. But before we get into the details, let's talk about why you might want to consider this option at all.
The challenges of handling your own warehouse space
The thing is: storage can be expensive. In order to rent warehouse space, you'll have to lease the square footage you'll be taking up on a monthly basis. This means you'll need to be very efficient with the amount of space you rent: too little inventory and you're overpaying each month because you've got excess space, but too much inventory slows down your operations and can make products harder to find.
Then there's staffing your warehouse. You'll need to hire and train employees to handle incoming products properly (receiving), store them efficiently and safely, and then send the products out the door when they're sold (fulfilling). Depending on your needs, you can hire part-time or full-time staff for your warehouse. However, if your business ramps up during certain seasons, then staffing your warehouse to keep up with orders can become an extra challenge.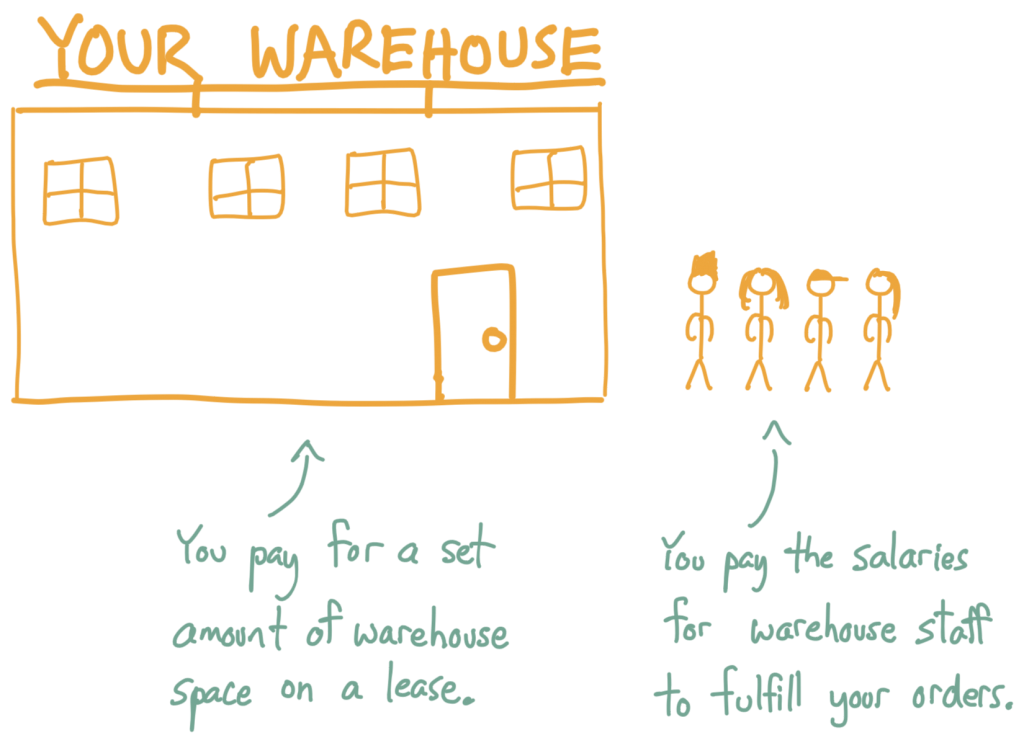 There are also other issues to consider, like the length of the warehouse lease and the security (for your products), but we'll dig more into them in another article dedicated to managing your own warehouse. So while managing your own warehouse gives you full control of your logistics, it also requires a lot of your attention. If you're spending a lot of energy on inventory tracking, that's less time and focus you can devote to creating or marketing your products.
Amazon can take care of fulfillment for you
Compared to the fixed costs of hiring your own staff and renting your own warehouse space, Amazon provides you with the flexibility to scale your fulfillment costs up and down as needed. That means you pay less if you don't need to store as much, and you always have the option of paying for more if your sales start to pick up. This page has a few examples of fulfillment costs for Amazon.com, which help you establish a minimum price for your products so you can make sure you aren't losing money on each sale. There are also options to store and fulfill products of various sizes, from Small standard-size to Special oversize.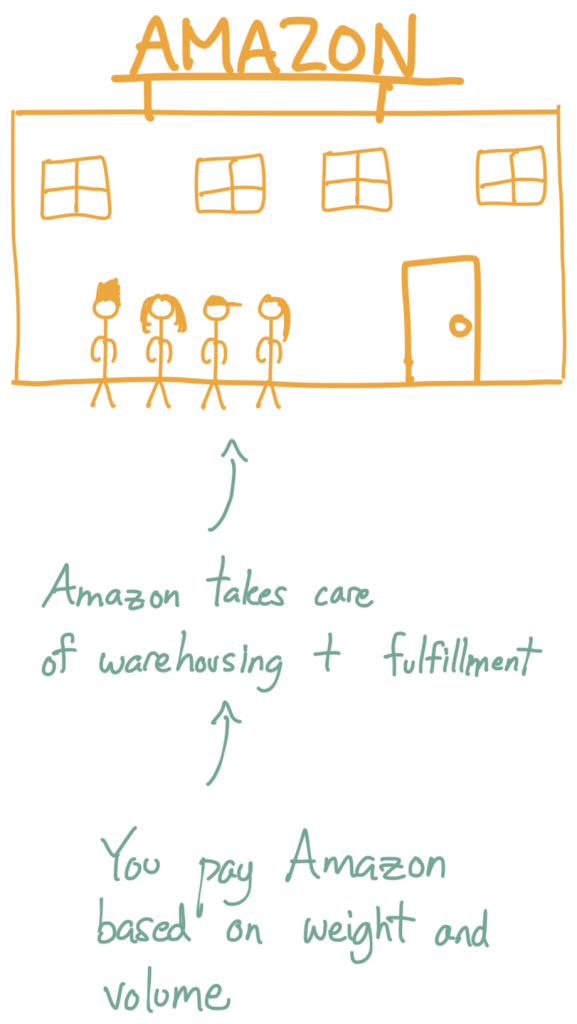 But Amazon doesn't just store and send out products on your behalf. You can ship your products directly to their warehouses, and their staff will receive your items for you. Each time you send products to Amazon, you can track each order via the Shipment ID from Seller Central (the website you'll use to manage FBA). Returns are covered, too. You can either have the customer pay for return shipping, or pay the cost yourself and offer free returns.
Prime Delivery
Amazon is one of the top e-commerce platforms around. Unlike other e-commerce platforms like Shopify and WooCommerce, Amazon has a multitude of storage facilities and have the staff and infrastructure to receive products and fulfill orders. Due to the sheer volume of orders that Amazon deals with, they benefit from huge economies of scale. These savings can be passed on to the companies they work with.
One of the biggest advantages that Amazon offers is the eligibility for free shipping via Amazon Prime. If a customer's order reaches a certain threshold, Amazon can ship your items to them for free, without you (the seller) having to pay any extra fulfillment costs. This is even better for your customers if they're Amazon Prime members, since they can benefit from free two-day (or faster) shipping. Expensive or slow shipping are one of the biggest reasons that customers abandon online sales, and free shipping is one of the biggest factors to encouraging bigger online orders. So having Prime delivery work for you can be a big boon for your business.
Using Amazon FBA doesn't force you to sell on Amazon
Another advantage of using Amazon FBA is that you can become part of the Amazon Marketplace, which means that your products can be searched for and purchased on Amazon.com. However, if you'd prefer to use a different e-commerce platform (like Shopify), you can still take advantage of Amazon FBA purely for fulfillment purposes. This is called Multi-Channel Fulfillment, and it allows you to take advantage of Amazon's great logistics setup, while still presenting your products the way that you'd prefer.
How much does Amazon FBA cost?
The costs for using Amazon FBA depend on the size and weight of your products, and whether or not you're selling on Amazon.com or using Multi-Channel Fulfillment.
One important thing to keep in mind is that Amazon's storage costs can be expensive if you hold on to a lot of inventory. If you experience a lot of seasonality in your products — in other words, if there are particular times of the year where sales are higher or lower — then you might want to look at another company to provide long-term storage. Other third party logistics providers, like ShipBob, provide more affordable rates for long-term storage, and they can also ship to Amazon for when you'd prefer to sell those products via FBA.
How to know if Amazon FBA is right for you
Here at inFlow, we've found Amazon FBA to be very useful for saving us both time and money. We use the service ourselves for selling our own brand of inFlow scanners. Our scanners are available on Amazon.com and inFlowshop.com (a Shopify-based storefront).
However, the best way to find out if Amazon FBA could save you time and money is to use Amazon's own calculator. You can input your own fulfillment and shipping costs to see whether you can save money by leveraging Amazon's incredible scale.
If not, don't worry! We've got another article planned for discussing how to manage your own logistics setup, and what costs you'll want to consider.
—
Here at inFlow it's our business to help other small businesses take control of their inventory. We can also sync orders from Amazon.com and Amazon.ca, so you can monitor all of your orders from just one app.