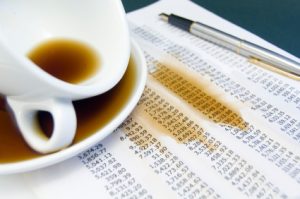 If you keep products in stock, you'll need to know how many you have. How can you keep track of this? The first thought that comes to mind often involves pencil and paper or Microsoft Excel. However, if you invest a little more time into setting up an inventory software system, your business can continually benefit from the following 4 things:
1. Automatically update inventory as you buy and sell – There's no need to make an invoice and then come back and update your inventory later on; do both in one step.
2. Use history to find errors – Do you have less in stock than you expected? Get a detailed history of inventory movements to help find out if it was an honest mistake or if something was lost or stolen.
3. Automatically re-order – When you run low in stock, get suggestions on what to re-order, and automatically make purchase orders for your vendors.
4. Share with others more easily – Do you work with other people who also need to check and update inventory? Set up two or more computers and let everyone always have up-to-date information.
We designed inFlow Inventory to give you these four benefits, and much more. You can download the Free Edition and start entering your inventory or import it from Excel right now.
Do you know someone in a small business that might want to improve their inventory handling?