Our web app now handles serial numbers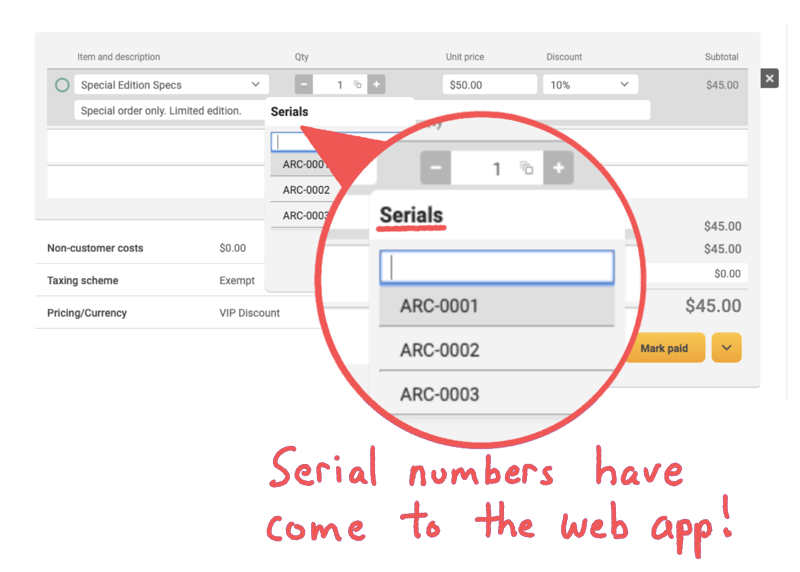 We teased this on the vlog a few weeks ago, but as with any bigger feature release, we didn't want to set an exact release date…until today! 😃
You can now manage and create serial numbers in our web app, which means you now have access to the full set of sales tools from your browser. This should open up even more opportunities for sales teams to use inFlow on the go, or for warehouse teams that run a Mac to fulfill any order — regardless of what kinds of products are on it.
Try serial numbers on our web app and let us know what you think!
New fields for custom documents
We've made more fields available to use on custom documents. The particular fields we've added for sales orders are:
Ship date 
Carrier 
Box number
Ref # (from Payment details box) 
Remarks (from Payment details box) 
Locations
Sublocations
Item volume
Order volume
Item pick date
Standard UoM
We've also added the Purchasing UoM to custom purchase orders.
General improvements:
Credit card numbers can now be optionally removed from an inFlow account (to keep payment information more secure).

 
Stuff we've fixed:
The Online Showroom will now display product Remarks with the same formatting and line spacing.

 

Showroom now properly handles tax inclusive orders.