Creating a Vendor Record
As with your Customer Record, the quickest way to create a vendor record is to do so during your purchase order. The purchase order works in much the same way as the sales order described earlier however purchase orders are used to bring inventory into your warehouse rather than reduce it.
To create a new Purchase Order:
Click Main Menu > Purchasing > New Purchase Order.
Begin typing into the Vendor field; you should see your vendor's name appear below if they are not in the system.
Click Add to create a new record.
Continue filling in your vendor's info, when you save this order you will be asked if you want to save those details back to this vendor's record.
Click into the item column and select an item from your list. Continue as necessary until you've selected all the items you would like to purchase.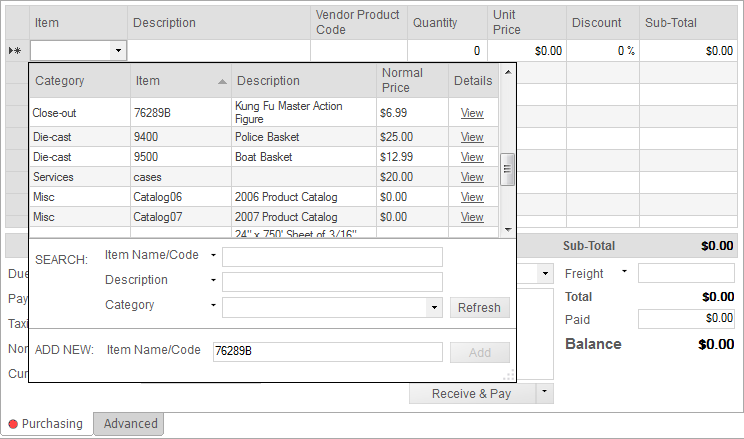 6. Click
Receive & Pay
to complete the order and move the items you`ve received into your inventory.
As with sales orders, when you save your order inFlow will ask you whether you'd like to save the additional information in your order (such as address, phone number etc.) to your records.
Still unsure, or looking for more info?
Have a look at our Purchasing tutorial video for a closer look.