The Homepage
The inFlow Homepage includes inFlow's most popular features and provides quick access to different stages of your inventory's journey. You can hover over any of the icons to see more options related to that module and clicking the icon itself will open a blank record for you to use (eg. click VENDOR for a new vendor record).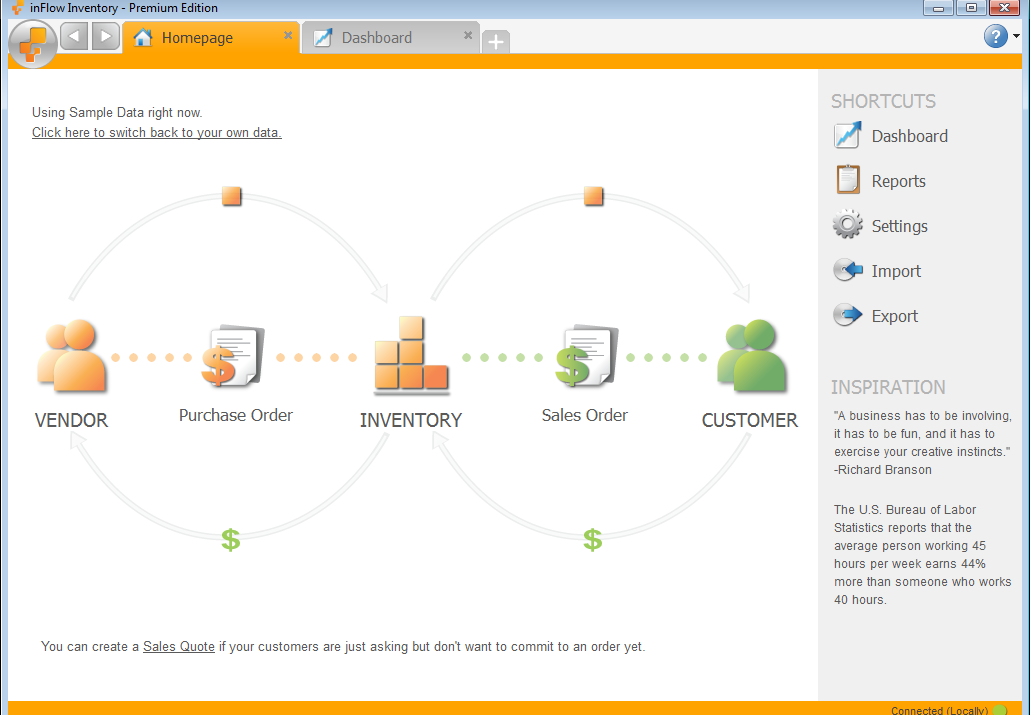 The Main Menu

For access to even more features click the Main Menu button in the top left hand corner of your screen. The menu is broken down into modules as well, but will give you access to all the available features in each module rather than only the most popular ones.
Toolbar

The toolbar appears in various areas of the program (such as Vendors, Purchases, Inventory, Sales, and Customers) and will look a little different depending on where you are. It includes actions for the record as a whole, rather than individual details (eg. click Save to save the record you're working on).
Tabs

Tabs allow you to work within two or more modules at once by clicking them to switch between two open modules. New tabs can be opened using the grey plus sign to the right and a tab can be closed using the X in its right hand corner.
Navigation Buttons

The navigation buttons allow you to jump back and forth through the screens you've visited during your session. Click the back button to return to a previous screen that you were working on, or the forward button if you'd like to move forward again.
Listing Views
inFlow uses Listing Views to show you what products you have in inventory, sales orders you have on the go etc. You can control what you see in the list using the Search section at the top.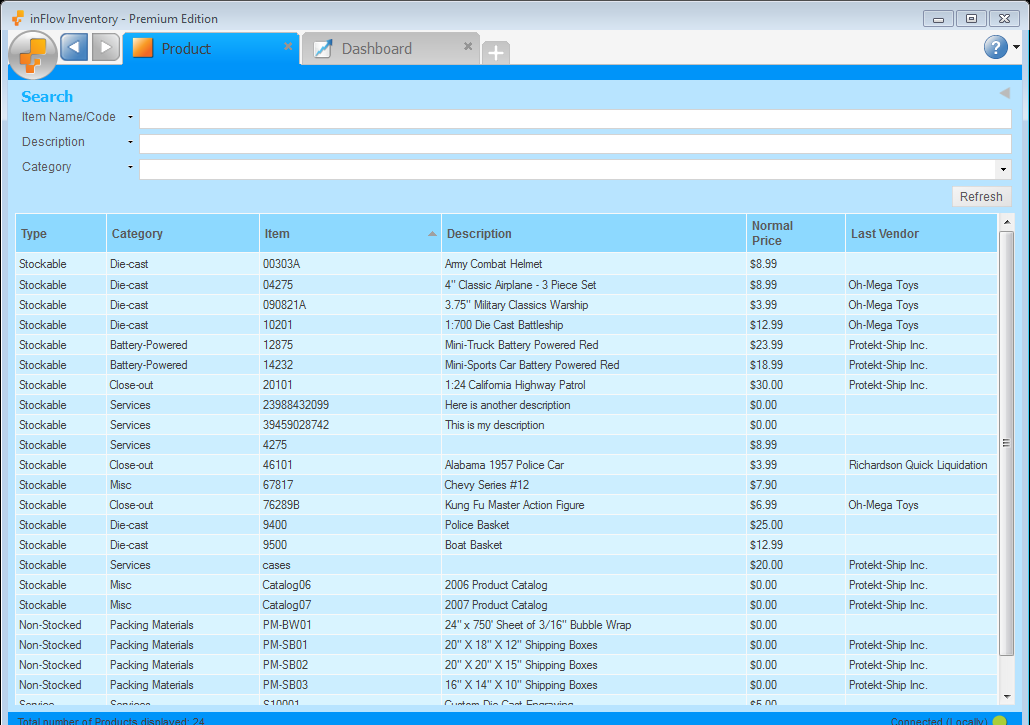 Changing what appears in the listing views
The filters at the top control what you see in your list below. To change what is in the list simply:
Click into a filter box at the top
Enter the value you want to use to filter your items (eg. select a category from the dropdown).
Click Refresh.
Now your list will consist only of items which meet the criteria in your filters.
To change the filters you're using:
Click the filter title; you should see a dropdown appear.
Select the replacement filter from the list
Filters can also be added or removed in this list by choosing add or remove at the bottom.
You can quickly clear all your filters to start over by right clicking the Refresh button. Yes, it's that simple!
Still unsure, or looking for more info about getting started?
Have a look at our Get started with inFlow video for a closer look.