If you are having trouble using QuickBooks Online (QBO) with inFlow Cloud, log in to the inFlow web portal by going to Main Menu > Options > Integrations. Here is where you can check for any errors that are causing your orders to not sync.
We currently support QBO US, Canada, UK and AUS.
For specific steps you can try, see below.
My order didn't sync to QuickBooks Online!
If you have saved orders in inFlow Cloud and you don't see those orders in QBO, check the online web portal for any errors. The errors should be specific, and it will let you know if a setting isn't set up correctly.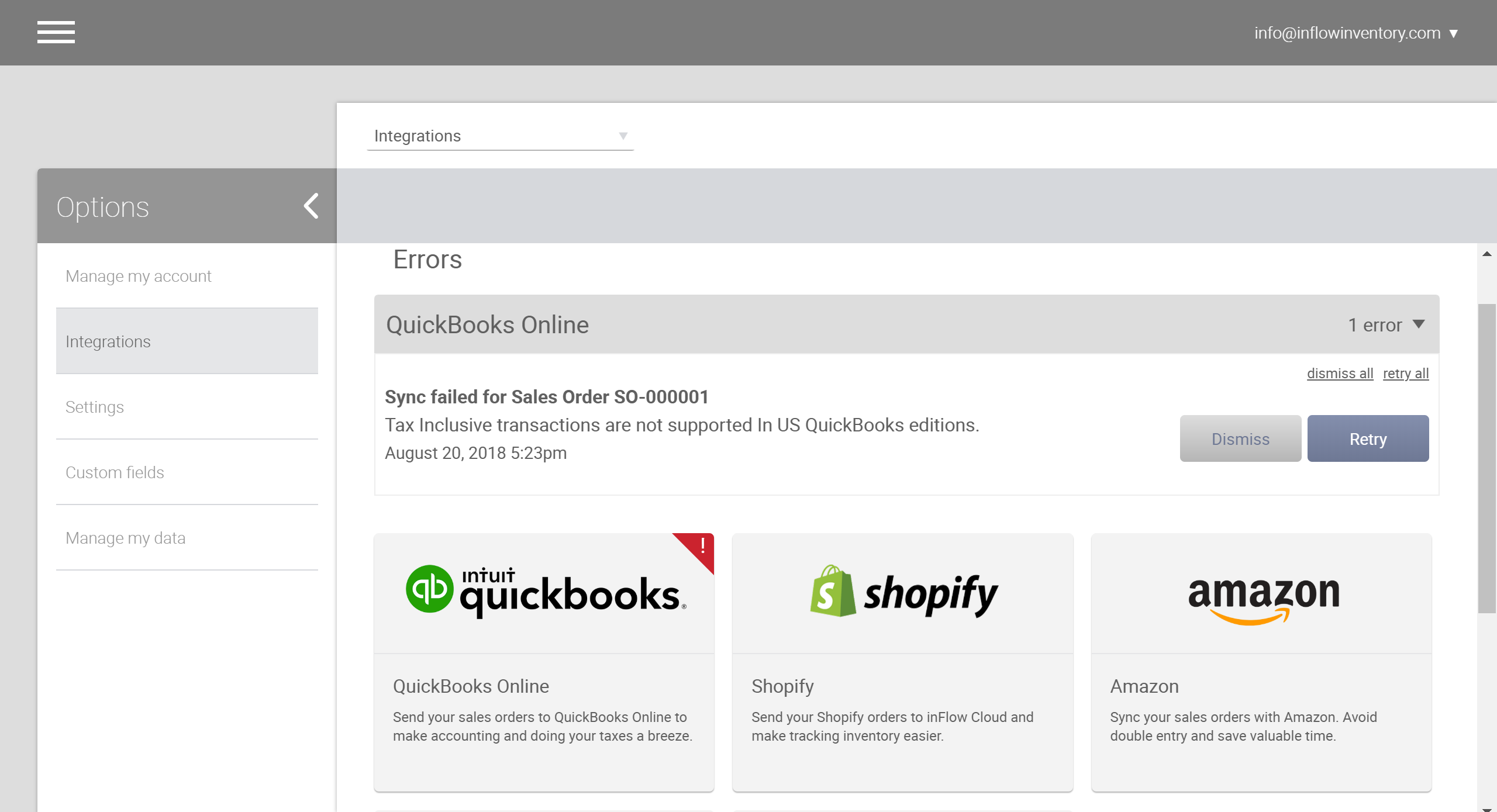 For example, the image above shows the error: "Tax inclusive transactions are not supported in US QuickBooks editions." Check your pricing scheme settings to make sure they don't have "tax-inclusive" checked beside it!
Once you have made the changes, click on the Retry all button to sync your orders.
QuickBooks Online can't connect
If too many sales orders are saved in inFlow at the same time (for example while importing sales orders) you may get an error saying: "Cannot connect to "QuickBooks Online at the moment". This error will also be accompanied with a red exclamation mark on the top right-hand corner of the QuickBooks Online image, and a warning on the inFlow Cloud for Windows app.
Don't panic! QBO has a system in place where it prevents too many orders from being synced at once, so your orders are actually still able to sync. You'll just need to wait a little, then click the Retry all button to sync again.
 If the Retry all option doesn't work, please contact us at support@inflowinventory.com so we can further assist you.
Seeing duplicate payments?
Duplicate payments in QBO can happen if payments are made directly into QBO manually or with another software integration.
The different payments come from marking an order paid in inFlow and another payment that's been made directly into QBO for the same order. To prevent this, see the steps below.
Go to Main Menu > Options > Integrations.
If you are already logged in, you'll be directed to the Integrations section of the inFlow manage my account portal. Otherwise, you may be prompted to log in before you can continue. Click on the QBO image.
When the QuickBooks Online overview loads, click on the Payments link.
Click on the Turn payment sync off then click Save and exit.